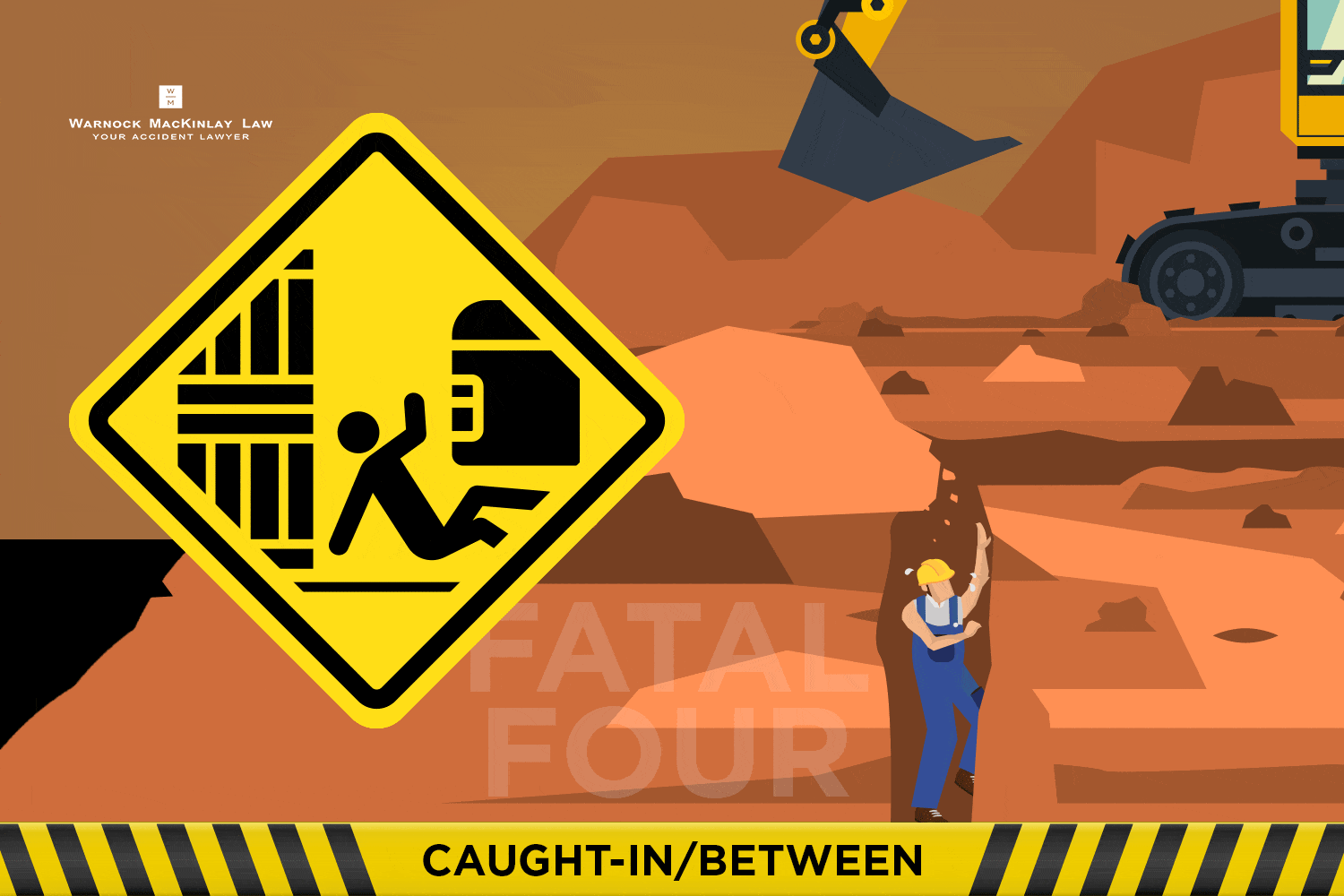 Caught-in-between, also known as caught-in and caught-between accidents, are among OSHA's fatal four. Its dangers bring serious to deadly injuries to construction workers. Caught-in-between accidents often occur from unguarded machinery and excavations.
(Editor's note: This caught-in-between article is the fourth part of the construction accident series. The blog aims to explain OSHA's "fatal four". Click this link to read the first part, which is about construction fall accidents. The second part, which explains struck-by accidents, is here. The third part, about electrocution accidents, is on this link.)  
Caught-in-between Accidents
Caught-in-between accidents are different from struck-by incidents. Being hit by a flying or falling object result in struck-by injuries. Caught-in-between injuries happen from being crushed between objects and surfaces.
Classification of caught-in-between accidents in construction sites:
Cave-ins – More than 10% of construction fatalities result from cave-ins or collapsing trenches in Arizona. Just recently, two workers died while working on a home construction site in Phoenix. They were buried in an 8-foot deep excavation after the trench collapsed on them.
Being pulled into or caught-in – This refers to workers who get caught-in-between the open parts of machines and equipment. Stationary and moving objects may pull clothing and parts of the body and result in strangulation.
Heavy equipment may cause deadly injuries to its operator due to lack of control. A similar incident happened at a construction sand and gravel mine in Maricopa, AZ. A worker died while operating a dragline. The unrestrained machine accidentally moved into a 25ft deep water pit. The resulting force pulled the worker into the engine housing while it submerged into the water.
Being compressed or crushed – Workers can be trapped and crushed by dock walls or truck frames. Trailers and hydraulic beds that roll, slide, and shift can cause deadly injuries. This happens when a worker is caught-in-between these objects.
An incident that happened in Gilbert, AZ last 2019 is an unfortunate example. According to the news, a construction worker was caught-in-between a cement mortar mixer and a post of cement silo. As a result, it accidentally pinned him down and instantly killed him.
Caught-in-between Hazards and Violations
Caught-in-between accidents due to cave-in
According to safety experts, excavation violations are among the top causes of citations against construction companies. OSHA data shows how contractors ignored trench safety that resulted in caught-in-between accidents:
67% failed to provide trench protection
34% failed to provide proper entrance and exit points such as ladders and other means
28% placed spoils that were too close to their trenches. This is where rock and dirt could cave in and bury workers below.
26% failed to conduct daily inspections of their excavations
9% did not designate a competent person to protect workers from potential cave-ins
4% accumulated water hazards in their trenches
Note that construction companies may have multiple violations. Thus, the percentages above will add up to more than 100%.
Being pulled into or caught-in hazards
Monitor the use of tools and equipment. Dangerous working conditions result in caught-in-between accidents. Because most construction sites need machinery with moving and rotating parts, accidents could lead to amputations and worse, death.
Being compressed, caught between, or crushed violations
There are caught-in-between accidents where heavy equipment brings deadly injuries to workers. Trailers, tractors, backhoes, and similar machinery can tip, slide, or roll over. They can also pin down and crush workers nearby, against walls, or onto the ground. Using jacks and other restraining tools can help prevent this type of caught-in-between accident.
Caught-in-between Accident Prevention on Construction Sites
Building contractors must do the following to prevent caught-in-between accidents:
Provide guards on power tools and other equipment with moving parts 

All power tools must have safety switches. It is important to guard the belts, gears, pulleys, and shafts. Do this during construction activities as well.

Secure equipment in risky locations 

Concrete and masonry operations require lockout and tagout procedures. Lower and secure bulldozers, scraper blades, loaders, and similar equipment. Doing this will prevent caught-in-between accidents.

Prevent heavy equipment from tipping over, as it can crush workers nearby

Employers must not exceed crane loads to prevent the machine from tipping over. They should also avoid using heavy equipment on soft grounds.

Follow strict safety protocols 

Employers must use proper bracing systems between heavy plates when shoring. They must also arrange the loading, unloading, and stacking operations to prevent caught-in-between accidents.

During trenching and excavation work, protect workers from getting caught-in-between

Trench box and shield must protect trenches 5ft or more. Mobile equipment near excavations always presents dangers. No one should work underneath a trench while earthmoving equipment is in operation.

Provide means to avoid the collapse of structures and scaffolds 

Inadequate support creates caught-in-between accidents. This includes improper construction as well. Employers must only use scaffolds erected according to OSHA standards.

Avoid collapsing walls that can crush workers during demolition or other construction activities

Walls should have lateral bracing to prevent caught-in-between accidents. They should make sure that jacks have a firm foundation. They should also secure the jacks after each load.

Designate a competent person 

The designated person must have the knowledge and authority to identify and eliminate dangers. He/she will conduct engineering surveys, training, and continuous inspections at the construction site.

Provide training for workers 

Based on OSHA guidelines, all construction workers should receive general training. In addition, employers must also provide specific training for every possible caught-in-between accident that may occur.
Call a Construction Accident Lawyer to Help You
Construction workers must be aware of the dangers at their job sites. However, it is the building contractor's responsibility to ensure that the working conditions are safe.
Employers should follow regulations to protect their workers while on the job site. OSHA designed safety requirements as stated in 29 CFR 1926 of the US labor laws.
Negligence can result in death when caught-in-between accidents happen. Unfortunately, negligence on construction sites is still common today. In fact, the years 2019 to 2020 were reported to be the deadliest of the decade in terms of caught-in-between accidents.
We assist victims of caught-in-between accidents. Warnock MacKinlay Law can help you seek fair compensation for your loss. We will also hold the liable parties accountable for their negligence.