You've probably seen them gracing the streets of Phoenix: rental scooters. With a simple app, you can rent a scooter, and the idea is that these are environmental alternatives to driving short distances. However, this useful and innovative new method of transportation doesn't come without its risks. An Arizona scooter accident lawyer can assure you that you're not the only one who's had an injury from a scooter.
As the popularity of scooters increases, there's no doubt that injuries will become more common as well. Nathaniel B. Preston, an attorney at Warnock MacKinlay Law, is here for victims of scooter accidents. Despite this being a relatively new trend, Mr. Preston has experience with these cases and can get the compensation you deserve. Call us today at (602)600-6427 for a risk-free case review with a seasoned attorney who is ready to take your case.
Rental Scooters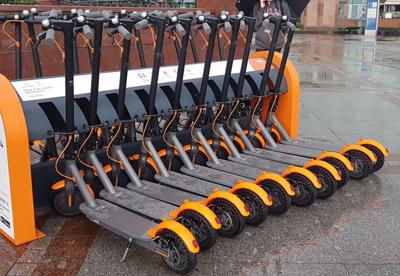 There are a few companies that are hosting rental scooters in cities across Arizona. All a customer has to do is have a smartphone. Then they can unlock the scooter and ride for as long as they feel like it.
When the rider is done, they leave the scooter wherever they please. This business model gives rise to three primary issues when it comes to personal injury.
The first issue is that anyone with a smartphone can rent this motorized device. This means that even minors with a smartphone can accept the terms and conditions and use the device. Irresponsible parties and those who are impaired can also rent the scooters.
The second issue is that the scooters are often left in common walking areas. Injuries are stemming from scooters not in use simply because they obstructed the walkway.
The biggest issue is that not everyone understands how to interact with scooter drivers. Possibly the most common type of accident involving rental scooters includes a full-sized vehicle. Safe drivers might initially consider that it's the same as a pedestrian and they should have the right of way.
However, many drivers are arguing that as the scooters are motorized, the rider should know and adhere to the basic rules of the road. This has led to many hot legal debates, and if you find yourself in any of these situations, you need an Arizona scooter accident lawyer to help you.
Arizona Laws for Electric Scooters
Arizona does not have laws that specifically regulate the use of rental scooters. For the scooter companies, that's working out well. For everyone injured during scooter use, it's a legal nightmare.
Lawyers are relying on city ordinances and guidance from the MVD on how to handle these cases. Because electric scooters don't travel faster than 20 miles per hour, the only laws that currently apply to this class of motorized device also apply to mopeds, even though they may be operated in very different ways.
Many city ordinances put into place are opting to put the same expectations on scooters as they do on skateboards and bikes. For example, in Scottsdale, electric scooters are not allowed on public streets with speed limits higher than 25mph.
Electric Scooters and Common Injuries
Common injuries come from impact with another vehicle, the scooter malfunctioning, or the rider panicking.
If you panicked and were thrown from the scooter, you need to speak with an Arizona scooter accident lawyer to see if you have a case. Rental scooter companies expect their riders to have a certain level of confidence in riding.
Injuries from coming into contact with a vehicle will likely involve that driver's insurance company. The insurance company and the rental company will then work together to decide who should pay for any medical damages. But how do you get your side heard in this situation? The only way to have your side be part of the discussion of issuing compensation is to hire a scooter accident attorney in Arizona to represent you.
Finally, if the scooter malfunctioned, you may have a case for personal injury specifically relating to a product defect. These accidents are becoming more common as it appears that rental scooters have a problem with brakes locking.
These issues all lead to injuries such as bone fractures, and even ruptured spleens. Riders have suffered sprains, strains, and concussions, while pedestrians hit by scooters often have worse injuries. Traumatic brain injuries and spinal cord injuries in addition to broken bones are becoming common.
Scooter accidents will bring more attention to the scooter rental businesses as they continue to grow. While Arizona has yet to put overarching rules in place, Phoenix and many other cities are starting to implement some structure.

Pedestrians Hit by Scooters
Theoretically, anyone of legal driving age can go out, buy a car, and drive maliciously but there are clear consequences that come with driving towards a pedestrian. People don't seem to realize that impacting with a pedestrian with an electric scooter can come with significant consequences too.
If you were walking in a park, or sidewalk and were struck by a scooter, you need help. An Arizona scooter accident lawyer can help you explore what options you have in seeking compensation for your injuries. Because these scooters can travel at up to 20 mph, you may have sustained severe injuries.
The most common injuries seen so far include concussions, broken bones, and back injuries. These injuries can lead to significant pain and time spent away from work not to mention the piling up medical bills that come with these injuries.
Contact an attorney at Warnock MacKinlay Law to find out how you can proceed with a case for your injuries. These scooters are heavy, and the injuries to pedestrians in scooter accidents are serious. If you're recovering from something as severe as a traumatic brain injury, you need legal help.
Get Legal Help Right Away
When it comes to scooter accidents, it can be confusing who is going to pay compensation. Depending on your situation it could be the scooter company, the rider, or even the city. There are consistent issues with these cases including the riders not being required to have liability insurance, and the company having terms that often negate responsibility.
It could come down to determining the fault of the scooter rider, the pedestrian, the scooter company, or someone else. Finding fault in these cases is never an easy task. Find good legal counsel right away.
For help with an electric scooter accident, call Nathaniel B. Preston at Warnock MacKinlay Law. We can explain how you can file a personal injury case. We will help you understand what you can seek for compensation, such as pain and suffering, economic loss, medical bills and more.
Nathaniel B. Preston of Warnock and MacKinlay Law offers a free consultation for the victims of scooter accidents. Learn more about your scooter case and what options you have to seek compensation for your medical bills and more. Contact our office today, we will help you recover financially so that you can focus on recovering physically.