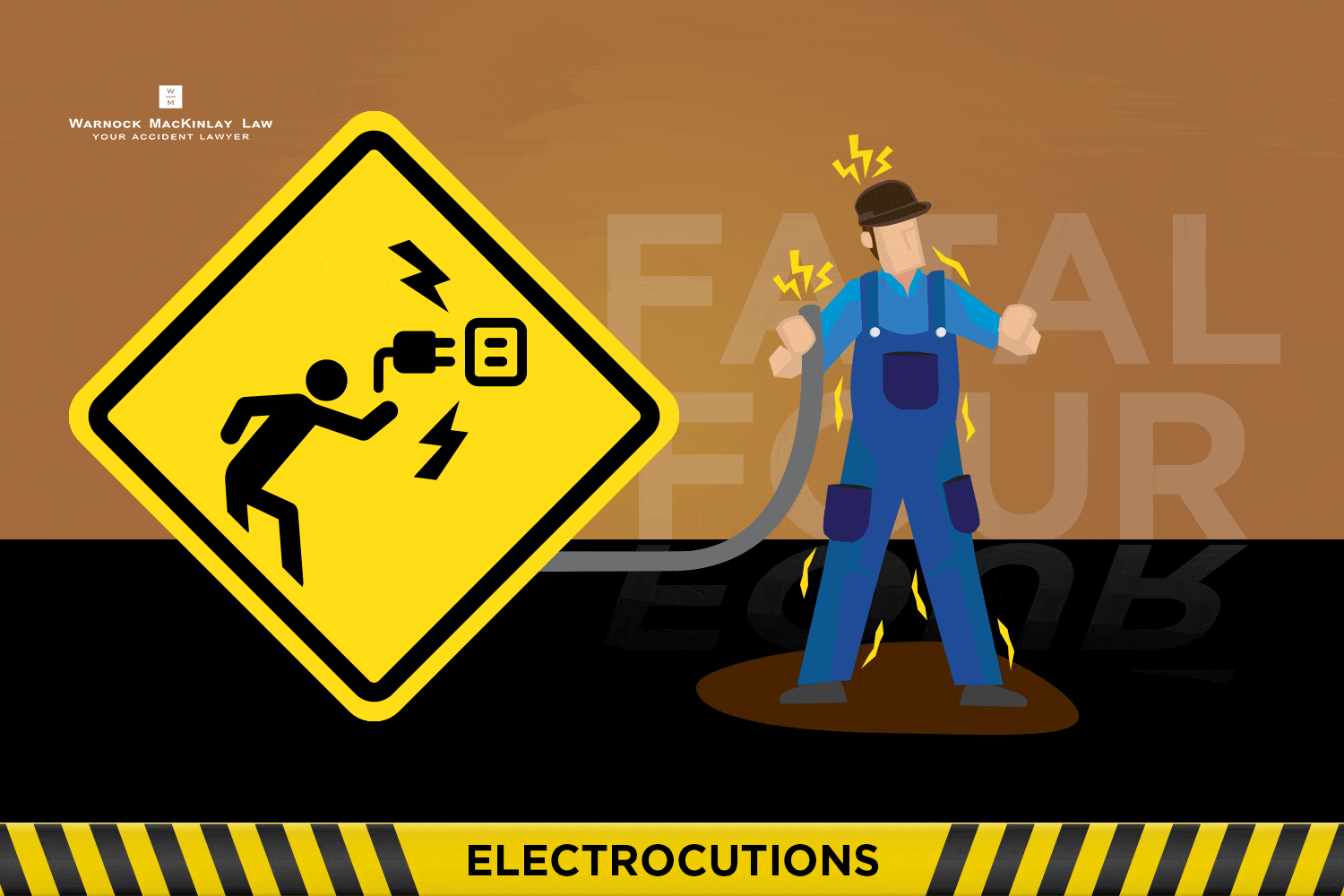 Electrocution is one of the usual causes of deadly injuries on construction sites. Known as a part of OSHA's fatal four, it continues to bring danger to construction workers. Electrical hazards still remain a top workplace concern for people in this industry.
(Editor's note: This article is the third part of the construction accident series. The blog aims to explain OSHA's "fatal four". Click this link to read the first part, which is about construction fall accidents. The second part, which is about struck-by accidents, can be read here.)
Electrocution in Construction Sites
Electrocution and shock are the results of inappropriate work performed on energized equipment. Hence, substantial injuries are sustained due to electric shock. The type of current, voltage level and the body's resistance determine the severity of injuries. Electrocution, on the other hand, is the term for death due to severe electric shock. Therefore, the family of electrocution victims can file a case on behalf of their deceased relative.
Effects of Shock and Electrocution
Victims of electric shock may experience multiple symptoms. To sum up, the effects may range from superficial injuries to lifelong illnesses, and worse, death. However, most injuries from shock and electrocution are not visible. Thus, the victim should consult a doctor even if the shock seemed minor.
Short-term effects
Burns
Irregular heartbeat
Seizures
Tingling sensation
Loss of consciousness
Headaches
Long-term effects
Post-traumatic stress disorder
Fatigue
Anxiety
Loss of balance
Muscle spasms
Memory loss
Loss of limbs
Fatal effects
Coma
Heart attack
Respiratory arrest
Types of Electrocution Hazards
To spread electrical safety awareness, OSHA created this acronym: BE SAFE. This is a useful reminder for construction workers and their employers to recognize hazards. BE SAFE stands for:
B for Burns – Burns result from sparks, electrical flash, or thermal contact.  Generally speaking, it is the most common injury from electric shock.
E for Electrocution – In other words, electrocution means "to kill with electricity". The victim exposed to a lethal amount of electrical energy, suffers fatal injuries.

More often than not, victims of electrocution

 touched high voltage power sources.

S for Shock – It is defined as the body's response to electrical current. When part of the body touches an electrical circuit, it enters one area and leaves at another. Exposed wires and electrical terminals are the usual sources of electric shock.
A for Arc flash – An arc flash happens when electricity is released into the air. That sudden impact shoots between gaps of high voltage conductors. For example, a spark from an outlet is an arc flash. The radiating heat and intense light due to the arc flash can cause burn injuries.
F for Fire – When electrical outlets are in disarray, it messes up the distribution of energy. Then, heat accumulates from thermal radiation due to the incorrect flow of electricity. Hence, it results in a fire that is often seen in extension cords, plugs, and switches.
E for Explosions – This occurs when electricity mixes with an explosive element in the air. Worse than fire, it stems from an accumulation of electrical work violations.
Injury and Fatality Statistics
Recent data from the BLS shows just how dangerous electrical work could be. In fact, the construction industry has the highest rate of electrocution accidents.
The most recorded electrocution incidents happened in 2019, with 166 deaths.
43% of electrocution victims were construction workers.
Nonfatal electrical injuries reached 1,900 in the same year.
27% of nonfatal electrical injury victims were also construction workers.
Primary electrocution hazard is due to contact with overhead power lines.
Factors of Negligence
According to OSHA, electrocution happens when employers become negligent in safety procedures. In most injury cases, construction site electrocution stems from these factors:
Because of time pressure, employers force workers to take shortcuts.
Supervisors compromise safety protocols for faster productivity.
Workers were not trained before handling electrical equipment.
The injured worker was not wearing personal protective equipment.
Failure to cover exposed wires and electrical parts.
Overloading of extension cords.
Lifts and ladders are placed near overhead power lines. As a result, workers are exposed to high voltage areas.
OSHA Requirements to Prevent Electrocution
OSHA requires employers in the construction industry to protect their workers from electrocution. Failure to follow these procedures may indicate negligence:
Ensure overhead power line safety
Due to high voltages, workers must maintain a safe distance from the lines to avoid electrocution.
Employers must provide PPE (gloves, helmets, sleeves, etc.) for their workers.
A representative from the power company must be present on the worksite.  Also, the representative must de-energize and ground the power lines.
The employers must also request the power company to install insulated sleeves over the lines.
Isolate electrical parts
Protect all electrical parts, fittings, and conductors from abrasion.
Close all unused openings in cabinets and boxes.
Cover pull boxes, junction boxes, and fittings. Likewise, ground all metal covers. Also, apply faceplates in outlet boxes and bushings for cord pendants.
Supply ground-fault circuit interrupters (GFCI)
Employers are responsible for providing GFCI for receptacle outlets in use.
Schedule and record a grounding conductor program to eliminate electrocution hazards.
Implement AEGCP
AEGCP stands for an assured equipment grounding conductor program to minimize risks.
Due to the risk of shock, workers must never use damaged or defective equipment.

Use OSHA-required inspections such as continuity tests for grounding conductors.
Ensure power tools are in a safe and maintained condition
Ground power supply systems, circuits, and equipment accordingly.
Inspect and ensure that the path to the ground is continuous.
Workers should inspect electrical equipment before use.
Ensure that ground prongs are attached to the tools and cords.
Use proper guarding to prevent electrocution
Enclose electrical equipment with live parts.
Guard exposed parts/machines operating at 50 volts or more. Thus, only qualified people must work on such equipment.
A room, vault, balcony, elevated platform, or permanent screens, for example, can effectively serve as guards.
Provide training
De-energize all electrical equipment before repairs and inspections.
Use appropriate protection from electrocution.
Only use cords, cables, and tools that are properly repaired.
Implement lockout and tagout recognition and procedures.
Enforce safe work practices to avoid electrocution
Post tags on equipment and circuits that can be energized.
Tags will serve as identification for the equipment being worked on.
Lockout or tagout circuits of fixed equipment.
Ensure proper use of flexible cords
All flexible cords must have indelible marking of ratings correspondingly from the National Electrical Code.
Limit exposure to moisture by using either watertight or sealable connectors.
Compensation for Victims of Shock and Electrocution
Filing a claim for electrical injuries can be a complex process. Hence, victims of electric shock and electrocution may face difficulties in dealing with the liable companies.
Warnock MacKinlay Law has years of experience in handling injury cases affecting construction workers. Our team will:
Investigate the circumstances of your accident.
Identify the strengths of your case.
Gather the necessary evidence to support your claim.
File the paperwork on your behalf.
Negotiate a fair amount that will help you recover your losses.
Represent you in court if necessary.
Electrocution and electric shock bring lifelong effects to its victims. Do not be afraid to seek justice and compensation from big companies. We are here to help you. Call Warnock MacKinlay Law today.