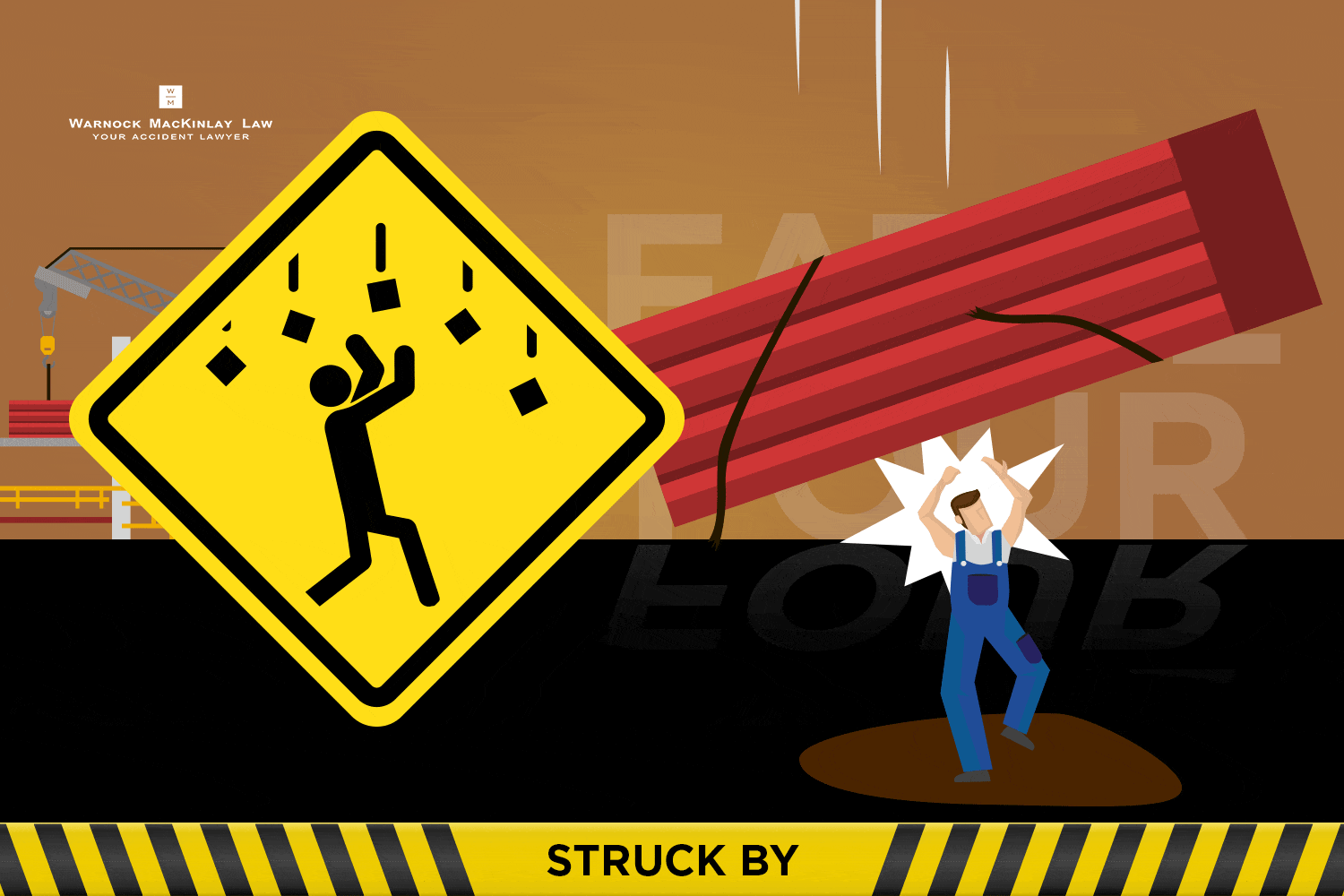 Struck-by accidents cause fatal injuries on construction sites. Among OSHA's "fatal four", it is one of the hardest to avoid. It is because of the wide range of hazards that result in struck-by accidents. Hence, its victims usually do not know what hit them. It could be anything from falling objects, swinging loads, and moving equipment.
(Editor's note: This Struck-by article is the second part of the construction accident series. The blog aims to explain OSHA's "fatal four". Click this link to read the first part, which is about construction fall accidents.)
Struck-by Accidents
Struck-by accidents happen when a dislodged object hits a person at the construction site. It occurs when the object's impact alone brings injury. Sharp tools, heavy equipment, and a lack of protective gear like hard hats add to injury severity.  To put it simply, when an injury arises from a forcible contact with an object or a piece of equipment, that is a struck-by accident.
Injury Rates of Struck-by Accidents
Based on National Safety Council records, struck-by accidents bring inherent dangers to the construction industry. In 2019, struck-by hazards have injured more than 26,000 construction workers. Most of them suffered injuries in the upper extremities, hands, head, feet, and eyes. Around 140 died due to fatal injuries.
Based on a report published by the CDC, construction workers suffer the most from struck-by accidents. They have twice the risk and the greatest number of fatalities, too. The common sources of nonfatal injuries are:
Solid building materials
Powered tools
Hand tools
Scrap/waste/debris
Occupations with the highest rate of struck-by accidents:
Helpers
Sheet metal workers
Heating and air conditioning mechanics
Ironworkers
Furthermore, flying and falling objects cause 96% of nonfatal struck-by injuries among construction workers. Meanwhile, rolling objects such as vehicles and motorized equipment cause 48% of struck-by fatalities.
In the state of Arizona, 34.3% of construction accidents result from struck-by hazards. It comes second to construction fall accidents, which comprise 42.9% of total injuries.
Struck-by Hazards in Construction Sites
The Occupational Safety and Health Administration (OSHA) identified four hazard categories:
Flying object – When a piece of material dislodges from tools and equipment, it will likely propel across space. Objects that separate and are hurled into the air can cause injuries to persons in the surrounding area. Flying objects can come from small metal chips and nail gun discharges. It can also come from dislodged heads of hammers and ejected machine parts.
Falling object – Loose tools and materials from overhead locations can fall and injure anyone below them. In fact, even a simple tape measure can bring fatal struck-by injuries. According to OSHA, in 2014, a tape measure fell from a building 50 stories high. It hit the head of a worker below who was not wearing a hard hat during that time. This is why construction workers should wear hard hats all the time.
Swinging object – This hazard involves lifting and hoisted loads at the job site. Improper operation and loose attachments can lead to struck-by accidents. Suspended loads can swing due to miscalculations, causing fatal injuries to their victims.
Rolling object – Moving vehicles and sliding equipment cause struck-by accidents on construction sites. Due to the limited visibility of machinery operators, workers nearby are at risk. Also, the wheels may slide and the brakes may fail due to overloading and accidentally hitting them.
Safety Guidelines to Prevent Struck-By Accidents
OSHA has issued Safety and Health Regulations for Construction. These are part of the general safety and health provisions of the industry. Thus, employers should follow these rules:
Personal Protective Equipment
1926.28(a) The employer is responsible for requiring the wearing of appropriate personal protective equipment in all operations where there is an exposure to hazardous conditions or where this part indicates the need for using such equipment to reduce the hazards to the employees.
1926.100(a) Employees working in areas where there is a possible danger of head injury from impact, or from falling or flying objects, or from electrical shock and burns, shall be protected by protective helmets.
1926.102(a)(2) The employer shall ensure that each affected employee uses eye protection that provides side protection when there is a hazard from flying objects. Detachable side protectors (e.g. clip-on or slide-on side shields) meeting the pertinent requirements of this section are acceptable.  
Also, the eye protectors must be comfortable to wear. It must fit snugly and should not interfere with movements.
1926.105(a) Safety nets shall be provided when workplaces are more than 25 feet above the ground or water surface, or other surfaces where the use of ladders, scaffolds, catch platforms, temporary floors, safety lines, or safety belts is impractical.
Moreover, employers must first install and test their net protection systems before commencing work operations. The safety nets will not only prevent fatal falls. It will also prevent dropped objects from injuring workers on the ground.
Signs, Signals, and Barricades
As a warning for potential hazards, employers must use general symbols. Red "DANGER" signs show immediate hazards. Yellow "CAUTION" signs imply unsafe areas and practices. Green signs convey safety instructions.
1926.200(h)(1) Accident prevention tags shall be used as a temporary means of warning employees of an existing hazard, such as defective tools, equipment, etc.
In addition, flaggers wearing warning garments should be present on the job site. Flaggers can prevent struck-by accidents due to moving equipment. They control traffic movement, especially during crane, and hoist operations.
As a rule, employers should not issue unsafe hand tools. Anything with loose parts that may break or slip can cause struck-by accidents. These include impact tools with mushroomed heads and cracked splintered wooden handles.
Meanwhile, all power tools (e.g., pneumatic nail guns, drills, grinders) must have installed safety clips. It will prevent struck-by accidents from expelled attachments such as nails, staples, and other fasteners. This also applies to grinding and abrasive equipment. It should have protection hoods strong enough to retain fragments in case of breakage.
The employer must follow the equipment manufacturer's specifications. Simply put, they should observe rated load capacities and recommended operating speeds. With proper lifting and rigging procedures, they can avoid struck-by accidents due to swinging objects.
When employers observe these guidelines, they can prevent struck-by accidents. Non-compliance with OSHA regulations means negligence.
Victims of Struck-By Accidents Need Legal Help
Struck-by accidents in the construction industry result in thousands of injuries every year. Despite its diverse circumstances, one thing remains certain: Struck-by accidents are preventable.
With all the safety equipment and technologies available today, there are enough ways to provide adequate protection. If negligence caused your injury, then you should file a claim.
Filing a worker's compensation claim may not be enough to cover your medical bills. Struck-by accidents like yours may involve third-party claims. Find out if you can pursue other legal remedies to receive better compensation. An experienced construction accident lawyer can help you build a strong case.