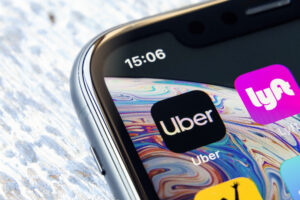 Determining fault in an Uber or Lyft accident may depend on a number of factors. Since ridesharing apps are owned by different companies, the share of responsibilities may vary. With the use of Uber and Lyft services becoming more and more popular, it is important to know who should be held liable in case an accident occurs.
Who is responsible in an Uber or Lyft Accident?
Depending on the unique circumstances of each case, the fault in an Uber or Lyft accident is often assigned to the following:
Uber or Lyft driver – If the driver's negligence caused the incident, he/she will be held liable for your damages. This happens if the driver was distracted or reckless during your ride.
Uber or Lyft – While these ridesharing services have expressed their commitment to people to move and earn safely, some accidents may still be caused by erratic driving behavior. Though Uber conducts yearly driver rescreening, some may get away with it. The same with Lyft. If it is proven that Uber or Lyft did employ a driver with a history of driving offenses, then they will be also held responsible.
A Third Party – A third party may also share the liability in an Uber or Lyft accident. For example, if the vehicle manufacturer supplied or installed a defective part that caused the accident, then that third party will also share the fault.
Determining Liability in a Rideshare App Accident
This is a bit complicated since we are discussing two different service providers here. Both companies are similar in many ways but each has their own insurance policies. Here are some scenarios which may provide clues on who should take the blame in case of an accident:
Personal Use – Well, Uber and Lyft drivers mostly use their own cars to render ridesharing services. Suppose you were hit by one of these drivers while they were using their car for personal use at that time. This automatically makes the said driver fully liable, and his/her personal insurance should cover your damages.
Waiting for Request – For example, the Uber or Lyft driver was using the app during the time of the accident, perhaps while waiting for a ride request. Now the damages may fall under Uber or Lyft's contingent liability insurance. Depending on several factors, minimal coverage may apply to compensate for bodily injury and property damage.
Driving a Passenger – Now, suppose the Uber or Lyft accident happens while the driver was actively driving a passenger hailed from the app. A large portion of the responsibility is now shared by the company. Uber or Lyft's commercial liability insurance would now apply to cover physical injuries and property damages. This type of policy provides a wider liability coverage than if the driver did not have a passenger yet.
Multiple Parties – There are instances where the accident is not entirely the ridesharing driver's fault. Sometimes, the drivers of both vehicles missed traffic signals or displayed driving errors, hence, multiple parties will share the liability. Another example would be a defective part supplied by the vehicle manufacturer plus reckless driving.
Why you should Hire an Uber and Lyft Accident Lawyer
If you have been involved in an Uber or Lyft accident, hiring a lawyer who specializes in personal injury can provide several benefits. Here are some of the advantages of hiring an Uber and Lyft accident lawyer:
Someone will protect your legal rights. An Uber and Lyft accident lawyer can help you understand your rights and what you truly deserve. Since you will be facing such big companies in the legal process, you should know how to navigate it well.
Your lawyer will help prove negligence. Just like other personal injury cases, Uber/Lyft accidents are also complicated. With the help of your lawyer, your case will come out strong with full investigation and evidence collection.
You will know the full extent of your damages. Your medical bills, lost wages, pain and suffering – all of these amount to the full value of your claim. Your lawyer will help you calculate your total losses to ensure that you can receive a truly fair compensation.
Someone will negotiate with Uber/Lyft's insurers: As insurance companies are well-known for protecting their bottom line, it helps that someone is advocating for you. Your Uber and Lyft accident lawyers will work on your behalf to seek the compensation that you really deserve.
Your lawyer will represent you in a trial. When necessary, your Uber/Lyft lawyer will represent you in court. He/she will fight aggressively and demand compensation that can help you recover physically and financially.