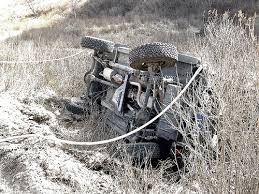 A three-vehicle rollover accident on eastbound Interstate 10 at Avondale Boulevard has left a Department of Public Safety trooper and a semi-truck truck driver injured.
According DPS officials, the accident occurred after a trooper pulled over a vehicle in a traffic stop. The trooper was finishing out paperwork when an SUV rear-ended his patrol cruiser.
The crash caused a chain reaction with an 18-wheeler crashing into the SUV and then spinning out of control. The semi-tractor trailer then rolled and landed on top of the SUV.
The truck driver in the 18-wheeler was ejected from the cab and is currently listed in critical condition.
A total of three people were injured in the crash and all were taken to an area hospital. Their names have not yet been released.
The trooper is expected to make a full recovery and the driver of the SUV was not injured in the accident.
While accidents can happen at any time, sometimes they can be avoided. Law enforcement officers such as state troopers regularly pull over motorists, usually on the right hand shoulder of the road. It is suggested that if you see the flashing lights of an emergency vehicle such as law enforcement, fire, ambulance or tow vehicles, that you slow down and then change lanes to give them room to work and keep everyone safe. In some states, this is a law.
No doubt that for everyone involved in this accident there will be costs involved. Not only will they or their respective employers have to deal with the damages, there will be the inevitable hospital and medical treatment bills and other related expenses.
After such an accident, many insurance companies will raise the premiums of those involved, even if the person they are covering is not the one who is at fault. After the accident is when you need an attorney to help you find out what your rights are and will help you to defend those rights.
At the law offices of Warnock MacKinlay Law, our firm will be there in any possible way if you have suffered or if you or a loved one has been hurt or tragically lost as the result of an accident. Our firm handles both personal injury and accident cases and can help get you the compensation you and your family deserve.
Contact us today to schedule a free initial consultation.