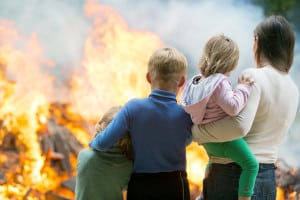 A three-vehicle accident, including a head-on collision, happened in Maricopa County. It left several people injured including 3 children.
According to officials with the Maricopa County Sheriff's Office, the crash was caused when a car was attempting to make a left turn on to Loop 101 from McDowell Road when it was struck by an oncoming vehicle. Another vehicle was involved in the chain-reaction crash.
Five people were injured in the accident. Three people, two adults and a 2-year-old child, sustained serious injuries, while two additional children ages 4 and 10 sustained minor injuries.
The accident is still currently under investigation and the Maricopa County Sheriff's Office said that it is still too early to determine who may have been at fault in the crash. Investigators do not believe that alcohol was a factor in the accident.
An accident involving a motor vehicle, no matter what the circumstances, can be devastating. Just the medical expenses and other costs surrounding recovery can be staggering. The costs of long term recover and the tragedy of funeral expenses is always expensive. Add pain and suffering to all of that and an accident can leave accident victims and their families feeling overwhelmed and with no idea of where to turn for help.
If you or a loved one has been involved in an accident, call the offices of Warnock MacKinlay Law for your free consultation. We will be happy to discuss your case and offer the help you need. We will take the time to listen and to help you navigate through not only your legal concerns, but those surrounding insurance as well. Nate has years of experience in personal injury and accident cases and he will be there to help you as well.
Your initial consultation and legal analysis is free of charge or obligation to you. We pride ourselves on providing sound, successful strategies in helping you reach a satisfactory settlement. Contact us today.