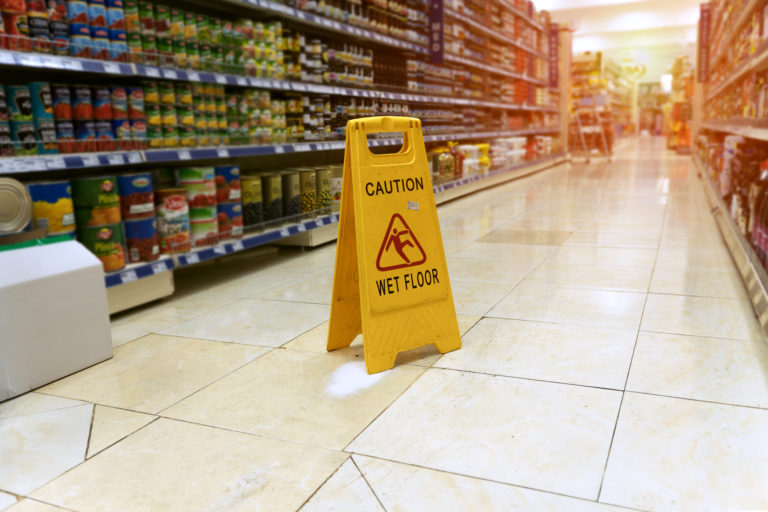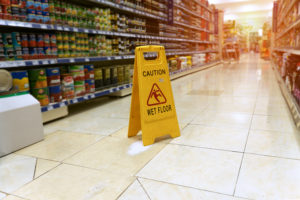 Every year, thousands of slip-and-fall accident victims are rushed to hospitals throughout Arizona. These victims include those who fell while doing their grocery shopping. For the most part, medical bills add a burden to their injuries. If you are one of them, the best thing that you can do is seek compensation for your injuries.
Slip and Fall Accident Causes in a Supermarket
When high foot traffic and perishable goods are combined in a confined area, a slip-and-fall accident would be inevitable. Something somewhere would likely spill, drop, and become a tripping hazard. The usual causes include:
Proving Fault in a Slip and Fall Case
In a slip-and-fall accident, it is crucial to establish negligence. However, in most supermarkets, where merchandise debris is a regular occurrence, customers are expected to be aware of their surroundings. As a rule, stores have the duty to keep their premises reasonably safe; thus, the presence of regular housekeeping.
While floors are swept and cleaned many times a day, a customer may cause a slipping hazard which may injure another customer.
Let us cite the case of Chiara v. Fry's Food Stores of Arizona, Inc., for example. Here, a customer slipped due to spilled creme rinse on the floor. However, the incident seemed unusual and the store did not have notice of the spill. Furthermore, the customer was not able to provide enough proof that the spill resulted from the storekeeper's negligence.
Therefore, proving fault in a supermarket slip-and-fall accident is a tricky situation. You need a slip and fall accident lawyer who is experienced in handling this type of case.
Mode of Operation Rule in Arizona Slip and Fall Cases
The premises liability law requires property owners to keep their surroundings reasonably safe for their employees and customers. However, Arizona also uses the mode of operation rule.
According to the state's retail compendium of law, this rule "looks to a business's choice of a particular mode of operation and not to events surrounding the plaintiff's accident. Under the rule, the plaintiff is not required to prove notice if the proprietor could reasonably anticipate that hazardous conditions would regularly arise."
Hence, stores may tend to use this rule as a defense. To make the claims even more difficult, here are what the mode of operation rule implies:
The slip-and-fall accident injury is not enough to hold the store liable.
Unless the victim could provide proof that "constructive notice of the dangerous condition or that spills occurred with sufficient regularity", the case may be won in favor of the store.
The store may not be deemed negligent if the slip-and-fall accident happened for the first time.
Areas, where the store conducts self-service operations, may require customers to foresee and avoid fall hazards.
For example, in the case of El Grande Market No. Two, Inc. v. McAlpin, a customer was injured after slipping over an apricot pit upon leaving the store ramp. The store defended that it did not have prior knowledge of the presence of the slipping hazard. However, it was discovered that there were apricots for sale in the store's produce aisle upon investigation. The store manager also told the jury that it was common to find similar debris in the store. In this manner, the store had been negligent in keeping its premises reasonably safe, and was therefore liable for the accident.
The Hard Truth in Slip and Fall Claims Against Supermarkets
By using the mode of operation rule, the store can argue that its stacking methods are according to industry standards.  Therefore, the customer's carelessness may be blamed for any possible occurrence of fallen merchandise that results in a slip-and-fall accident.
Imagine how big retailers can free themselves from liability. So you need to hire a skilled attorney if you are injured from a similar slip and fall accident.
How to Seek Compensation for Grocery Slip and Fall Injuries
To hold the store liable for your injuries, you must prove that their negligence caused your slip and fall accident. Here are the steps that you should take right after the incident:
Examine your surroundings and find out the cause of your fall.
Take photos or videos to document the aftermath.
Talk to possible witnesses and politely ask for their contact details.
Contact the store manager and have the incident recorded in the store journal.
Ask for a copy of your accident record.
Do not sign any waivers that may free the management from liability.
See a doctor or go to the emergency room for your injuries.
Avoid talking to insurance companies.
Call a slip-and-fall accident lawyer to represent you.
Warnock MacKinlay Law Can Help you Achieve a Fair Compensation
After your slip-and-fall accident, a representative from the store's insurance company may contact you. The other party may offer you an amount to compensate for your injuries. However, it may not be enough to cover your medical expenses.
Moreover, accepting any form of settlement immediately may affect your chances of getting fair compensation. Think about the treatments and medications that you will need after the first medical checkup. Factor in the income that you have lost due to missed days at work. You should also seek compensation for the pain and suffering caused by the slip and fall accident.
Our slip and fall accident lawyers at Warnock MacKinlay Law will help bring out the strengths of your case. Thus, you can receive enough amount to cover all these damages. Our experience in winning slip and fall accidents will help you recover and move on with your life.