There are several causes for brain injuries. Brain injuries can be very serious in nature and change lives. Traumatic brain injury (TBI) can be caused by work-related accidents, slip and falls, car accidents, bike crashes, motorcycle accidents, sports-related accidents, and other kinds of mishaps. Brain injuries also vary in severity from mild to very severe. TBI can lead to personality changes, the inability to have relationships, restless sleep patterns, and uncontrollable changes with bodily functions. Some of the most serious brain injuries cause irreversible brain damage that affects you and your family.
Common Traumatic Brain Injury Symptoms
There are several different symptoms that come with traumatic brain injury. You might suffer from some and not others. These injuries can be life-altering. Here are few TBI symptoms you might experience:
Headaches
Confusion
Dizziness
Memory loss
Mood changes
Slurred speech
Vision changes, such as blurred vision
Sleep disturbances
Difficulty thinking
Inability to pay attention
Convulsions
Seizures
Loss of consciousness
Skull fractures
Severe brain injuries can lead to coma or a vegetative state. In a vegetative state, you are awake but don't show signs of awareness. If you are in a coma, you aren't awake or aware of your surroundings.
Preventing A Traumatic Brain Injury
There are many causes for a TBI, but oftentimes it is because you failed to wear the proper protective gear or in this case – a helmet. Motorcycle helmets, bicycle helmets, ski helmets, and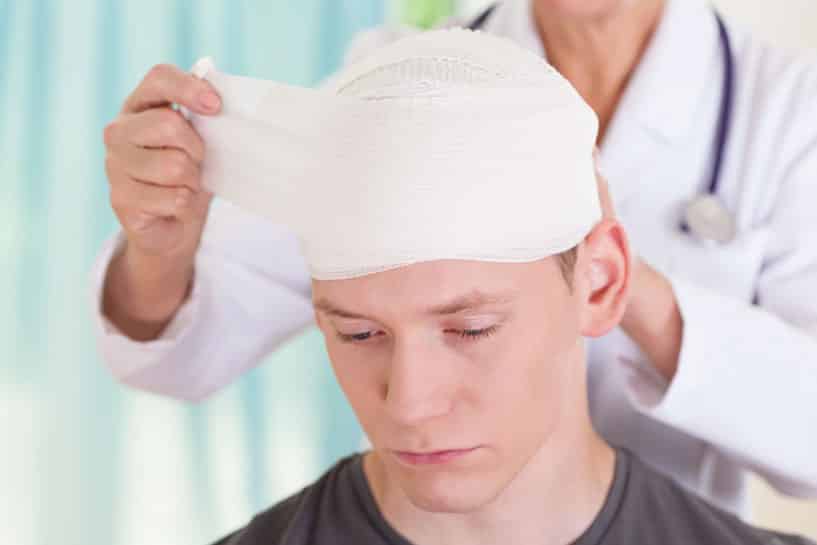 skateboard helmets save lives. That helmet can mean the difference between life and death. Riders without who aren't wearing a helmet are 37% more likely to die in an accident than those who do have a helmet on. In a lawsuit or settlement, if it is determined that any part of the victim's injuries were caused by him or her failing to wear a helmet, the compensation awarded can significantly be reduced.
The Importance of Skilled Legal Representation in Scottsdale
Traumatic brain injuries might lead to expensive medical costs. You might need surgeries, prescription medication, physical therapy or rehabilitation, and other medical help. If you suffered a severe brain injury that caused severe brain damage, or your loved one has been left in a vegetative state or in coma, you will also see a loss of income and will be permanently disabled. A brain injury can cause emotional trauma that causes changes in the quality of life for both the victim and their family.
You shouldn't have to face these serious injuries alone. Your Scottsdale AZ brain trauma injury lawyer Nathaniel B. Preston "Nate" understands that you are facing a variety of pains and pressures because of the injuries. He will diligently study your case so he can send you in the right direction in regards to your claim. He will help you get your life back on track and pursue the compensation you need to recover from your injuries and get the care that you need.
In Arizona, there are no limits on damages that you can be awarded for an accident injury claim in regards to medical expenses, loss of wages, permanent disabilities, loss of enjoyment of life, mental and emotional anguish, and pain and suffering. Nate will help your family recover the highest possible award for the damages that have been suffered.
Free Case Evaluation for Scottsdale AZ Brain Injury Cases with Attorney Nathaniel B. Preston
As a Scottsdale brain trauma injury lawyer, Nate will help you recover the compensation your case deserves. Your initial consultation is free of charge. Plus, you don't pay Nate until he recovers a settlement for you.
If you or your loved one has suffered life-changing traumatic brain injuries in Scottsdale, you should complete the online contact form or call Nate at (602) 600-6427 today to get your claim started so you can regain control of your life.