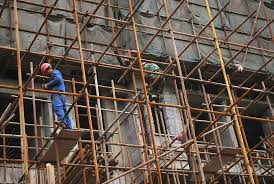 Two construction workers were injured on the job at a shopping center project near Peoria Avenue and 59th Avenue in Glendale on Friday morning when the scaffolding they were standing on suddenly collapsed beneath them.
According to Captain Michael Young with the Glendale Fire Department, the workers fell approximately 25 to 30 feet onto the asphalt below. Young said that there had been a few people were below the scaffolding at the time of the collapse but they were able to get out of the way to safety.
An eyewitness to the accident said that he had seen the men working near the top of the building when the scaffolding started to fall to the ground. The eyewitness said that when he went to help them, the men were badly bleeding.
Firefighters arrived at the scene and treated the injured workers. Both workers were transported via ambulance to an area trauma center. According to Captain Young, the men sustained significant injuries, but they are expected to be OK.
The accident is still currently under investigation and is also being looked into by the Occupational Safety and Health Administration (OSHA) in order to determine the cause.
On-the-job accidents can happen at any time and for any number of reasons. While some accidents may be because of worker negligence or failing to take proper safety precautions; that isn't always the case. Statistically, workers at construction job sites see a higher number of workplace injuries every year because of being required to work at high elevations where falls can cause serious injuries – or worse. Workers may also o suffer injuries as the result of using heavy machinery or through the use of hazardous substances and materials.
Getting hurt on the job can put you and your loved ones into a difficult situation. In addition to the loss of income from not being able to work, the medical bills and other related expenses can add up fast and put you in dire financial straits. That is why you need a qualified and experienced legal professional like Warnock MacKinlay Law who will fight on your side.
If you or someone you love has been injured on the job, give the offices of Warnock MacKinlay Law a call. Don't sign a statement with your employer or workman's compensation or insurance, until you have an attorney working for you. Nate will be there to listen to the details surrounding your workplace accident and will help you navigate the ways that you can protect yourself and your interests.
Nate can help you and your loved ones receive the compensation you deserve for your workplace injuries. He understands and will take the time to examine all details so you can concentrate on getting back on your feet again. Contact Nate today to schedule a free consultation and legal analysis. You may reach him at 602-600-6427. Nate also speaks fluent Spanish to better serve his clients in the state of Arizona.