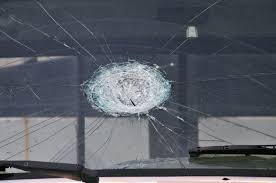 It seems unthinkable that someone would deliberately go out and attempt to harm others for no apparent reason. That's what happened when police arrested a man on suspicion of having thrown large rocks at cars on Interstate 10 last week.
According to Public Safety Trooper, Tim Case, one person, a 9-year-old girl, has been injured and more than a dozen vehicles have suffered damage to tires, wheels, undercarriages, windshields and hoods.
The suspect has been identified as Michael Kerrick, 22. Kerrick allegedly threw rocks at vehicles, the largest one weighing aout 1 to 2 1/2 pounds.  It was the largest rock that injured the child after it struck the vehicle she was in and penetrated the windshield. The girl will require reconstructive surgery after she suffered severe facial trauma as the result of the incident.
Kerrick was spotted by a trooper at approximately 9:10 p.m. near I-10 and 15th Avenue carrying two large rocks on a freeway embankment. The trooper witnessed Kerrick "hurling a large rock onto the freeway and toward moving vehicles in an attempt to hit the vehicles."
The suspect fled when the trooper tried to approach and a foot chase ensued. At one point, Kerrick stopped and allegedly threw a large rock weighing 2 1/2 pounds at the trooper, nearly hitting him in the head," according to a probable cause statement.
Law enforcement officers apprehended and arrested Kerrick. He was identified by a motorist whose vehicle was struck by one of the large rocks Kerrick had allegedly hurled into traffic.
Investigators say that they have determined that three vehicles traveling on I-10 were directly struck by the large rocks allegedly thrown by Kerrick. Other vehicles that sustained damage from the large stones that were lying on the road way that could not be avoided according to the DPS.
Kerrick is being held on suspicion of 10 counts of endangerment, 10 counts of criminal damage, eight counts of aggravated assault and other related charges.
If you or someone you love has been involved in and injured in an accident caused by the malicious acts of another person, give the law offices of Warnock MacKinlay Law a call. Nate is an experienced attorney in the field of accident and personal injury law and he will work for you so you can get the justice you deserve.
Call us to schedule a free initial consultation and legal analysis and find out how we can help you.