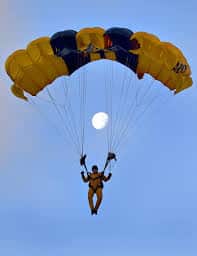 A parachute accident has claimed the life of a skydiver from Boulder, Colorado in Eloy on Thursday. The victim of a recent parachute has been identified as Geoffrey Loy, 34.
According to authorities, the accident happened at Skydive Arizona when two parachutists collided.
Loy was pronounced dead at the scene and is the seventh experienced skydiver to die since 2013. The two most recent cases have involved parachutes that have collapsed at a point where it is too late for the skydiver to deploy the reserve chute.
The accident is still currently under investigation by the FAA.
Every year there are millions of skydives or parachute jumps that end safely and just a handful of fatalities in the United States. Skydiving, like other areas of aviation is regulated very stringently by the Federal Aviation Administration.
The agency not only investigates after an accident, but it regulates planes, pilots and certifies parachute packers and parachutes in order to ensure as much safety as possible. Those who don't meet the stringent standards set forth by the FAA are quite literally grounded.
Even with all of these preparations, skydiving or other aviation accident can happen. It can be difficult to determine what causes an accident, and sometimes investigations can take a long time to reconstruct what exactly happened – especially if the accident involves a sport such as skydiving or parachuting.
If you or a loved one has been involved in a skydiving or parachute accident, we offer our deepest sympathies. After the accident is when you need an attorney to fight on your side. Warnock MacKinlay Law will work diligently for you when you need help the most.
Nate can help investigate your claim and get you the compensation you deserve for any injuries. He understands and will take the time to examine all details so you can concentrate on getting back on your feet again. Your initial consultation and legal analysis are free. Contact us today.