While most car manufacturers go great lengths to make sure their vehicles are well-tested to ensure they're safe for consumers before they get on the road, there are some situations where there are still major car defects that could result in an accident. There are cars that have inherent flaws in their design, such as an SUV that has the tendency to flip over around sharp turns. And there are also manufactured car parts, such as the brakes or brake pads that could lead to accidents, as well.
Have you recently been in a serious car accident due to a manufacturing error for your car? If so, then you may be entitled to compensation for your resulting personal injuries or damages to your vehicle. To discuss the details of your case, reach out to Warnock MacKinlay Law for your car manufacturer lawsuit. Following your consultation, you'll learn how you can hold the car manufacturer accountable for their negligence and alleviate the financial burden of your:
Medical treatments

Medications or prescriptions

Loss wages for time spent away from work

Loss of earning capacity for severe injuries that prevent you from returning to work

Pain & suffering

Car damages & repairs

Funeral & burial expenses (for Wrongful Death cases)
These types of claims against the car's manufacturer are often called product liability lawsuits. For these cases, your claim is that your vehicle was defective due to no fault of your own, and the manufacturer is solely responsible for the accident by selling you the defective car.
What Manufacturing Errors Cause Car Accidents?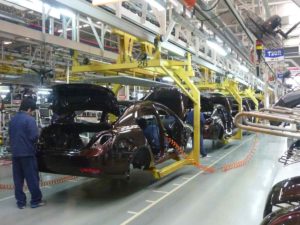 If you were using your vehicle in a proper manner, as intended by the manufacturer, and there still was a major malfunction that led to a car accident, then you're able to sue for any financial losses you face as a result. There are many scenarios in which these types of accidents can happen, and unfortunately, they are not so uncommon. Common examples of car manufacturing errors that can lead to severe or fatal accidents include:
Car Body and Framing Issues

Defective Brakes or Braking System

Improper Engine Assembly

Defective Fuel or Exhaust System

Defective Airbags

Defective Steering & Suspension Systems

Design Errors
With this list in mind, even if your car had one or more of these issues, it doesn't necessarily mean you will automatically win your auto accident lawsuit. The manufacturer may argue that you knowingly used the vehicle improperly, which caused your accident. For example, if your car is not designed to go off-roading, but you regularly participate in this activity, and as a result your tires or suspension system suffers, then if you get in an accident at a later date, the manufacturer's lawyer will state that the vehicle was not defective by design, it was your use of the vehicle that caused the accident.
You'll need to present a strong defense in order to prove to the court that you've always used your vehicle properly and responsibly. That's where a professional attorney can help. With a legal representative investigating your car manufacturer lawsuit, you'll have the supporting evidence you need to successfully conclude your case.
Should I file a car manufacturer lawsuit or settle outside of court?
Settling outside of court is usually the more appealing option for commercial businesses that are aware their product has defects. A traditional court trial is very public and allowing a judge and jury decide the results of the case could result in them having to pay out thousands or millions of dollars in punitive damages. For this reason, the manufacturer may offer the option of settling outside of court. This way, their lawyers can negotiate with you for a lump sum payment.
With that said, it's important to note that the auto manufacturer will negotiate with their best interests in mind. The amount they offer may not be enough to cover the full extent of your medical expenses or car repairs. In addition, while the manufacturer will want to avoid a public court trial, holding them publically accountable for their defective products may be something you're very passionate about. For these reasons and more, make sure you consult with your car accident attorney to discuss all of your legal options and come to the decision that works best for you.
Could I receive punitive damages for my case?
Car manufacturers are responsible for ensuring their products are safe, not only for their consumers, but for everyone else on the road. For this reason, judges may be very hard on manufacturers if it is proven that their negligence resulted in a serious car accident. In addition to the cost of any medical expenses and auto repairs, a judge may award you punitive damages. Punitive damages are defined as "damages or financial rewards that exceed simple compensation". A judge may do this in order to penalize the car manufacturer in the hopes that this incentivizes them to ensure the safety of their vehicles in the future.
Whether or not you will receive punitive damages depends on the circumstances surrounding your case. Reach out to your attorney today to find out if your car accident lawsuit could result in you receiving a financial reward that goes beyond the total cost of your medical expenses and auto repairs.
Contact Nate Preston for a Consultation for your Auto Accident Lawsuit Against the Manufacturers
Car accidents happen every day. But if your accident occurred as the result of a manufacturer error or design flaw, then it's time for you to seek the justice you deserve. You may be entitled to compensation for any medical expenses for personal injuries, car repairs, or lost wages that you've suffered as a result of your accident. To take the first step toward getting the damages you're owed, contact the attorneys at Warnock MacKinlay Law to review your car manufacturer lawsuit. Using years of experience in personal injury law, Warnock MacKinlay Law can advise you on how to move forward with filing your lawsuit or help you decide if settling outside of court is the right decision for your needs.