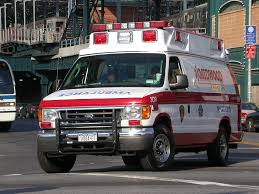 An accident involving a PMT ambulance on Sunday has left about 6 people injured in a four-vehicle crash in Scottsdale.
According to police, the multi-vehicle crash happened just before 9:00 p.m. at the intersection of Hayden and Cactus Roads.
Investigators with the Scottsdale Police Department say a black passenger car was heading east on Cactus Road toward the Hayden intersection where it ran a red light traveling at a high rate of speed when it collided with a white passenger vehicle that was travelling northbound on Hayden
According to Scottsdale Police Sgt. K.C. Moore, both vehicles collided and the force of impact sent both vehicles crashing into an ambulance and an SUV.
Two people injured in the crash were taken to an area hospital with serious injuries. Others injured in the crash suffered minor injuries.
Moore indicated that some eyewitnesses to the crash estimate that the speed of the black car was as much as 80 mph. Police investigators are taking measurements in order to estimate the rate of speed of the vehicle.
The accident is still currently under investigation. Driver impairment due to alcohol or other substance has not been ruled out.
If you or someone you love has been in injured an accident and alcohol may have played a role, give the law offices of Warnock MacKinlay Law a call today.
We believe that you and your family shouldn't have to be the ones to pay for the poor choices and irresponsible actions of others, especially if someone gets seriously hurt. Our firm is committed to doing everything we can in order to make sure that justice is served and that you are compensated for your injuries and the costs surrounding an accident.
Contact the law offices of Warnock MacKinlay Law today and make an appointment to talk to us about your personal injury or accident case. Your initial consultation and legal analysis is free.