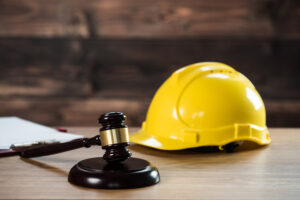 A serious construction accident can bring permanent effects on its victims. Construction sites have become one of the most dangerous places to work in. Fatality rates are increasing each year.
Why Do Construction Accidents Happen?
Building sites will always be at risk of a construction accident. Human error is possible and machine malfunctions can happen, even when safety protocols are carefully observed.
According to construction safety experts, here are some of the reasons why accidents happen in the workplace:
Neglecting safety procedures

– When companies ignore standard safety protocols, accidents will occur. An onsite manager must ensure that everyone wears protective equipment in all circumstances. 

Overconfidence – No matter how experienced a worker may be, there will always be human error. An overconfident tradesman may overlook a procedure that may cause harm to another. For example, an electrician may leave a dangling wire that could electrocute other workers on site.
Unsafe working conditions – Poor housekeeping affects productivity. In a construction site, tools and equipment in disarray may put workers in danger. Moreover, improperly stored and mislabeled chemicals also put people at risk of burns and gas inhalation.
Distractions – From manual workers to machine operators, everyone should always be alert on-site. A construction accident may occur in a blink of an eye, with the slightest distraction. This is usually the cause of falls and struck-by accidents.
Incomplete instructions – Workers need to be fully informed on the tasks they're working on. A daily update on the job site before starting to work ensures safety.
Lack of training – Proper training will prevent haste and improve performance. It will enable workers to do their jobs better and safer. Meanwhile, insufficient knowledge of building procedures will cause damage in the long run.
Taking shortcuts – Whether due to laziness or cost-cutting measures, this is unacceptable. Shortcuts ignore safety procedures in an attempt to finish the job faster. As a result, unfortunate outcomes ensue. For example, in a rush to complete a project, workers may become victims of a trench collapse.
Industry Violations that Can Cause a Construction Accident
In 2020, the OSHA cited the 10 most frequent violations that result in worker injuries:
Fall Protection
Hazard Communication Standard
Respiratory Protection
Scaffolding
Ladders
Control of Hazardous Energy
Powered Industrial Trucks
Training Requirements
Eye and Face Protection
Machinery and Machine Guarding
These kinds of violations can result in serious worker injuries and even in fatalities. If one or more of such factors contributed to your injuries, then it is likely a result of negligence. An experienced construction accident attorney can help you file a case against the company that hired you.
Construction Accident Rates
Construction accident rates are alarming. Here is the latest news released by the U.S. Bureau of Labor Statistics:
A worker dies every 99 minutes from a work-related injury.
In addition, injuries from the "…construction and extraction occupations increased by 6 percent in 2019 to 1,066–the highest figure since 2007."
On-the-job fatalities in all construction industries totaled 5,333 in 2019.
Architects and engineers had 43 fatal injuries, while trade workers had 809.
Fatal injury rates for roofers rise to 54 per 100,000 workers. For the construction trade helpers, the rate is 40. Those involved in structural iron and steelwork had an injury rate of 26.3.
In the private construction industry, fatal injuries mostly come from harmful environments, electrocution, and struck-by incidents.
This report did not include the number of fall-related incidents. Still, falls remain the leading cause of construction accident fatalities.
Who is Liable in a Construction Accident?
Building companies and contractors must protect their employees from job site hazards.  Thus, your general contractor can be liable if you were injured on site.
Moreover, you may have been working in a hazardous area during your construction accident. By failing to provide safe working conditions, the property owner may also be liable for your injuries.
If a piece of defective equipment or an outsider caused your construction accident, you may file a case against that entity. This is based on ARS § 23-1023 (Liability of third person to injured employee). It states that: "A. If an employee who is entitled to compensation under this chapter is injured or killed or further aggravates a previously accepted industrial injury by the negligence or wrong of another person not in the same employ, the injured employee, or in event of death the injured employee's dependents, may pursue the injured person's remedy against the other person."
Legal Remedies for the Injured Victims
A worker injured in a construction accident must notify his employer to qualify for worker's compensation. However, since most construction jobs use contractual agreements, the worker may not qualify in this case. Unless the injured worker is a permanent employee of the building contractor, only then will the worker's compensation apply.
Hence, this affects construction accident victims who are working on a temporary basis. According to ARS § 23-1601, the independent contractor acknowledges, "(a) That the contractor is not insured under the contracting party's health insurance coverage or workers' compensation insurance coverage." 
Therefore, construction accident victims who are independent contractors must explore other legal remedies. The victims may file a case under the state's personal injury laws.
With the assistance of a construction accident lawyer, you can get compensation for your injuries. If you are an independent contractor, then hiring a skilled attorney can be your best option. Our lawyers at Warnock MacKinlay Law have extensive experience in construction accident cases. We can help you receive the compensation you need to recover from your injuries.