Car accidents happen every day all across the country, causing a multitude of damages. Despite public relations campaigns to reduce the number of crashes on the roads, accidents continue to happen. Unfortunately, many of these motor vehicle collisions are a result of negligence, speeding, driving while intoxicated, or distracted driving.  The Arizona Department of Transportation reports that during 2014 Phoenix had 173 fatal crashes that resulted in 177 deaths. If you have been involved in a Phoenix car accident, you might not know where to turn. While it is a stressful time, you need to know that help is available.
A Phoenix car accident can lead to a variety of damages. Those damages might include medical expenses, lost wages, pain and suffering, future loss of earnings, permanent scarring and disfigurement, loss of enjoyment of life, and property damages. To recoup compensation for these damages, you will need to file a Phoenix personal injury claim. A skilled car accident attorney can assist you in recovering the damages you suffered. Warnock MacKinlay Law has helped hundreds of Phoenix auto accident victims throughout the years.
To preserve your rights and protect your right to file a personal injury claim, you need to to know what to do after an auto accident and properly preserve the evidence. Here are a few tips regarding what to do following an auto accident.
Always stay on the scene of the crash. Don't leave even if you think it is minor.

Make sure the police are called and alerted of the accident. Law enforcement will need to come out and complete a full accident report and conduct an investigation.

Check to see if anyone is harmed and if an ambulance is needed. If there are serious injuries, call an ambulance right away.

Take photographs of the accident scene. Get photos of damages and visible injuries as well.

Exchange contact information and insurance details with the other driver. Get names, phone numbers, license plate numbers, make and model of vehicle, and insurance policy details.

Get the names and contact details for any witnesses to the crash. Ask them to prepare a written statement and sign it.

Seek medical treatment and get checked out from the nearest medical facility,

even if you do not feel like you are injured immediately after the accident.
If you have been in a car accident, you should seek medical attention. Even if you don't believe your injuries are serious, they can be much worse than they initially appear. It is always recommended that you be examined by a medical professional. There are several hospitals in the Phoenix area that have emergency rooms open 24-hours a day. Go to one of those facilities for a thorough examination.
Here are some Phoenix area hospitals: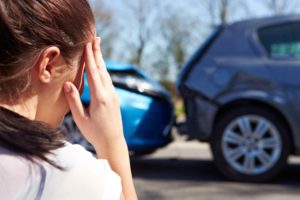 St. Luke's Medical Center
1800 E. Van Buren St.
Phoenix, AZ 85006
Banner Good Samaritan Medical Center
1111 E. McDowell Rd.
Phoenix, AZ 85006
St. Joseph's Hospital and Medical Center
350 W. Thomas Rd.
Phoenix, AZ 85013
Keep all documentation, such as medical bills, medical records, proof of lost wages, towing bills, and damage estimates. Keep medical records and any bills or receipts for medical expenses. These will be needed to help support your Phoenix personal injury claim. You will want to keep all documentation to support your claim and for your attorney to use in negotiations with the insurance company.
What About Damages to My Car?
Your injury claim can include personal property damages. If you have been in a Phoenix car accident, most likely your car has suffered damages. You should keep any copies of tow bills and any receipts for rental cars used while your vehicle is inoperable. Take your vehicle to qualified auto body repair shops and get detailed written estimates that show how much it will cost to put your car back to its original condition. If you have any repairs done to make your car drivable, or if you have to buy something such as a tire, keep the receipts for the negotiations.
What Kinds of Injuries Can Result from a Car Accident in Phoenix?
Car accidents can lead to a multitude of other injuries. Of course, some injuries are much more severe than others. The more serious injuries result in a greater accumulation of medical bills and can lead to more life-altering results. Typically, the greater the impact, the more severe the injuries, and the longer you will suffer from pain and other inconveniences. Sometimes auto accidents lead to catastrophic injuries, which are debilitating and will impact you the rest of your life.
Catastrophic injuries include traumatic brain injuries, spinal injuries, and paralysis. These injuries often require life-long care. You might need a live-in nurse, or you might have to have an around the clock caregiver to help you with your day to day activities. If you or a loved one suffered catastrophic injuries in a Phoenix auto accident, you definitely need a personal injury attorney experienced in helping clients who have suffered catastrophic injuries. Nate Preston has a proven track record of helping those with catastrophic injuries get the compensation they need to continue with life.
Other injuries might include soft tissue injuries, such as whiplash. Broken bones might also result. Contusions and abrasions are also common. Other serious injuries that might occur include vision loss or eye damage, hearing loss, or permanent scars or disfigurement. Car accidents can also lead to burns as well. Any of these injuries can result in long-term pain and suffering. Your car accident attorney will help you get the compensation that you deserve to take care of your long-term medical needs and to cover your lost wages.
What Can a Phoenix Auto Accident Injury Attorney Do?
When you retain the services of a Phoenix auto accident injury lawyer, you can get compensated for the damages you suffered as a direct or indirect result of the car accident. Your attorney will go over all the evidence and then conduct his own investigation into the crash. Determining which damages you suffered and the value of your claim, your lawyer will negotiate with the liable party's auto insurance company. If a settlement amount cannot be determined, your claim will go to court. Because Warnock MacKinlay Law works on a contingency basis, they won't be paid until they get you money for your claim. Call Warnock MacKinlay today at (602) 600-6427 to request a complimentary case review.