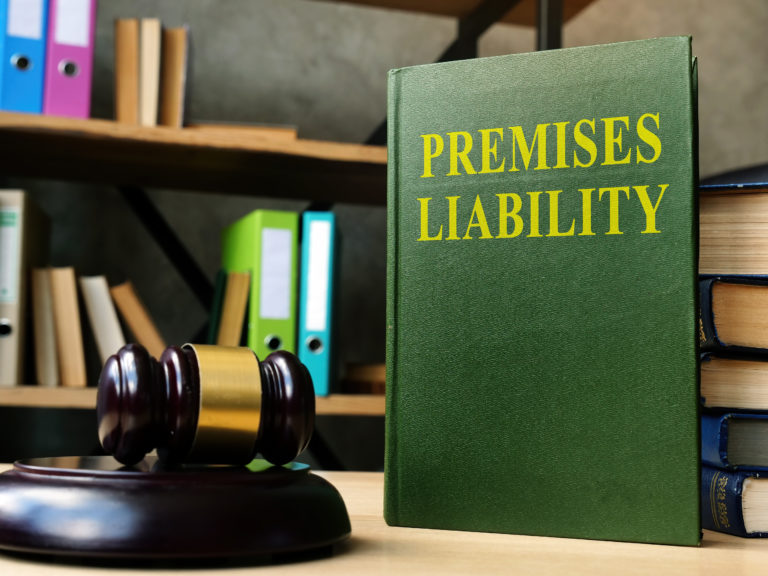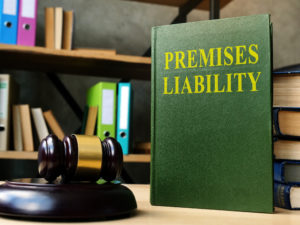 Slip-and-fall accidents bring thousands of victims to emergency rooms every year. Its debilitating effects often affect one's health and daily functions. Thus, it is only fair to seek compensation if you have been a victim of premises negligence. However, filing a claim for your injury might not be as easy as you think. An AZ slip-and-fall lawyer can help you get a reasonable amount that can cover your expenses and medical bills.
Slip and Fall Accidents are Preventable
The owner of the property should ensure that the premises are safe for everyone. Preventing slip and fall accidents is possible with these proactive housekeeping techniques:
Mopping spills and wet floors immediately
Sweeping clutter and debris on the floors
Eliminating obstacles like power cables strewn on floors
Securing all floor coverings such as rugs, doormats, carpets
Ensuring all light bulbs and switches are in working condition
Providing adequate lighting installations on all walkways
Using appropriate floor cleaning products and methods
Replacing broken tiles and worn-out floors
Fixing cracks and holes in pavements and sidewalks
Repairing defective stairs and handrails
Placing warning signs on uneven walking surfaces
The Alarming Prevalence of Slip and Fall Accidents
Slip-and-fall injuries top the list of accident-related fatalities and emergency room visits. In contrast to motor vehicle accidents, fixing common hazards can reduce a significant number of slip and fall injuries.
Here is a graph illustrated by the National Safety Council. It shows that fall injuries now account for 23% of all preventable U.S. deaths in recent years.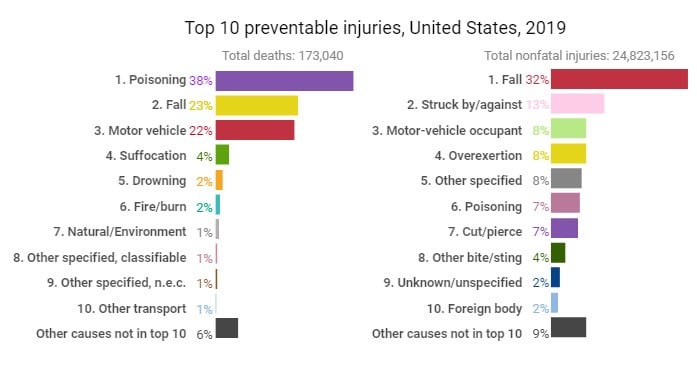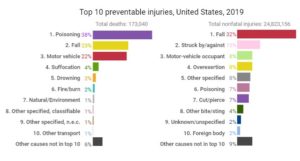 Furthermore, slip-and-fall accidents are now the leading cause of preventable injuries. It has 32% more reported victims than those involved in assaults and car accidents.
Common Injuries from Slip and Fall Accidents
According to the CDC, "One out of five falls causes a serious injury such as broken bones or a head injury". More than 800,000 victims go to hospitals every year due to slip-and-fall accidents. Their injuries consist of the following:
Traumatic Brain Injuries (TBI) – These are the most common physical damages brought on by slip and fall.
Hip Fractures – By falling sideways, the thigh bones (femur) receive the greatest impact. Hence, over 95% of hip fractures result from falls.
Dislocated Joints and Broken Bones – In an attempt to avoid injuries, some victims try to stop the fall. But, using their upper or lower limbs may not reduce the impact. Doing this breaks the bones on the wrists, arms, and ankles. Slip and fall accidents also cause knee and elbow dislocation.
Slip-and-fall injuries are costly. You need to pay for treatment, medication, and rehabilitation. Thus, if a neglected slip and fall hazard caused your injury, then you should file a claim immediately.
Arizona Slip and Fall Accident Statistics
The Arizona Department of Health Services recently published its annual hospital discharge report. Here are the latest slip-and-fall statistics in Arizona:
Falls caused 1,109 deaths, 22,967 hospitalizations, and 167,853 emergency visits.
Fall accidents are the leading cause of injury-related fatalities among older Arizona residents.
Traumatic Brain Injury caused 41% of the fatalities.
Arizona females who are 85 years old and above rank highest in fall mortality rates.
Every 13 seconds, an older adult goes to an emergency room due to fall-related injuries.
Slip-and-fall accidents cost Arizonans more than $3 billion a year.
Total hospitalization costs for Arizona slip-and-fall accident victims exceed $1.7 billion a year. These costs do not include MES services, rehabilitation, or long-term effects.
Hospitalization rates due to unintentional falls ranked highest in Gila, Maricopa, Pima, Yavapai, and Cochise counties.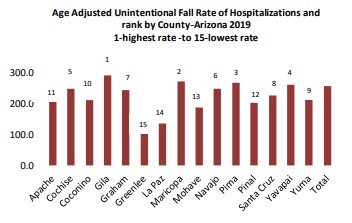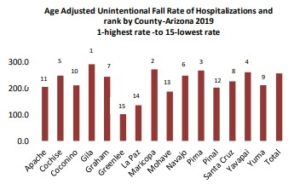 Slip and Fall Law in Arizona
All property owners in Arizona must ensure the safety of their surroundings. According to the Arizona Revised Statutes:
"Liability" ARS § 20-2401 – Means legal liability for damages, including costs of defense, legal costs and fees and other claims expenses, because of injuries to other persons, damage to their property, or other damage or loss to other persons resulting from or arising out of either: (i) A business, whether for profit or nonprofit, trade, product, services, including professional services, premises or operations. (ii) An activity of a state or local government, or an agency or political subdivision of the state.
Simply stated, the owner of the premises will be held liable for injuries caused by their property. Thus, if your slip and fall accident is due to housekeeping or maintenance negligence, you can hold the owner accountable for the damages incurred.
Trespassers ARS § 12-557 – A possessor of real property, including an owner, easement holder, lessee, renter, or other occupant, does not owe a duty of care to a trespasser except to refrain from causing intentional, willful, or wanton injury.
This refers to unauthorized entry, especially on gated and guarded properties. It frees the owner of any responsibility for sustained injuries. Hence, trespassers who become victims of slip-and-fall accidents cannot file a legal claim against the property owner.
Slip and Fall Injury on Children in Arizona
Children ARS § 12-641 – Either parent may maintain an action for the injury of a child, and a guardian may maintain an action for the injury of his ward.
If a child is a victim of a slip-and-fall accident, the parent can file a legal claim on his/her behalf.
Filing a Slip and Fall Claim in Arizona
Statute of limitations ARS 12-542 – Injury to person; injury when death ensues; injury to property; conversion of property; forcible entry and forcible detainer; two-year limitation
Therefore, like other personal injury claims filed in Arizona, slip-and-fall accident victims are only given two (2) years to file their case.
It is not always easy to prove negligence in slip-and-fall accidents. Due to the unique circumstances of each case, you may not be able to receive fair compensation. But with a reliable Arizona slip-and-fall lawyer by your side, you can receive the settlement that you truly deserve.