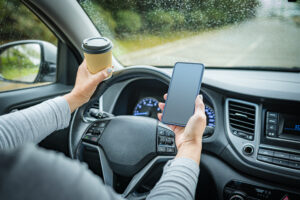 The majority of states nationwide implement some form of a distracted driving law. It is a necessary regulation, as using phones while operating a vehicle is not uncommon. Every year, thousands of crashes happen due to distracted driving, mostly involving the use of an electronic device. It doesn't matter whether it is hand-held or hands-free. The mere use of phones and gadgets may disrupt a driver's focus on the road. What is even more troubling, is that around 80% of drivers tend to check their phones while driving.
How Dangerous is Distracted Driving?
Distracted driving causes serious and fatal accidents. When drivers fail to pay attention to the road, it poses a risk to the safety of the people around them. It consists of texting, eating, grooming, and fiddling with other things while operating a vehicle. Distracted driving dangers include:
Going over speed limits
Failing to yield another vehicle's right-of-way
Sudden or abrupt braking
Running against a red light
Tailgating
Crashing into an object or another vehicle
Hitting a cyclist or pedestrian
These infractions still prevail on Arizona roads, thus creating a need for a tougher distracted driving law.
Texting while Driving is as Bad as Drunk Driving
Among all the distractions, texting counts as the worst. Texting while driving is comparable to drunk driving. Both actions can cause reckless behavior as drivers lose their ability to concentrate. Just like alcohol, drivers who text reduce their reaction times.
Moreover, texting represents three types of distraction all at once. When a driver texts, his/her visual, manual, and cognitive abilities are affected. He/she needs to look at the phone to read, use hands for typing, and think to interpret the message. Hence, texting impairs the judgment needed for road conditions and traffic signals. His/her inattention behind the wheel causes him/her to lose full control of the vehicle.
The Need to Enact a Better Distracted Driving Law
For so long, assigning fault to distracted drivers who caused accidents is tricky. Lawyers for injured victims must dig deeper into existing laws to establish negligence. It took skill, hard work, and determination to work around the vague statutes.
The rules which then formed Arizona's distracted driving law only applied to a select group of people. The statewide restrictions only banned novice, teens, and school bus drivers from texting or using a cell phone while driving. Moreover, the extent and capacity of such prohibitions often vary from one city to another.
These cities in Arizona prohibited texting while driving:
Areas that do not permit handheld wireless devices while driving:
Glendale
Pima County
Tucson
Oro Valley
San Luis
Cottonwood
Parker
Payson
Depending on the area, traffic officers may cite, assign demerit points, or require fines for violators in accordance with the severity of the accident they caused.
Passing of the Legislature
For more than a decade, the state of Arizona remained among the last states to ban the use of cell phones behind the wheel. Year after year, countless victims and their families pursued this cause. An anti-distraction organization even pushed its advocacy for a distracted driving law.
However, traffic safety worsened in Arizona. Another unfortunate incident finally hastened the passing of this legislation. A Salt River police officer died while conducting traffic due to a car crash. The driver who crashed into the said officer was apparently texting, moments before the accident. Regardless of the outcome of this case, it is one of the major reasons behind the long-awaited law.
Hence, the Arizona legislature now includes a law that restricts cell phone use while driving. When House Bill 2318 took effect, thousands received citations and warnings. It may take a while before the driving public would completely avoid cell phone use.
Arizona still needs to ban all types of distractions. A separate bill sought to address driving distractions in general; however, it was vetoed. With all the risks associated with distracted driving, the ban on cell phone use is already a milestone.
Provisions of the New Distracted Driving Law
Arizona's new distracted driving law focuses on the primary distraction among drivers: a cell phone. The Arizona Department of Public Safety refers to it as the "Hands Off law". It bans drivers from using cell phones and similar electronic devices while the vehicle is in motion. The law prohibits the use of a "stand-alone electronic device" while driving, which includes:
Cellular phones
Tablets
Music devices
Gaming devices
Any wireless communication/storage device with retrievable audio, video, or data capacity
While driving, it is against the law to do the following:
Making a call
Answering a call
Reading a message
Texting
Holding a device with your body
Watching videos
Recording videos
However, drivers are allowed to use cell phones during these instances:
Starting a route with a GPS
Using the device for navigation purposes
Calling emergency services
Reporting a crime or summoning the police
Distracted Driving Law Exceptions
With all the prohibitions of the new law, there are exceptions, though, for jobs and industries that rely on cell phones and similar gadgets. For example, emergency responders need constant communication systems so that they can effectively perform their tasks.
Hence, the ban against wireless communication devices behind the wheel does not apply to any of the following:
Emergency vehicles such as ambulance, patrol cars, and fire trucks (subscription-based communications)
Traffic, road, and weather information devices
Image enhancers that supplement a driver's view of the front, rear, and side areas of the vehicle (in-vehicle security systems)
Devices that provide vehicle information and driving control
Image display devices that permit a driver to monitor the vehicle occupants behind his/her seat
Devices that relay information intended to enhance traffic safety (radio including citizen band and hybrid)
Portable display of images for navigation or global positioning (GPS) purposes while the vehicle is in motion
Similar image devices built or installed in vehicles of public corporations or political subdivisions for service and maintenance of its facilities (including remote diagnostic systems)
Any use of image display (i.e., texting, calling, watching, browsing, etc) while the vehicle is parked
Therefore, the law regulates cell phone use to prevent drivers from doing actions that interfere with the safe operation of their vehicles.
Amendments to the Legislature
Upon its enactment, House Bill 2318 of the 54th legislation became applicable nationwide. To cite SECTION 28-914 of the Arizona Revised Statutes:
"H.  THE REGULATION AND USE OF PORTABLE WIRELESS COMMUNICATION DEVICES WHILE OPERATING A MOTOR VEHICLE ARE OF STATEWIDE CONCERN.  FROM AND AFTER DECEMBER 31, 2020, THE REGULATION OF PORTABLE WIRELESS COMMUNICATION DEVICES PURSUANT TO THIS SECTION AND THEIR USE WHILE OPERATING A MOTOR VEHICLE IS NOT SUBJECT TO FURTHER REGULATION BY A COUNTY, CITY, TOWN OR OTHER POLITICAL SUBDIVISION OF THIS STATE.  FROM AND AFTER DECEMBER 31, 2020, A REGULATION BY A COUNTY, CITY, TOWN OR OTHER POLITICAL SUBDIVISION THAT VIOLATES THIS SUBSECTION, WHETHER ENACTED BEFORE OR AFTER JANUARY 1, 2021, IS VOID."
This means that the penalties for using cell phones and similar devices while driving will no longer depend on local regulations. The law does not allow drivers to hold their cell phones while driving anywhere in Arizona.
How it Affects Liability in Vehicle Accidents
In most cases, distracted driving is only presumed until there is enough evidence to prove it. You need an experienced accident lawyer who knows how to obtain such documents. Cell phone records, video footage, and witness accounts will help prove negligence. If the driver was indeed using his/her at the time of the crash, he/she will be held liable due to carelessness. It is now easier to determine the severity of a fault with the distracted driving law.
Accidents due to distracted driving can be avoided if drivers have enough self-discipline. Though it might be a challenge to break bad driving habits, there are a few more ways to avoid them. In today's fast-changing world, all it takes are a few applications to curb distractions. (Related article: How Data and Tech can Prevent Distracted Driving)
Have you been injured in an automobile accident that is not your fault? Chances are, the other driver might have been distracted before the crash. Our lawyers can help you demand rightful compensation from the liable party. Call us for a free consultation.