After an accident, it is extremely important to find the best Arizona injury lawyer to represent you. A successful resolution of your case is largely dependent on your accident lawyer. There are hundreds of Arizona law firms and the following facts will assist you in making an informed decision as to why you should choose Warnock MacKinlay Law to represent you (click graphic to see full version):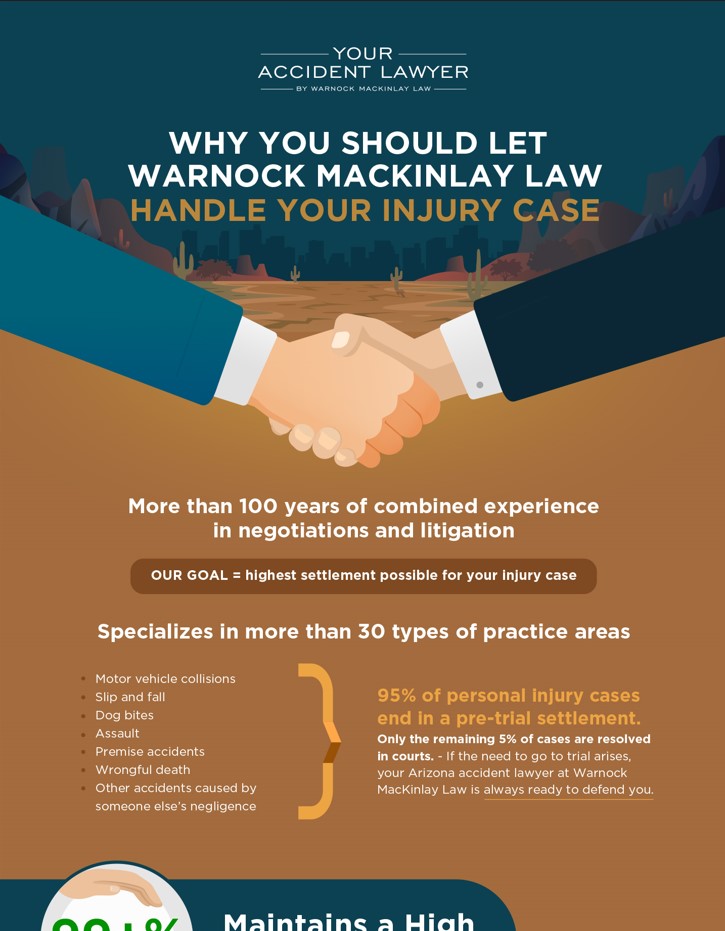 Why Choose Warnock MacKinlay Law?
Warnock MacKinlay Law has more than 100 years of combined experience in personal injury and accidental death cases. Our goal is to obtain the highest award possible for you.
Our firm works exclusively in personal injury and accidental death cases. We represent victims of motor vehicle collisions, wrongful or accidental death, slip and fall, dog bites, and other accidents caused by someone else's negligence.
Our team is outstanding at resolving personal injury cases without having to go to trial, which is the best result possible for you. However, if it is necessary to go to trial, our lawyers will be prepared and ready to go. Each of our lawyers has mediation, arbitration, and trial experience. In fact, many of the cases our law firm handles are from other law firms, that do not have our litigation experience.
Warnock MacKinlay Law is Successful in 99+% of Our Cases 
We will not give up on your case. If one theory is not successful, we will investigate and find other theories to resolve your case successfully. Our team of Arizona Accident Lawyers use time-tested strategies that have made us so successful.
We are working towards $1,000,000,000.00 – yes, that's One Billion Dollars – worth of claims we won for our clients. We are fully committed to obtaining the highest possible compensation for you. Thus, we fight for your rights so you receive fair payment for your injuries.
We Do Not Charge Attorney Fees Unless We Win
You can afford to hire Warnock MacKinlay Law because we do not charge unless we win.
Under our contingency fee agreement, clients do not pay attorney fees upfront or by the hour. You only pay a percentage of your actual winnings. We understand you are going through a difficult time. We will do everything possible to assist you from beginning to end.
FREE Consultation from Warnock MacKinlay Law

All of our consultations are free. We will evaluate your case without you having to pay anything out-of-pocket. We want you to understand your legal options.
In fact, you are not required to even come into our office for your free consultation. We can discuss the details by telephone or Zoom. We are always available at our offices if you prefer an in-person meeting.
In Arizona, you must file a claim within the 2-year statute of limitations (and sometimes shorter). Thus, we need to meet with you immediately, begin investigating your case, and gather the facts.
We Work to Build a Strong Foundation for Your Case
Warnock MacKinlay will build a strong foundation for your case. We are with you every step of the way. We have an extensive background in handling personal injury and accidental death cases.  Moreover, we are familiar in handling medical records, police reports, and expert opinions. We carefully examine every detail of the case, to protect and represent you throughout your case.
The latest public opinion surveys indicate that more than 95% of those surveyed agreed they would sue for their injuries or wrongful death if necessary. If you need to sue the negligent party, you really need Warnock MacKinlay Law.
The same surveys indicate that almost 30% of injured victims would sue if the lawyer recommends that they have a strong case. You can trust Warnock MacKinlay Law to determine the strengths and weaknesses of your personal injury claim and have that explained to you thoroughly.
Drawing from our large network of accident experts, medical specialists, and private investigators, we coordinate with authorities to understand your case. Arizona uses the comparative fault system in all personal injury cases. It means that even if you have some fault in causing the accident, we can still be successful in representing you. This is because of our thorough investigation and even having retired police officers and ex-claims adjusters on our team to help you win your case.
Warnock MacKinlay Law Will Focus on Your Rights and Recovery
The most recent surveys indicate that 70% of accident injured would hire a lawyer even if they had no choice. Warnock MacKinlay Law believes each and every personal injury victim has a choice and it is their decision to make. With a reliable Arizona Accident Lawyer by your side, you can focus on your physical recovery while our law firm focuses on obtaining a monetary recovery on your behalf.
We Understand Your Immediate Concerns
Warnock MacKinlay Law recognizes your urgent concerns. For example, the most pressing concerns that accident victims are confronted with after an accident are as follows:
Medical Injury (32%)
Medical Bills (20%)
Car Repair (17%)
Lost Wages/Income (8%)
Stress/Justice (7%)
Other (5%)
Money (4%)
Insurance (4%)
Pain and Suffering (2%)
The above responses from some 500 people engaged in accidents, may be close to what you are experiencing currently. However, with Warnock MacKinlay Law at your side and at the forefront of your case, you will find answers to each of these burdens as fast as possible.
Your Arizona Accident Lawyer Can Help You Find Proper Medical Care
Warnock MacKinlay Law will assist you in finding proper medical care. At Warnock MacKinlay Law, we will find ways to help you get better.
We assist you in finding the right doctors to treat you for your injuries.
Your recovery is our top priority. By connecting you with compassionate and skilled doctors, we can help you locate the right one for your needs.
We recommend doctors who do not require an upfront payment.
No health insurance? No problem. Because of our strong relationships in the medical community, we know doctors who are willing to wait for payment until you have received your settlement claim. To ensure that you get proper care, we will locate these doctors for you. With this in mind, you can receive prompt medical attention even if you have limited finances.
We negotiate reductions on all medical bills.
We understand how difficult it could be to move on after an accident. It is not always easy to get back on your feet while healing from your injuries. We will negotiate your medical bills. We will try to reduce your hospital expenses to the lowest amount possible. Therefore, you will be left with more money for your future needs.
We Seek Solutions to Answer Your Present Needs
Warnock MacKinlay Law does more than just resolve your case. In addition to assisting you with obtaining proper medical assistance and filing a claim for your injury, we help you in many other ways, including:
We assist in handling your property damage claim.
Car repairs should be one less thing that you worry about. So let us help you handle the claims for your damaged vehicle – at no extra cost! Again – all we want is for you to get better. We take care of everything possible, so you can focus on yourself.
We assist you in obtaining a rental car.
Warnock MacKinlay Law will help you receive transportation assistance. By reaching out to your insurance company or the at-fault party's insurer, we can obtain a temporary rental vehicle for you. Thus, you can go back to work, show up at doctor's appointments, and move on with your daily activities.
We do not permit the insurance company to bother you.
You are in the process of recovering from your injury.  Because of this, you don't want to be harassed by insurance companies and adjusters trying to steal your case. Therefore, we will work directly with these individuals. We will not permit them to bother you during the pendency of your case.
Excellent Communication by your Accident Lawyer in Arizona
Typically, personal injury claimants retain attorneys for a variety of reasons. The first is because the insurance company is trying to take advantage of your claim. It is often the case that a friend or relative has been involved in an accident, and suggests someone they have worked with in the past. Or, you may have even seen an attorney's advertisement. In any event, Warnock MacKinlay Law prides itself on excellent communication with its clients. Hence, keeping you informed during the progress of your case. There is always someone available to help at Warnock MacKinlay Law. Your calls and emails will be responded to promptly.
Warnock MacKinlay Law is Trustworthy
Warnock MacKinlay Law is a member of the State Bar of Arizona. Throughout the years, our dynamic Arizona Accident Attorneys consistently receive awards for excellent service. Some of our notable recognitions include:
High ratings from Super Lawyers (Rising Stars 2020)
The National Trial Lawyers Top 40 Under 40 2020
Best Car Accident Lawyers in Mesa 2020
Top 1% Attorneys in America (Distinguished Justice Advocates)
Avvo Clients' Choice Award
International Advisory Experts -Awards Winner 2020
Top 10 Personal Injury Law Firm 2020 -Attorney and Practice Magazine
10 Best 2020 Attorney, Client Satisfaction (American Institute of Personal Injury Attorneys)
Top Attorney 2021 Annual List of America's Top Attorney
National Academy of Personal Injury Attorneys
Top 10 Under 40 2021
Lifetime Charter Member of Distinguished Justice Advocates 2021
Best of the Best Law Firms Top 10 Nationally Personal Injury
2021 Rising Star Honoree
2021 Super Lawyer
Lifetime Achievement Award in Recognition of $500,000,000.00+ Recoveries
Top 1% of Law Firms in American Based on Recoveries
American Institute of Personal Injury Attorneys, 10 Best Attorneys Nationally 2021
National Academy of Attorneys $500,000,000.00 Club
The National Trial Lawyers Top 10 National Latino Trial Lawyers 2021
Above all, what our clients say about us motivates us to continue our firm's legacy of justice with compassion. You can look at our Google reviews where we have literally received hundreds of five-star reviews.
Our team of Arizona accident lawyers and paralegals is always ready to answer your questions. For all your queries and concerns, please don't hesitate to call us at 602-600-6427.