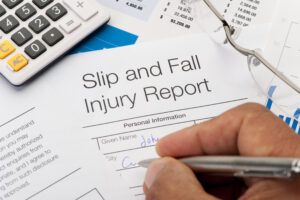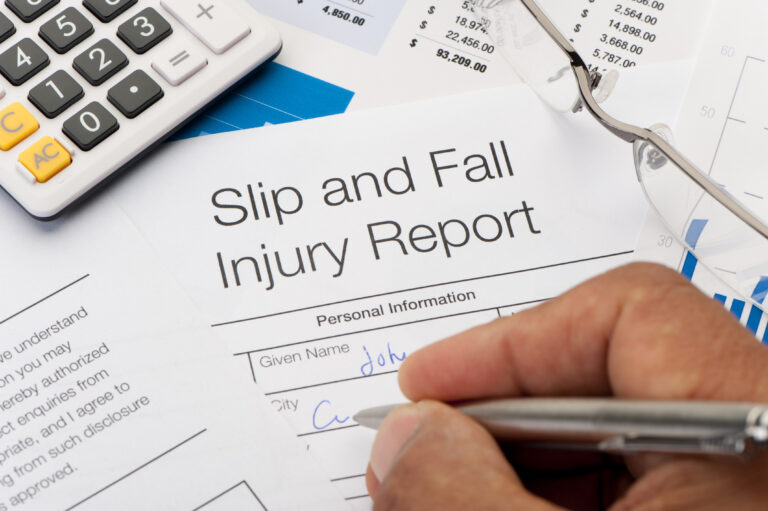 In Arizona, around 160,000 people go to the emergency room yearly due to slip and fall accidents. Like other personal injury cases, a slip and fall accident can bring long-term effects. They are, however, different from other types of injury cases. Here's what you need to know: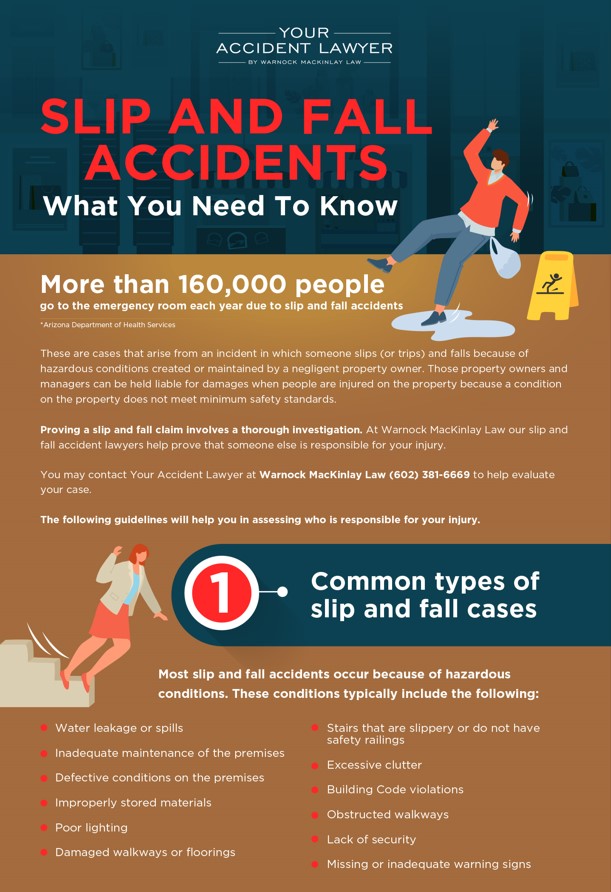 Premises liability laws may differ from state to state. Proving fault in a slip and fall claim involves a thorough investigation.  In slip and fall accidents, the insurance adjuster follows certain guidelines to determine the real cause. This is why in Phoenix, Scottsdale, or Mesa, an Arizona slip and fall lawyer can help you prove that someone else's negligence caused your injury.
Here are some factors that may affect your slip and fall accident claim:
1. Reason for Presence
To make the owner liable for your injuries, you must be able to prove your lawful presence in his/her property. You, as the claimant, may be classified into one of these categories:
Invitee – As a customer, your presence in shops, restaurants, and other commercial areas where you patronize the owner's business is legal. "Invitee" also refers to the salesmen, contractors, public officials, and other people who bring benefit to the owner on their visit. They may become involved in a slip and fall accident while doing business inside the premises.
Licensee – As a social guest, you can file a claim for your injuries. Even if you have been entered the property a few times before, you may not be fully aware of the slip hazards in the property. The owner should have taken steps to ensure everyone's safety.
Attractive Nuisance – This applies to small children who become victims of slip and fall accidents. It refers to the ones who are not old enough to discern property limits. An object from the property may be visible from outside which caught the child's interest in the first place.
Trespasser – Applicable if you have been loitering around an area where you do not have permission to do so. Refusal of permission means that the premises are fenced, locked, or guarded. Thus, you cannot hold the owner responsible for your slip and fall accident or any type of injury while inside the property.
2. Safety Hazards that Cause Slip and Fall Accidents
According to the slip and fall study conducted by a risk management service, 50% of its surveyed sites revealed floors that do not comply with safety standards. To sum up its reported data, it seems that most floor and slip hazards in retail and business establishments can be found in these areas:
40% on main entrances and walking surfaces
33% on parking lots
27% on sidewalks
Less than 1% inside office floors
Slip and fall accidents usually happen on the floors and stairs. Here are some of the hazards to watch out for:
Cracks, holes, and creaking sounds
Wet, oily, or waxed floors and stairs
Loose rugs and carpets
Presence of debris on walkways
Poor lighting conditions
Electrical cords across the walking surfaces
Uneven footpaths
3. Notice of Defect
Structural defects on the property often pose slip and fall hazards. To prove liability, the victim must show that the owner was not responsible enough for fixing such defects. Because some building issues may take time to repair, the following conditions may affect your case:
Claimant's Knowledge – If you have previously entered the property where you had a slip and fall accident, you may have noticed a defect beforehand. You may already know of any complaints or a previous accident that had occurred on the same slip and fall hazard. This may further prove the owner's negligence, or on the other hand, may imply the victim's carelessness.
Notice to the Claimant – Before your slip and fall accident, have you received any type of warning inside the property? The hazardous area might have been fenced, gated, or guarded. Your failure to notice a posted warning sign might affect your chances of getting a better settlement.
Owner's Knowledge of Condition – This refers to the one who is directly managing the property at the time of the slip and fall accident. Whether it is the actual owner or a renter, he/she must know the obvious defects in the building. If it is a hidden defect, like a hollow crack underneath the floor, it should be preventable through regular inspections.
4. Warning Signs
As a standard procedure, business establishments place yellow hazard signs to warn people about wet floors and facilities that are out-of-order. If you did not see a warning sign before your accident, then the owner will be liable for putting your safety at risk.
5. The Story Behind your Slip and Fall Accident
As the claimant, your story will bring more light to the investigation. These are the things that may have contributed to your slip and fall accident:
Clothing – What you are wearing at the time of the incident may provide clues on how you slipped. Are you wearing something that is too long? Do the edges of your clothing almost touch the ground? Hence, the fabric may snag on the surface, causing you to trip or fall.
Footwear – If your shoes are too high, too tight, or too loose, you may be partially responsible for your slip and fall accident.
Preoccupation – What were you doing right before you slipped? Were you carrying something too heavy or bulky? Were you texting or talking to someone over the phone? Have you been running across the walkways or rushing down the stairs?
Physical Condition – Are you physically challenged? Do you have trouble seeing or walking properly? Most people over 65 years of age are more prone to suffer from slip and fall injuries, so their claims might be blamed on previous accidents.
The other party will try to twist the facts, depending on how you recount your story. To prevent them from using your words against your claim, it is always better to let a slip and fall accident lawyer speak for you.
6. The Severity of your Slip and Fall Injuries
Slip and fall accidents can lead to serious physical injuries such as soft tissue tears, bone fractures, spinal dislocation, and brain trauma. Some injury symptoms though may only show up after a few days. Therefore, you must have a checkup right after the slip and fall accident. By acquiring a medical record immediately, you will be able to prove the severity of your injuries.
7. The Evidence you have Collected
While it is difficult to do while in pain, you should have taken photographs after your slip and fall accident. It will serve as sufficient evidence to support your personal injury claim, especially when there are obvious signs of negligence on the premises.
If you have also gathered witness accounts to prove that the slip and fall accident was not your fault, it can strengthen your case.
8. Offers and Waivers
Upon informing the property manager about the slip and fall accident, you may be asked to sign a waiver of liability instead of a record of the accident. Thus, be careful of signing statements that may release the owner's accountability for your injuries. Some insurance companies would be quick to offer you a certain amount as a settlement. In most cases, these quick settlements are not enough to cover your medical bills.
9. Statute of Limitations
In Arizona, business owners are liable for the injuries and damages caused by their premises and operations. However, there is a two-year limitation on filing personal injury claims. Therefore, it is important to file your claim right after your slip and fall accident. A reliable Arizona slip and fall accident lawyer can help you receive the best compensation that you deserve.