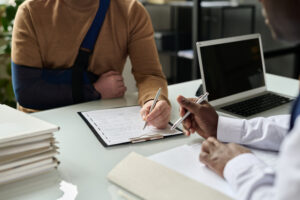 Filing a truck accident claim can help you recover from the losses you suffered from the incident. The size and weight of trucks compared to regular cars alone may result in life-changing effects after a collision. Thus, you have the right to pursue legal action if you know that the accident was not your fault. In Arizona, here are some things that you can expect upon seeking compensation for your injuries:
Act Quickly to Preserve Evidence
One of the first steps in filing a truck accident claim is collecting all the possible evidence to prove liability. Expect the possibility of tampering or disposal of crucial evidence such as the black box. That piece of evidence will provide accurate information about the truck and its driver's behavior moments before the accident happened. An experienced truck accident lawyer knows this, so when you hire one, he/she will work quickly to obtain it.
Aside from the black box, your lawyer can help you collect other types of evidence such as:
Police reports, which contain a narrative of the incident
Statements from witnesses on the scene of the accident (their contact details are usually recorded in police reports)
Photographs and videos taken from the accident scene (from your footage and the nearby security cameras)
Truck driver's logbooks, vehicle records, and history of cell phone usage
Medical records to show the severity of your injuries from the truck accident
Since the process of obtaining truck-related evidence depends on the cooperation of the liable party, you should expect this phase to be lengthy and time-consuming. But with the help of a skilled truck accident lawyer, you will be able to gather all the necessary evidence and information to justify your claim.
Multiple Parties may Share Liability
What makes a truck accident claim more complicated than ordinary car accident claims? Answer – multiple liable parties. Yes, you should expect more than one defendant in a truck accident case. This means that you will be chasing after several people legally, instead of just the driver of the vehicle you crashed into.
Liable parties in a truck accident claim may include the following:
Truck driver
The trucking company
Truck manufacturer
Vehicle parts supplier
Loading/ cargo securement company
Mechanic/ trailer or truck repair service
Truck owner
Public entity
No matter how complex it may seem, your lawyer can help you identify the parties responsible for your injuries. As a truck accident claim expert, he/she can determine liability by conducting a thorough investigation. Naming all the possible defendants for your case increases your chances of maximum recovery.

You have a Limited Time to File a Truck Accident Claim
In Arizona, there is a strict statute of limitations. From the time of the truck accident, you only have two years to file a claim after the accident. If you are filing a claim against a public entity, that makes the period even shorter – 180 days. This is why truck accident victims should talk to a lawyer as soon as possible because filing a truck accident claim entails a great deal of time. It takes a ton of hard work and preparation before your lawyer can get the ball rolling. If you wait a bit longer to take legal action, then you may be waiving your right to receive any compensation for your injuries.

The Case Starts with the Settlement Demand Letter
The legal process of filing a truck accident claim starts once your lawyer prepares a settlement demand letter for your case. You see, it can only technically begin after identifying all the liable parties and collecting enough evidence to prove their fault.
So, what is this letter all about? Your lawyer will send a settlement demand letter to the liable parties. It is a formal request which includes:
A detailed description of the accident
Explanation of the liable party's fault or negligence
Reasons why you are seeking such an amount
The amount of compensation being sought in your claim
Breakdown of damages and losses including medical bills, lost wages, pain and suffering
A set deadline for the liable party to respond
Possible consequences if the demands are not met by the liable party
The settlement demand letter sets the tone for negotiations. However, do not expect to receive the actual amount outlined for your damages. What your lawyer can recover for you may be lower or higher, depending on the negotiations and the progress of litigation.
Comparative Fault May Reduce Your Compensation
Since the state of Arizona uses the comparative fault law, this may affect the amount of compensation that you may receive. Under this rule, if the court finds you partially responsible for the accident, then "… the full damages shall be reduced in proportion to the relative degree of the claimant's fault which is a proximate cause of the injury or death, if any."
This is why we urge our clients to stay away from social media to prevent posting content that may be used against them. We also warn accident victims to avoid speaking to the insurance representatives of the liable parties. Whatever you say that is related to the accident may affect your chances of full recovery. Let your lawyer take care of all the truck accident-related communications for you.
Your Case may Settle Before Trial
Depending on the circumstances of your case, there is a good possibility that your case may end in a settlement instead of a trial. Most personal injury cases resolve through negotiations which are often feasible for all parties. Trials are costly and demand a lot of time, hence, trucking companies would likely avoid them. However, there are cases where the defendants contest liability and parties do not reach an agreement, thus resulting in a lawsuit. When this happens, our lawyers are ready to take the case to trial. Either way, our goal is to obtain maximum recovery for all of our clients.