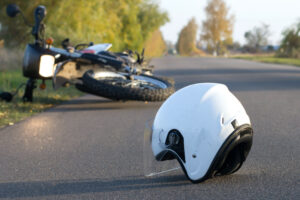 Knowing the causes of motorcycle accidents can help boost safety awareness. In Arizona alone, motorcycle crashes injure thousands every year. Worse, a hundred more die from it annually, according to the records of the AZDOT.
The Arizona Department of Transportation (AZDOT) reported nearly 3,000 motorcycle crashes in the state during recent years. While the numbers slightly differ, what is staggering is the outcome of these crashes. We found out that such accidents resulted in injuries most of the time. An average of 80% of motorcycle crashes send their victims to emergency rooms every year. So, what causes these motorcycle accidents?
Crashes with Other Vehicles
Among Arizona's major causes of motorcycle accidents is crashing with other vehicles. It accounts for more than half of the reported motorcycle collisions in the state. Throughout the years, it appears that most cars and trucks remain oblivious to the presence of riders on the road.
The Arizona Department of Public Safety reminds motorcycle riders of this fact. Whenever you drive your motorcycle, never assume that those cars and trucks will see you. Always watch out as there are drivers who do not notice motorcycles until it is too late. Often, they argued that the motorcycle was in their blind spot. Be wary of commercial trucks traversing intersections. A large number of fatal crashes occur when motorcycles are t-boned in these areas. To avoid crashing with other vehicles, defensive driving is the key.
Strive to be visible at all times by doing the following:
Wear bright colors as much as possible. Fluorescent colors are a great option for road apparel.
Use reflective gear on your clothing, especially at night.
Add retroreflective tapes or strips to your motorcycle, including your helmet.
Choose a conspicuous color for your motorcycle. Seasoned motorcyclists regard white as the safest color. You may also opt for hues of beige, cream, and yellow. These light colors provide contrast with various road elements and conditions.
Stay in open spaces to keep your distance. Avoid getting too close to other vehicles as you may drive within their blind spots.
Install additional lights on your motorcycle and use high beams in dark areas.
Use your horn when merging into traffic.
Risky Behavior
Authorities report risky behavior as one of the top causes of motorcycle accidents in Arizona. While state regulations instill licensing for drivers to operate motorcycles, inexperience persists. Lack of training makes motorcyclists fail in responding to certain road situations.
Drunk driving is another type of risky behavior that puts motorcyclists at risk. The influence of alcohol may impair judgment, hence disregarding traffic signals.
But did you know that only a small number of motorcycle crashes are caused by alcohol? Thousands of collisions in Arizona are reported with no apparent influence or impairment. Improper actions and unlawful speeding pose greater dangers for motorcyclists on Arizona roads.
Fixed Objects and Non-Fixed Objects
Both fixed and non-fixed objects also become causes of motorcycle accidents when they obstruct the rider's path. Based on the latest Arizona Crash Facts Summary, object collisions injure hundreds of riders every year. Fixed objects even outnumber crashes from overturning.
Parked vehicles, trains, railway objects, and work zone equipment often become road hazards for motorcyclists in Arizona. Thus, riders should always be aware of their surroundings. It pays to have full attention in order to gauge various road conditions.
Other Causes of Motorcycle Accidents
According to reports from AZDOT, there are other causes of motorcycle accidents. Though minimal in numbers, these still result in injuries and deaths. Collisions with animals, pedestrians, and pedal bikers also count as harmful events. Occasionally, cargo shifts and vehicle explosions sent riders to the hospital.
In case you were wondering, we did not mention rain and nighttime as causes of motorcycle accidents. While it is easy to blame road conditions during accidents, there is not enough evidence to prove this. In fact, out of the 2,594 motorcycle crashes in 2021, 1,660 occurred in broad daylight. Only a hundred happened on unlit, dark roads. Moreover, 2,519 out of 2,672 motorcycle crashes occurred on dry road surfaces. It appears that water, snow, mud, and frost have little effect on motorcycle operations.
Maricopa County records the most significant number of motorcycle accident fatalities, with thousands injured every year. Pima County comes in second, so riders should also take extra care when traversing its roads.
Perhaps the most important aspect of learning these causes is knowing the strengths of your case. Motorcycle accident cases in Arizona are subject to the comparative fault system. If you did not engage in risky driving behavior, then you can sue the other party for liability. There are times when even the most conspicuous riders get hit by inattentive drivers. If you did your part as a responsible motorcyclist, you have the right to demand compensation for your injuries. Our motorcycle accident lawyers are here to assist you.