If a family member has suffered an injury and dies from it and another party is responsible for that injury, that party is still responsible even after the person dies. Certain family members have a right to pursue recovery of compensation for damages. You will likely have a lot of questions about recovery of compensation. The following is meant to help you understand the process and nature of wrongful death claims, but you will want to consult an experienced attorney to have more detailed answers to your specific questions. Each wrongful death case is unique, and as such answers to your questions will also be unique. Only knowledgeable and compassionate wrongful death lawyers in Gilbert will take the time to answer your questions thoroughly. Contact Nathaniel Preston today for immediate assistance.
Who can file a wrongful death lawsuit in Gilbert, AZ?
Only specific familial relationships in the state of Arizona are permitted to file a lawsuit relating to a wrongful death. You can file a lawsuit if you are the surviving decedent's:
Spouse;
Child, natural or adopted;
Parent, natural or adopted; or
Legal guardian.
If none of the above apply, then a representative from the decedent's estate can file a lawsuit. Private attorneys can represent and advocate on your behalf. Not permitted to file a lawsuit are siblings, friends, romantic partners, same sex partners, or spouses from a common-law marriage, the latter of which is not recognized in Arizona as legitimate marriages.
How do I go about filing a wrongful death lawsuit in Gilbert, AZ?
First, you should know the statute of limitations in Arizona for wrongful death cases is two years. Time is important; two years will fly by. The discovery rule in Arizona, however, can allow you to extend the time in which you are able to file a suit, but it is not applicable in all circumstances. The discovery rule can only be applied if the injury reasonably was not known until later, and if so, then the statute of limitations does not begin to run until the date of discovery of the injury, rather than the date of the injury.
Second, you want to retain a wrongful death attorney in Gilbert, Arizona. An experienced Arizona attorney is well-versed in the law and the process. Filing a wrongful death lawsuit can be a stressful process that requires time, energy and knowledge of investigative tools and legal theories and procedures.
In short, to file a wrongful death claim in Gilbert, you must gather and preserve evidence. Evidence will include anything from the accident, such as pictures, medical records, recorded statements, expert and laymen witness accounts, accident reconstruction reports, police reports, whatever evidence is obtainable and applicable.
Once the evidence is gathered, a demand letter must be written to the insurance company that represents the responsible party(s). The demand letter will clearly outline the details of the wrongful death, all expenses and damages, and legal analysis as to fault and liability, and your compensation amount. The demand letter will be a key part of the settlement process, and if denied, may be the starting point of a lawsuit. The demand letter must be thoroughly supported by facts, legal analysis and the evidence. Insurance adjusters are trained to poke holes in demand letters so that the insurance company can settle for less, thus the importance of retaining an attorney to represent you and ensure a hole-free demand letter.
After the demand letter is sent, the insurance company will either offer the full amount of compensation you requested, or else negotiations may start, which is the likelier scenario. Your attorney must have adequate and aggressive negotiation skills that measure up to the aggressive tactics taken by well-trained claims adjusters. Your attorney should not settle unless the compensation is fair and just and you concur with the amount.
What can I expect to get in a settlement?
As mentioned above, each case is unique and will have attached to it its specific expenses and pain and suffering. Each settlement amount is subject to the unique circumstances of each accident and wrongful death case. When the negligence or carelessness is more pronounced, the greater impact the wrongful death may have on surviving family matters, which will impact the settlement amount. It also matters how many family members suffered from the loss of their loved one and the nature of their relationship with the loss loved one, especially if surviving family members depended on the decedent for financial and emotional stability.
For instance, if the decedent was a father, the sole bread-winner of the family, and he had an at-home wife with 3 small children, the compensation will be more than a surviving spouse with a career comparable to the decedent and no children. Without the facts and unique circumstances of the case, it is impossible to advise how much you could expect to get from a settlement. An experienced attorney can answer your specific questions and draft a well-organized demand letter that ensures the compensation you receive is just in your case.
What kind and how would my damages be calculated?
Arizona has one of the most liberal pieces of legislation within the United States with respect to compensation and wrongful deaths. There are no caps or limits on the amount of compensation you can receive for damages sustained. In fact, it is constitutionally forbidden for laws to be passed that subject personal injury or wrongful death claims to caps and/or limits on compensation. Pecuniary and non-pecuniary damages are recoverable in the form of economic, non-economic and, if applicable, punitive damages.
ECONOMIC DAMAGES
Economic damages include medical expenses from the time of the injury to the subsequent death, loss of income both past and future, property damage, and any other expense that already carries with it a monetary value. To calculate the total damages in this regard, start chronologically; begin with the accident and keep track of:
Medical and healthcare bills from the date of the injury to the death;
Loss of income in the past, from the date of the injury to the future, what the decedent could have possible made, including any reasonable promotions and benefits;
Loss of income on your behalf if you had to take unpaid leave to deal with grief; and
Funeral and burial expenses.
NON-ECONOMIC DAMAGES
Non-economic damages include damages that have no monetary value connected with it initially, but which must be calculated using standard methods. Non-economic damages include such things as pain and suffering, grief, anxiety, depression, loss of consortium. If the wrongful death was a result of particularly egregious negligence or maliciousness, then punitive damages may also be added as punishment or deterrence.
OTHER VARIABLES FACTORED INTO COMPENSATION
There are other factors that are considered when calculating compensation amount. These include the following:
Who is pursuing the claim?
How old was the decedent?
What was his or her earning capacity?
What was his or her overall health?
What was the decedent's education and training?
What is the value of any lost benefits?
What are the age(s) and circumstances of decedent's dependents?
Was the decedent at fault at all in his or her injury and subsequent death?
With regard to the last question, the state of Arizona recognizes pure comparative negligence. Each party is accountable for their contribution to the accident. If the decedent was responsible at all, a percentage or value will be attached to his fault and any compensation will be reduced according to the value of the decedent's responsibility. An experienced attorney will be able to fully address this issue to your benefit.
Will I be taxed for the settlement?
According to the I.R.S. (Publication 4345), wrongful death lawsuits are in the same category as personal injury settlements. Both settlements are non-taxable because they are perceived as compensatory in nature. In other words, settlements are more akin to a refund rather than additional income.
There are some circumstances when part of the settlement amount may be taxable, and these circumstances often pertain to medical expenses or punitive damages. If the medical expense was used as a deduction in a tax return prior to the settlement, then the settlement must be viewed and applied as income. If there were any punitive damages, this money is not compensatory, but is a financial award. Punitive damages must be reported in your 1040 as other income.
How do I win my wrongful death claim?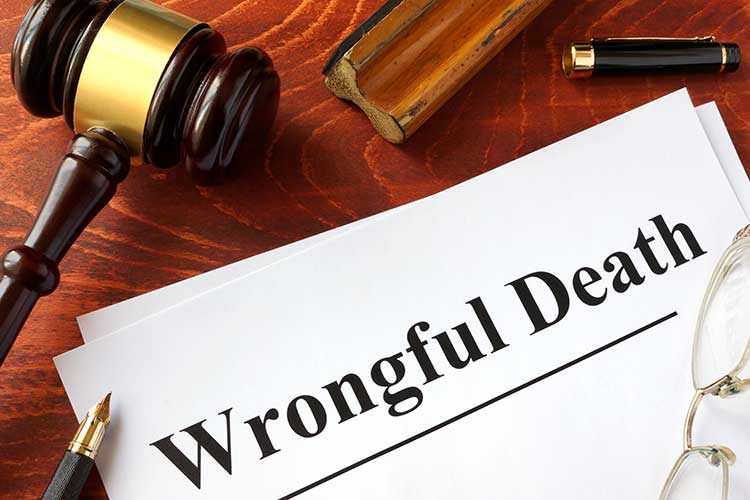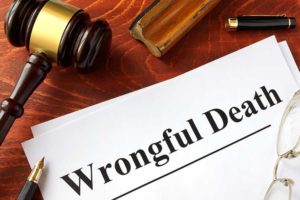 A successful claim will depend on how well the case is put together to prove the elements of a wrongful death matter. The elements include (1) establishing a duty of care; (2) proving the duty of care was breach; (3) demonstrating that the breach caused the death; and (4) damages were incurred because of the wrongful death.
Duty of Care. It must be shown that the defendant (person or entity) owed a duty of care to the deceased person, such that the defendant had a legal responsibility to provide a certain level of care to the deceased at the time the accident occurred. For instance, if the deceased was at a water park, the owners of the park have a high standard of care owed to its customers to maintain a safe park with safe rides.
Breach of Duty. It must be shown that the defendant did not provide the level of care it was legally bound to provide to the deceased person. For instance, if the water park owner did not maintain a water ride properly, it breached its legal duty to maintain safe grounds and equipment.
Causation. It must be shown that the defendant's breach of duty led to the death of the deceased person. In other words, the death of the deceased person is the fault of the defendant's action or inaction. For instance, the water park's management failed to properly maintain the equipment of a water ride, and as a result, the ride malfunctioned and the deceased was injured and killed.Note: at water parks and places that offer rides and other potentially dangerous but entertaining activities, a signed waiver is mandatory, which releases the owner from liability of personal injury and/or death. You may think this waiver applies to all personal injuries and deaths that result at the respective place, but it does not cover negligence on the part of the owners or employees.
Damages. It must be proven that the death caused you harm. Harm can be to the detriment of someone's financial status, emotional state or psychological state. Proof can come in the form of photographs, statements, witnesses, or more.
How long will it take to settle a wrongful death case?
As each case is different, the time to settle will be different. It also depends if the insurance company settled quickly after the claim was filed, or if the case went to court. It also depends on the complexity of the case, with simpler cases obviously taking less time. Cases that have multiple defendants will require more time to establish percentage of fault for each party. Cases where responsibility is not as clear-cut as the claimant would want it to be will take longer to establish responsibility. Investigative work may be required to build the case. In sum, a wrongful death case can settle within a few months or it could take years.
Will I go broke hiring wrongful death lawyers in Gilbert, AZ?
No. You will not go broke, especially if you hire an attorney on a contingency basis. Better wrongful death attorneys will provide their services on a contingency fee basis, which means you pay nothing unless you win, and then when you win, payment will come out of the settlement directly and not your pocket. On a contingency fee basis, if you don't win, then you pay nothing and the attorney gets nothing.
Some attorneys charge an hourly rate, and in such instances, if you win, you keep all the settlement. Attorney rates can vary largely, anywhere from $100 to $500 per house. Depending on how simple or complex your case is, you could be looking at out-of-pocket attorney fees and costs upward towards $30-50,000. If you win, you may get all that back (and more) in the settlement, but if you lose, then you lose your case and your money. If you hire an attorney on an hourly rate, it does have its benefits especially if your case is clear and presents itself with a large compensation package.
Who do you contact to help you with your wrongful death lawsuit in Gilbert, AZ?
Money will never remedy your loss of a loved one. Nathaniel Preston understands this fact and will fight to ensure your rights are upheld. Nathaniel Preston is a compassionate yet aggressive wrongful death attorney in Gilbert, Arizona. As inferred above, it matters to have the right attorney by your side as you fight to heal from the loss of a loved one and fight to be compensated for your loss. Nathaniel Preston is the right attorney for you. Contact him today to discuss your case. He provides legal services in Gilbert, Arizona, as well as the greater Phoenix area community.
Proudly serving in: Phoenix | Scottsdale | Mesa | Tempe | Gilbert | Chandler | Surprise | Avondale | Peoria | Goodyear