Gilbert is a small town compared to its neighbor Phoenix, and yet it has its share of car accidents that can wreak havoc and pain on its residents. If you have ever been in a Gilbert car accident, you know exactly what this means. If any personal injuries are sustained from the accident, then you will likely need the assistance of an experienced car accident and personal injury attorney in Gilbert, Arizona. A car accident lawyer Gilbert Arizona can help you through the process to uphold and protect your rights against an at-fault driver.
How many accidents happen in Gilbert, AZ?
According to Arizona Department of Transportation, Gilbert ranks in the middle of its fellow cities throughout Maricopa County in Arizona, and was home to more than 3 percent of all accidents throughout the county, as seen in the below table.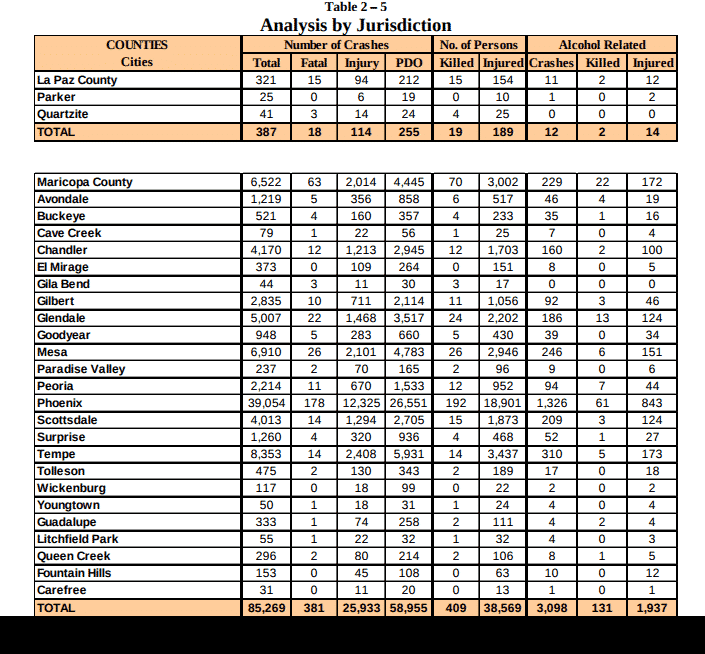 Maricopa County, overwhelmingly has more car accidents than any other county in Arizona. In fact, it is home to almost 75 percent (73.12) of all crashing in the state of Arizona.
In all of Arizona, there were a total of 116,609 automobile crashes, and of that number 811 involved fatalities; 36,139 involved injuries; and 79,659 involved property damage only. The 811 accidents involving fatalities resulted in 895 deaths, while the 36,136 accidents involving injuries resulted in 53,554 persons injured state-wide.
If you've been involved in a car accident in Gilbert, Arizona, there is a 25 percent chance a personal injury was involved. You know that a car accident with a personal injury (or fatality) can be a scary, depressing and confusing. If your accident was caused by the negligence of another driver or entity, then you need to contact an attorney. An Arizona attorney will be able to identify the cause of the accident and then, once known, point the finger at the responsible party in order to help you recover the compensation you deserve.
What are some of the common causes of accidents in Arizona?
Car accidents are caused by numerous things. Clumped together, there are three primary causes of accidents: (1) human error; (2) mechanical error/product malfunction; and (3) environmental. The most common cause of the three by far (more than 90 percent) is human error. If it's a mechanical error, then the manufacturer or supplier may be liable. If it's an environmental cause, then either mother nature or possibly a government entity is responsible.
Human error can be broken down into three categories in Arizona: (1) driver violations; (2) driver physical condition; and (3) distracted driving behavior. The top causes of accidents in Arizona according to these human error categories and the statistics associated with them are documented in the below tables.
1. Driver Violations
*Data/table taken from Arizona Department of Transportation
Out of 226,348 drivers in Arizona who were involved in an accident in 2015, 51.46 percent of them crashed due to a traffic violation as outlined above.
2. Driver Physical Condition
*Data/table taken from Arizona Department of Transportation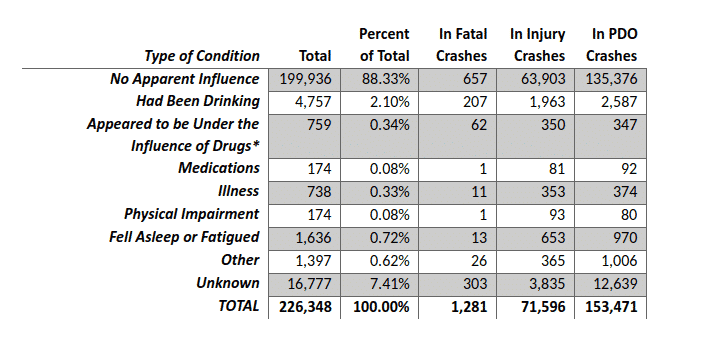 Out of 226,348 drivers in Arizona who were involved in an accident in 2015, 11.67 percent of them crashed due to a physical condition as outlined above.
3. Distracted Driving Behavior
*Data/table taken from Arizona Department of Transportation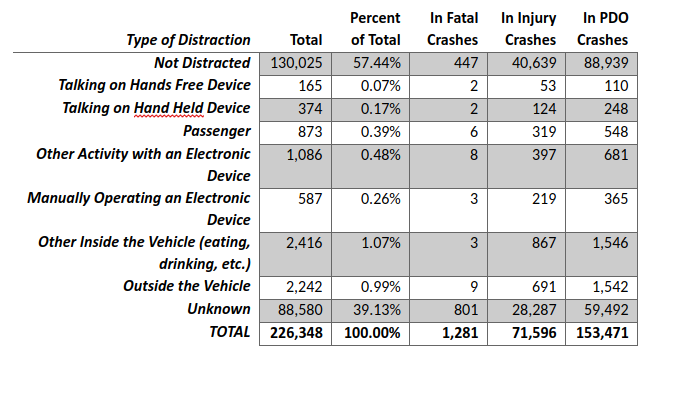 Out of 226,348 drivers in Arizona who were involved in an accident in 2015, 42.66 percent of them crashed due to a distraction as outlined above.
In all of these human errors, there is slight overlapping where a driver had made multiple errors that in effect caused the subsequent action. The below are a brief description of the 3 primary human error causes of accidents as reported in Arizona.
Speeding Some people speed because they are late, others do it just because they like speed. Whatever your reason, you need to slow down and obey the speed limit. It is there for your protection and everyone else who is sharing the road with you. Over 18 percent of all accidents are caused by someone speeding. An investigation will be able to determine if speed was cause or not in your car accident, and if so, the party speeding is at fault and liable for damages.
Distracted Driving Distracted driving can be any number of things, and this is harder to determine, even after a proper investigation. One increasingly deadly distraction, however, is texting while driving. If this distraction is suspected, your attorney will be able to request or subpoena records to determine the same. Any distracted person who causes an accident is liable for it as well.
Drunk Driving There are campaigns throughout Arizona and beyond to educate and prevent drinking and driving. Arizona is said to be one of the toughest states of DUI as well, and still it persists, according to an AZ Central news article. Alcohol related car accidents accounted for just over 4 percent of all accidents in 2015, but resulted in over 32 percent of all fatalities. The statistics are extremely unbalanced, and the likely person to be killed in an alcohol related accident is the driver or passenger of the other vehicle. Drive wisely, do not drink and drive. Your life, or someone else's, is balancing on your decision.<?li>
What are some of the most common types of car accidents in Arizona?
In Arizona, one person is injured every 9.82 minutes due to car accidents. The most common car accidents include the following:
Angle collisions;
Left turn collisions;
Rear-end collisions;
Head-on collisions; and/or, among others,
Sideswipe collisions.
Car accidents also include pedestrians and bicyclists. The latter are more likely to endure serious injuries given the nature of the accident since pedestrians and bicyclists do not have the protection of a car as the motorist who strikes them has. Of all pedestrian crashes, 11.44% were fatal while accidents involving bicyclists resulted in 1.95 percent fatalities.
Of all the automobile accidents in Arizona in 2015, 16.35 percent of them did not involve a collision with another car or object. The following is the statistical breakdown of multi-vehicle collisions in Arizona from 2015.
Angle Collisions These collisions occur when a driver moves into another lane and does not see another car in that lane. The most dangerous angle collisions are when they happen with trucks, especially semi-trucks who have serious blind spots.
Left Turn Collisions These collisions happen when drivers attempt to make a left turn to cross over onto a perpendicular street. Drivers may be distracted or attempting to make a green light and not see oncoming vehicles that T-bone them, or, alternatively, do not go fast enough into the lane and the oncoming vehicle rear-ends them.
Rear-End Collisions Many drivers fail to assess the timing they need to brake before they collide into another car. These collisions often happen during rush hours or other times that cars must come to a halt quickly and without much advance warning, or else they happen at traffic lights when a car thinks he can make it but the car in front stops at the yellow traffic signal, or some other similar situation. These collisions have the potential to be serious or mild, depending on the speed and circumstances.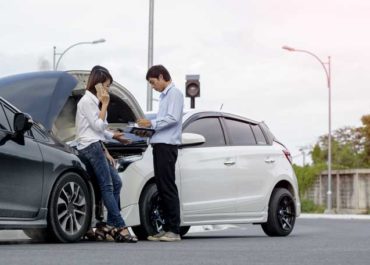 Head-on Collisions Head-on collisions can be quite catastrophic and lead to higher medical bills and/or higher rates of death. Head-on collisions can happen at higher speeds, thus, the risk of more catastrophic or life-threatening situations. Head-on collision result from distracted drivers or drunk drivers.
Sideswipe/T-Bone Collisions Sideswipes, also known as T-bone collisions, are one of the most dangerous types of car crashes. The Insurance Institute for Highway Safety suggests that sideswipes account for 25 percent of car accident fatalities in the U.S. while in the Arizona they account for just over 15 percent of all auto collisions with an even smaller percentage resulting in fatalities. These types of accidents lead to more chances of head trauma and spinal injuries. Sideswipes result from drivers running a red light or making improper turns.
What is my responsibility in a car accident in Gilbert AZ?
If you've been involved in an auto accident in Arizona, then it is critical to know who was at fault, and if you contributed in any way, shape or form, then any compensation to you will be reduced by the percentage of your liability. Arizona is a pure comparative negligence state, which means anyone can sue an at-fault driver regardless of how much or how little that person was also at fault. If you have damages that are valued at $10,000, and you were 75 percent at fault, you can still claim the other 25 percent from the other at-fault driver. In doing so, you would receive $2,500 in compensation.
Because of the pure comparative negligence doctrine in Arizona, the claims process (and possible the lawsuit process) can become very technical and require expert testimony and analysis. Your attorney will know who to hire and for what purpose so that you can be assured you will receive the compensation that is fair and just for your unique circumstances.
Who do I contact if I need a lawyer for a car accident in Gilbert, AZ?
Nathaniel Preston is a compassionate car accident and personal injury attorney in Gilbert, AZ. He understands how traumatic a car accident and subsequent personal injuries can be. If you have been in a car accident and have possibly been injured due to the negligence or carelessness of another person or entity, contact Nathaniel Preston today to discuss your case. He is aggressive. He is compassionate. He knows the law. He gets results. He offers legal services in Gilbert, Arizona, and for the greater Phoenix area community.