Trucks are big, cumbersome vehicles that require skill and experience to properly maneuver.  To drive a commercial truck, you are required to take stringent tests created by the Department of Transportation.  Because trucks travel from state-to-state, the industry is regulated by the federal government, and each state may have laws that vary to some respect, but they all must at a minimum comply with federal regulations.
Part of these regulations include (1) maintaining a logbook; and (2) complying with the hours of service rule, which was updated in 2015 and have been quite controversial.  On the one hand, drivers are limited from driving more than a certain number of hours, which limits their potential to get jobs done quicker and paid sooner.  On the other hand, the changes are welcomed by organizations who think the updated rules can make the roads safer.
How long can a truck driver drive on the roads?
A summary of hours of service regulations take from the Department of Transportation is as follows:
Property-Carrying Drivers
Passenger-Carrying Drivers
11-hour driving limit

A driver can drive a maximum of 11 hours after 10 consecutive hours off duty.

10-Hour driving limit

A driver can driver a maximum of 10 hours after 8 consecutive hours off duty

14-hour limit

A driver may not drive beyond the 14th consecutive hour after coming on duty, following 10 consecutive hours off duty.  Off-duty time does not extend the 14-hour period.

15-hour limit

A driver may not drive after having been on duty for 15 hours, following 8 consecutive hours off duty.  Off-duty time is not included in the 15-hour period.

60/70 hour limit

A driver may not drive after 6070 hours on duty in 7/8 consecutive days.  A driver may restart a 7/8 consecutive day period after taking 34 or more consecutive hours off duty.

60/70 hour limit

A driver may not drive after 60/70 hours on duty in 78 consecutive days.

Rest breaks

A driver may drive only if 8 hours of less have passed since end of driver's last off-duty or sleeper berth period of at least 30 minutes.  This rule does not apply to drivers using either of the short-haul exceptions.
According to Carrier Safety Administration (CSA) data trail via CCJ Digital, Arizona ranks 10th in the nation with truckers found to be in violation of this rule.  In fact, Arizona has consistently for the last several years been well above the national average for hours violations as a percentage of all violations in the state.
The problem with hours of service violations is driver fatigue.  Drivers and employers want deliveries made before their due date for their own personal profit.  But if you get a drowsy driver behind the wheel of a massive 80,000 semi-truck, disaster is just waiting to happen.  As such, the state of Arizona has taken inspections seriously.  It conducts 9 inspections per lane-mile; that figure works out to be hundreds of thousands of inspections a year.  Arizona was ranked 5th in 2014 for inspection intensity.
What are other violations committed by truck drivers?
From these inspections, Arizona's Department of Public Safety has found more issues with violations.  In fact, Arizona is also ranked among the highest with violations per inspection.  On average an inspection of a truck in Arizona results in 2.6 violations.  The percentage of clean inspections is quite low: 29.5%, while the national average is 40%.
The violation accruing the highest percentage is log violation (general/form and manner).  Keeping and maintaining a logbook is related to hours of service.  The logbook keeps track of when and where you left, destination, when stopped, when started again, as well as weight of the truck before it was loaded and then when loaded, among other important details.
In 2016, according to the Federal Motor Carrier Safety Administration (FMCSA), log violations made up 22.22% of all violations in Arizona, out of 81,952 total number of driver inspections.  In the U.S., log violations were also ranked as the highest percentage of violations, but the percentage was set at 16.75% out of 3,227,765 total number of driver inspections.
Other high ranking violations involved moving traffic violations and maintenance issues (brakes, lights, observed vehicle defects, tires, and windshield wipers).  Overall, according to FMCSA's data from 2016, Arizona was well-above the national average in terms of violations.
| | | |
| --- | --- | --- |
|   | Arizona | National |
| Driver Inspections | 81,952 | 3,227,765 |
| Driver Violations | 58,685 | 1,014,635 |
| Percentage of Violations | 72.60% | 31.43% |
| Driver Out-of-Service Violations | 9,209 | 184,025 |
| Percentage of Out-of-Service Violations | 11.24% | 5.70% |
These violations make for dangerous roads throughout Arizona, and particularly Gilbert, which has major interstates in and out of the city, and which residents travel on regularly to commute for professional and personal purposes.
Vehicle accidents caused by a truckers' negligence will often lead to serious and life-threatening injuries, such as brain injury, deformities, spinal, back and neck injuries, among a host of other physical types of injuries, not to mention the mental and psychological harm that accompanies these kinds of horrific bodily injuries.
The primary causes of truck-related accidents according to the National Highway Traffic Safety Administration (NHTSA) are categorized as (1) driver; (2) vehicle; (3) environment; and (4) others.  The following data is taken from a study published in 2007 by the FMCSA; it's a decade old, but the causes are still relevant today.
| | | | |
| --- | --- | --- | --- |
| Causes | Number of Trucks | Percent of Total | Relative Risk |
| Vehicle: Brake problems | 41,000 | 29% | 2.7 |
| Driver: Traveling too fast for conditions | 32,000 | 23% | 7.7 |
| Driver: Unfamiliar with roadway | 31,000 | 22% | 2.0 |
| Environment: Roadway problems | 29,000 | 20% | 1.5 |
| Driver: Over-the-counter drug use | 25,000 | 17% | 1.3 |
| Driver: Inadequate surveillance | 20,000 | 14% | 9.3 |
| Driver: Fatigue | 18,000 | 13% | 8.0 |
| Driver: Felt under work pressure from carrier | 16,000 | 10% | 4.7 |
| Driver: Made illegal maneuver | 13,000 | 9% | 26.4 |
| Driver: Inattention | 12,000 | 9% | 17.1 |
| Driver: External distraction | 11,000 | 8% | 5.1 |
| Vehicle: Tire problems | 8,000 | 6% | 2.5 |
| Driver: Following too close | 7,000 | 5% | 22.6 |
| Driver: Jackknife | 7,000 | 5% | 4.7 |
| Vehicle: Cargo shift | 6,000 | 4% | 56.3 |
| Driver: Illness | 4,000 | 3% | 34.0 |
| Driver: Internal distraction | 3,000 | 2% | 5.8 |
| Driver: Illegal drugs | 3,000 | 2% | 1.8 |
| Driver: Blood Alcohol Levels BAC | 1,000 | 1% | 5.3 |
To note, though the category environment, which includes road design, slick roads, wind gust, fog, glare, is also a cause of truck accidents, most of these types of causes of truck accidents do not involve any other vehicle but the truck.  The above data is for multi-vehicle accidents.
Nathaniel Preston's law office is committed to make negligent truckers and their employers take responsibility for their actions or inactions. With the number of semis on the highways exploding in Gilbert, Arizona, so too are the number of cases involving injuries and damages caused by negligent truck drivers.
What are some types of accidents that are common with truck accidents?
Accident types come in all shapes and sizes.  Some accident types pose greater risk to bodily harm than others.  A sample of different types of accidents are as follows:
Head on collisions
Rear end collisions
Broadside collisions
Right hand squeeze collisions
Center line crossover or bump collisions
Lane change collisions
Jack-knifed trucks
Vehicles sliding under trailers
What should I do if I'm involved in a truck collision in Gilbert, AZ?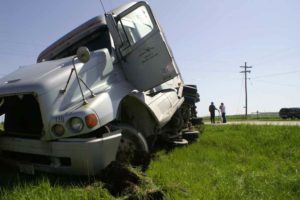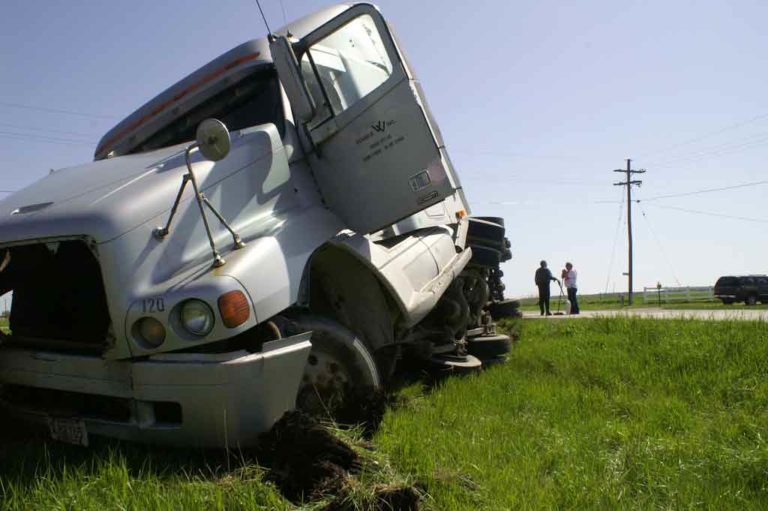 If you are in a truck collision, first you want to assess your surroundings and call 911, if you can do so.  Then, according to your ability, continue with the following suggestions.
Never leave the scene of the accident.
Vehicle Position. Do not move your vehicle unless it is posing a risk to other vehicles.  For evidence purposes, it is best to leave the vehicles as the collision happened.
Party Contact Information. If you can do so, take contact information.  You want the name, address, telephone and insurance information from the other parties.  You also want to get their driver's license and plate numbers.  If nothing else, take a photograph of their license plate.
If you can do so, take other photographs of the scene with your phone, if you have a phone with that capability.  You want pictures of the overall scene and close-ups of property damage and personal injuries.  and it is best if you do not move your vehicle.
Witness information. Check for any witnesses.  If there are witnesses, try to get their name, address and telephone number.  Try to reach-out to any witnesses as soon as possible because once they are gone, you will likely not get another chance to attain their information.
Police Department. Make sure you know which police department or law enforcement agency is investigating the truck accident (e.g., city police, county sheriff, state patrol).  This way you know who to contact for a copy of the police report.
Other Evidence. Be sure to preserve any other evidence, e.g., bloody clothes.
If you were not taken to the hospital, be sure to go after the police allow you to leave the scene.  Sometimes injuries do not show up immediately.  Going to the emergency room or urgent care will allow doctors to provide a thorough exam and they will note it in the chart that you were there due to a car accident.
Truck Accident Attorney. You should contact a truck accident attorney as soon as possible.  These types of accidents by the very nature of the trucking industry can be confusing and intimidating.
If you hired an attorney, then your truck accident lawyer in Gilbert will immediately start an investigation.  First and foremost, the attorney will send a letter of preservation of evidence to the truck driver and the trucking company, and any other relevant parties.  The attorney will work with other experts to conduct a thorough investigation.
Demand Letter. After the investigation has been completed, the demand letter will be written.  The demand letter is fundamental to compensation that is fair and just.  It should outline have the following components:

Your side of the story of what happened.
Legal analysis of why the other parties are at fault and responsible (duty, breach, causation & damages)
List of all damages, including economic (e.g., property damage, medical bills, loss of income, etc.) and, if applicable, non-economic damages (e.g., pain and suffering, loss of enjoyment, loss of consortium, etc.).
The demand amount.
All supporting documents.
A deadline for a response.
If I've been in a truck accident, what kind of attorney should I look for in Gilbert, AZ?
If you or a loved one has been in an accident caused by a negligent truck driver, you should contact an experienced Arizona attorney in truck accidents.  If you have suffered personal injuries or loss of a loved one, then you want an attorney who is also experienced in personal injury and/or wrongful death.
An experienced attorney will have the following attributes:
Experience in the specific practice areas;
A history of high settlements and/or verdicts;
Effective negotiation skills;
Compassion and determination;
Trial experience and a commitment to take your case to trial should it be necessary;
Accessible and good communicator; and
Experience.  The attorney must have experience in the truck accident and personal injury law.  You probably want an attorney who doesn't put his feet into all different kinds of law, such as bankruptcy, trusts, personal injury, divorce.  These areas are all unrelated, and you risk hiring an attorney who is not specialized and, thus, well versed in the nuances of truck accident and personal injury law.  Having a practice in related areas is important (such as car accidents, personal injury, wrongful death, workers compensation) because the attorney and his teach can offer a holistic approach to their representation of your case.
Settlement history.  You want an attorney proven to get results.
Effective negotiation skills.  Ninety-nine percent of you winning your case will be based on how well the attorney can negotiate.  Over 90% of accident and personal injury cases are handled outside the courtroom, and it's in the negotiations that guarantees you just and fair compensation.
Compassion and determination.  The attorney must be empathetic to be working in this practice.  As such, he understands what you are going through and is determined to make sure he is successful so that you can heal appropriately, to the best possible extent given your unique circumstances.
Trial experience.  If the attorney isn't willing to go to trial, then you might wonder if he will take any settlement to stay out of the courthouse.
Accessible.  You need to be able to speak to your attorney when you have questions.  If he ignores your calls, then your stress will multiply.  You should make sure he is not overburdened with a lot of cases and that he will guarantee communication.
Resources.  Investigations can be costly.  The attorney should be able to advance the costs of all experts, reports, etc., that are needed for a full and complete investigation.
Who should I contact if I've been in an accident caused by a truck in Gilbert, AZ?
If you or a loved one has been involved in a crash caused by a negligent truck driver in Gilbert, Arizona, you have rights.  An experienced truck accident lawyer will help you determine your eligibility to file a claim against the negligent party(s).  Nathaniel Preston is an aggressive yet compassionate truck accident attorney serving Gilbert, Arizona, and the greater Phoenix area community.  Contact him today to discuss your case.