Personal Injury Attorneys in Tempe, AZ
Injuries happen. They can happen anywhere and at any time. And they happen often. In fact, one out of every four of us will have a personal injury at some point in our lives due to the carelessness or negligence of another person or entity. And when it happens, it is stressful financially, emotionally and physically. You are bound to have questions, too: What do I do now? Who pays for my injury? Who can help me with the process?

An experienced personal injury attorney in Tempe, AZ will be able to properly address your questions and put your concerns and fears to rest. If you have been injured, Nathaniel Preston is the personal injury lawyer with the experience, resources, and skills to answer your questions and prepare your case thoroughly in order to attain results.
Why do I need a Tempe personal injury lawyer?
Do you know the law? Do you understand the claims or lawsuit process? Do you know how to investigate and analyze complex evidence? Do you know how to negotiate with aggressive claims adjusters and/or antagonistic attorneys for the defendant? Apart from knowledge of the law and process, negotiation is a vital skill in personal injury cases. You should consider your injury lawyer as your personal negotiator with the insurance company(s). Well over 90% of all personal injury cases are settled before they transform into lawsuits and come before a judge and jury.
Effective negotiation is fundamental to a settlement that provides you with the compensation that you both deserve and demand. Effective negotiation skills are not a "given" simply because a person has "Esquire" behind his or her name; effective negotiation is developed through practice, knowledge, and skill.
How do you know if your attorney is an effective negotiator?
Find out if he or she has all five of the following characteristics:
Knowledge. What kind of background does the attorney have? Does he or she know the most current debates in personal injury law? Does he or she demonstrate a deep understanding of the law and the field? Can he or she explain things to you in layman terms?
Experience. How long has the attorney been practicing in this field? How many cases does the attorney take at any given time, or how many has he or she had? How many cases has the lawyer settled successfully? How many cases went to trial? How many lawsuits were won? An experienced attorney is more likely to have a good working understanding of the process, the court system, insurance adjuster tactics, and other pieces of important information that helps propel the case forward to a successful conclusion.
Personable. Is the attorney personable? This characteristic is important because it makes an attorney more likable and when more likable, statistics indicate a person is more likely to get what is sought as opposed to a person who is less likable. A personable person can speak to you on your terms, relate, provide understanding. A personable person listens and then responds. A personable person is good with people, and being good with people is what produces results.
Rational. This quality affords the attorney the ability to be clear-headed and realistic in terms of the settlement and expectations. If an attorney tells you that he can win the case and get you rich quick, he is probably (1) lying; and (2) irrational. A settlement is not meant to get you rich. A settlement is meant to place you back in the place you were prior to the personal injury, or as close as it can get you there through monetary means. In the case of non-economic damages, the reward is meant to compensate for your pain and suffering, and in that regard, you may acquire more financial compensation in addition to the compensation that covers the medical bills. A good attorney knows how to go about non-economic damages to make sure you are fully compensated.
Trustworthy. Is the attorney believable? Is the attorney dependable? If not, neither you nor the insurance company nor judge and jury will find him or her authentic. A lack of authenticity is a clear path to no settlement, or a reduced settlement, one that does not measure up to the settlement you should have received. Being able to trust your lawyer is important so that you can focus on healing and not the stress of what's happening with your case. Being able to trust the attorney is also important in negotiations because the other party must be able to trust you while negotiating freely and openly without threat of manipulation or sneaky schemes. If the attorney does something that loses the trust of the other party, negotiations will break down.
In the end, you don't need just any attorney; you need an experienced accident lawyer who can effectively negotiate. When you go to your consultation, consider the above qualities and ask yourself after the consultation: Did the attorney "sell" him/herself as the best attorney to help you get what you want and deserve in your personal injury case? Does the attorney have requisite knowledge and experience? Were you able to talk to him or her, and did the attorney listen to you? Did the attorney set expectations just right or too high that you went home thinking about everything you are going to do after you get your money: refurbish the house, go on a month trip, buy a new car now.
Finally, did you trust what the attorney said? If the attorney embodies these characteristics, then he or she just may be the attorney for you.
If you have suffered a personal injury in Tempe, Arizona, and are searching for an attorney, Nathaniel Preston is the personal injury lawyer for you. He has the knowledge, experience, skills, and resources to advocate in earnest on your behalf.
Does my case qualify as a personal injury case?
Personal injury cases come in all different forms and stem from all kinds of accidents. The central link to all personal injury cases is the fact that your injury was caused by another person's or entity's recklessness, carelessness or negligence. In Tempe, Arizona, most personal injury cases are caused by injuries sustained from (1) Automobile accidents (2) Medical malpractice (3) Slip and fall injuries, and (4) Dog bites.
Automobile Accidents
In 2015, there were a total of 8,353 car accidents in Tempe, Arizona, that resulted in 14 deaths and 3,437 personal injuries. Arizona is an at-fault state and recognizes pure comparative negligence. When it comes to personal injuries stemming from an automobile accident, including pedestrian and bicyclists struck by automobiles, the at-fault driver is liable for all damages attributed to the accident, including economic and non-economic damages, if applicable. However, because it is a pure comparative negligence state, your damage reward will be reduced in accordance with the percentage you contributed to your personal injury. Thus, if your reward was $50,000, but you were 10 percent at-fault, you will receive only 90 percent of the $50,000 reward, a total of $45,000.
Truck Accidents
Being involved in a vehicle accident is terrified enough, but if you or a loved one have been injured in a truck accident is much worse. Big trucks are most likely to hurt an individual because of their size. The injuries are prompt to be much more severe than a regular auto accident and is crucial that you seek the right representation from a truck accident lawyer in Tempe to get the compensation you deserve.
Medical Malpractice
A medical malpractice claim is invoked when a healthcare provider fails to provide appropriate care and you are injured because of it. In medical malpractice, personal injuries can be caused by both accidental and intentional negligence on behalf of healthcare professionals even though personal injury if most often the unintentional act of another person or entity that causes your harm. Medical malpractice claims are pretty common, too. In fact, a relatively recent peer-reviewed medical article reported that 7.4 percent of all physicians' experience, at one point or another, a medical malpractice claim filed against him or her.
Medical malpractice claims are extremely complex and just as much difficult to win. In the same report, it was revealed that 78 percent of filed claims did not result in any kind of settlement to the claimant. You attorney, therefore, and as mentioned, must have excellent negotiation skills to settle the case on your behalf. Most settlements were made with neurosurgeons (19.1 percent), followed by cardiovascular surgeons (18.9 percent). The least amounts of settlements were made with pediatric healthcare providers (3.1 percent) and psychiatrists (2.6 percent).
Product Defects
Defective and/or dangerous products can effectuate a number of defective product liability claims throughout any given year. Many times such a claim can trigger a recall or class action lawsuit. These claims arise when a consumer uses a product and is injured by it. A defective product liability claim will likely fall under one of three categories:
Defectively designed products
A manufacturer has a duty of care to ensure the safe design of its products. If a defective design is known, the manufacturer must recall the product. If someone is injured, the entity is liable. All defectively designed products have an issue with the design of the product, not the manufacture of the product. For instance, a recliner may have a new method to recline, but if the cord is pulled too hard, the recliner can throw you out of the chair. Other examples of defectively designed products include:
A coffee pot that catches fire if left on too long
Sunscreen that does not protect against UV rays
A car model that has an airbag that can deploy explosively
Defectively manufactured products
A manufacturer has a duty of care to ensure that products are assembled properly. If a product is assembled improperly and it causes harm to a consumer, the manufacturer is liable. All defectively manufactured products have an issue with the assembling of the product, not the design of the product. For instance, the design of a chair may be fine, but one particular chair came with a cracked leg. Other examples include:
A treadmill with a torn belt
Vaccines tainted with harmful bacteria
A scooter missing spark plugs
Inadequate warnings or instructions
A manufacturer must provide warnings and/or instructions, especially when a product may be dangerous if used in a way that does not seem obviously dangerous by the consumer. If instructions or a warning are not provided, the manufacturer could be liable. In this case, the product is designed and manufactured properly, but the company failed to provide instructions or a warning of a feature that could be dangerous if used improperly. For instance, a massage chair may have a heating feature to it, and a consumer gets the idea to warm a towel with a certain chemical in it, and the heat causes the towel to catch fire. If there was no warning, then the company could be liable.
A new body-building supplement that does not have the necessary warnings on its label and too much of it can cause heart conditions
A glue remover spray that does not properly advise you how to use the chemical in closed rooms and the toxic fumes can have adverse health effects
A tea kettle with a new, removable tea diffuser attachment and no warning is given about how hot the diffuser attachment gets
Slip and Fall Cases
Slip and fall cases are also a common type of personal injury case. In these types of cases, it is the property owner who owes a duty of care to three types of persons: (1) invitees; (2) licensees; and (3) trespassers. The standard of care is least for the trespasser and most for the invitee, but in all cases, circumstances will best define the degree of the standard of care. When the standard of care is breached, the property owner is liable and you have the right to file a claim, and in the alternative, file a lawsuit.
When a slip and fall accident occurs at work, you also have another option: a workers' compensation claim. This claim is automatically filed by your employer, but in some cases, you may need to seek an attorney's assistance, for instance, when:
You work for the government or another employer that is not covered by Arizona workers' compensation insurance;
Your claim is denied and you want to appeal the decision, which will take place before an administrative law judge; or
You do not receive all the compensation you are entitled to receive, in which case you may decide to file a personal injury claim in addition to the workers' compensation claim.
Dog Bites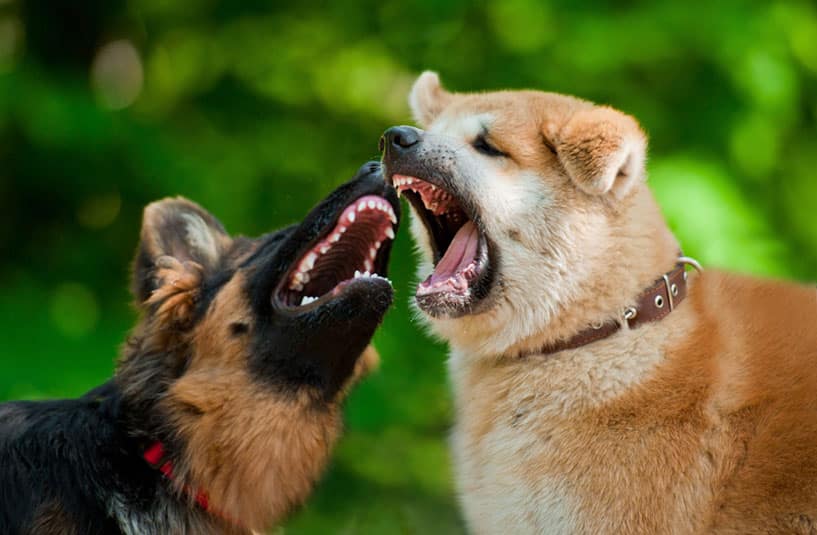 Dog bites happen a lot more than you might think. In fact, a dog bites a person in the United States every 75 seconds, and each day more than 1,000 U.S. citizens are treated in emergency rooms for dog bite injuries. According to the Insurance Information Institute, in 2016, dog bite liability claims throughout the United States accounted for more than one-third of all payouts made by homeowners' insurance; the costs amounted to more than $600 million. That is a lot of dog bites, and in Arizona alone, there were 34,000 reported dog bites between 2008 and 2012. Get help from an experienced dog bite lawyer to get the best case results possible.
Because of the severity of the matter, Arizona is a strict liability dog bite state. Unlike states where you are not liable for the first bite if there was never an indication that the dog might bite someone, in Arizona, you are liable for the first bite regardless of any known or unknown tendencies of the dog. You are liable if the claimant proves that she or he was (1) bitten by a dog; and (2) bitten in a public place or a private place that the claimant was lawfully permitted to be.
How much time do I have to file a claim?
The standard statute of limitations for personal injury claims in Arizona is 2 years from the date of the incident. There are a couple of exceptions to the standard deadline.
Workers Compensation Exception. If you are eligible for workers' compensation, the claim must be filed within 1 year, not 2 years
Medical Malpractice Exceptions. There are two main exceptions: (1) the discovery rule starts the statute of limitations clock at the time the injury is discovered as opposed to the date the injury occurred; and (2) the statute of limitations does not begin to run for minors until the date of their eighteenth birthday
Government Exception. A claim against a city, county or the State of Arizona must be filed within 180 days of the injury. A lawsuit against a city, county or the State of Arizona must be brought within one year
How much can I get for my injury?
In Arizona, the Constitution prevents a court from limiting or placing a cap on damages. Your final settlement, nonetheless, may be reduced according to your contribution to the injury regardless if you are found to be zero percent at fault or 99 percent at fault, or anywhere in between the two. Damages come in the form of two types:
1. Special Damages. These damages refer to medical and/or other related expenses that flow directly from the injury sustained in the accident. It includes:
Medical costs (e.g., medical bills, physical therapy, and rehabilitation expenses)
Out of pocket losses (e.g., rental car, prescription medicines, crutches)
Property Damage (e.g., car damage, clothes)
Lost Income/Loss of earning capacity (e.g., wages, vacation leave, ability to seek employment)
2. General Damages. These damages refer to non-pecuniary damages, which are damages that are not always easily quantifiable. It includes:
Pain and Suffering (e.g., pain associated with everyday life)
Loss of Enjoyment (e.g., inability to participate in sports, hobbies)
Loss of Consortium (e.g., loss of intimacy with a spouse or significant other, break-up)
Emotional Distress (e.g., stress, depression, insomnia)
Punitive Damages (i.e., punishment for personal injuries as a result of malicious or highly egregious acts)
Who should I contact If I have been injured in Tempe, AZ?
If you have been injured in or around Tempe, Arizona, contact Nathaniel Preston. He is experienced. He is aggressive. And he offers legal services in Tempe as well as the greater Phoenix, Arizona community. Contact him today to discuss your case for free.
ABOGADOS DE ACCIDENTES PERSONALES TEMPE, AZ
Las lesiones suceden, pueden ocurrir en cualquier lugar, en cualquier momento y pasan a menudo. De hecho, uno de cada cuatro de nosotros tendrá una lesión personal en algún momento de nuestras vidas debido al descuido o negligencia de otra persona o entidad. Y cuando esto sucede, es estresante financieramente, emocionalmente y físicamente. Usted también está obligado a hacer preguntas como: ¿Qué hago ahora? ¿Quién paga por mi lesión? ¿Quién puede ayudarme con el proceso?
Un abogado con experiencia en lesiones personales en Tempe, AZ, podrá abordar adecuadamente sus preguntas y resolver sus inquietudes y temores. Si ha sido lesionado, Nathaniel Preston es el abogado de lesiones personales con experiencia, recursos y habilidades para responder sus preguntas y preparar su caso con dedicación para obtener resultados.
Tipo de Casos que manejan nuestros abogados
Los casos de lesiones personales se presentan en diferentes formas y se derivan de todo tipo de accidentes. El denominador común en todos los casos de lesiones personales es el hecho que su lesión fue causada por la imprudencia, el descuido o la negligencia de otra persona o entidad. En Tempe, Arizona, la mayoría de los casos de lesiones personales se deben a lesiones sufridas por (1) Accidentes de automóviles (2) Negligencia médica (3) Lesiones por resbalones y caídas y (4) Mordeduras de perros.
Accidentes automovilísticos
En 2015, hubo un total de 8,353 accidentes automovilísticos en Tempe, Arizona, que resultaron en 14 muertes y 3,437 lesiones personales. Arizona es un estado en falla y reconoce pura negligencia comparativa. Cuando se trata de lesiones personales derivadas de un accidente automovilístico, incluidos peatones y ciclistas golpeados por automóviles, el conductor culpable es responsable de todos los daños atribuidos al accidente, incluidos los daños económicos y no económicos, si así corresponde. Sin embargo, debido a que es un estado de negligencia comparativa pura, su recompensa por daños se reducirá de acuerdo con el porcentaje que contribuyó a su lesión personal. Por lo tanto, si su recompensa fue de $ 50,000, pero tuvo una culpa del 10 por ciento, recibirá solo el 90 por ciento de la recompensa de $ 50,000, un total de $ 45,000.
Accidentes de camiones
Estar involucrado en un accidente de vehículo ya es lo suficientemente aterrador, pero es aún más  si usted o un ser querido ha sido lesionado en un accidente de camión. Los camiones grandes tienen más probabilidades de dañar a un individuo debido a su tamaño. Las lesiones son inmediatas y mucho más graves que un accidente de auto regular. Es crucial que busque la representación adecuada de un abogado de accidentes de camiones en Tempe para obtener la compensación que merece.
Negligencia médica
Se realiza un reclamo por negligencia médica cuando un proveedor de atención médica no proporciona la atención adecuada y usted se lesiona debido a esta. En la negligencia médica, las lesiones personales pueden ser causadas por negligencia accidental e intencional en nombre de los profesionales de la salud, a pesar que las lesiones personales son la mayoría de las veces el acto involuntario de otra persona o entidad que causa su daño. Los reclamos por negligencia médica son bastante comunes, también. De hecho, un artículo médico relativamente reciente demostró que el 7.4 por ciento de la experiencia de todos los médicos, en un momento u otro alguien ha presentado un reclamo  por negligencia médica contra él o ella.
Los reclamos por negligencia médica son extremadamente complejos y difíciles de ganar. En el mismo informe, se reveló que el 78 por ciento de los reclamos presentados no dieron como resultado ningún tipo de acuerdo con el reclamante. Su abogado, por lo tanto y como se mencionó, debe tener excelentes habilidades de negociación para resolver el caso en su nombre. La mayoría de los asentamientos se realizaron con neurocirujanos (19,1 por ciento), seguidos de cirujanos cardiovasculares (18,9 por ciento). Los porcentajes más bajos de asentamientos se hicieron con proveedores de atención médica pediátrica (3.1 por ciento) y psiquiatras (2.6 por ciento).
Productos Defectuosos
Los productos defectuosos y / o peligrosos pueden llevar a cabo una serie de reclamos de responsabilidad por productos defectuosos en el periodo de un año.  Muchas veces, un reclamo de este tipo puede desencadenar una demanda de destitución o demanda colectiva. Estos reclamos surgen cuando un consumidor usa un producto y se lesiona. Un reclamo de responsabilidad por productos defectuosos probablemente se incluirá en una de estas tres categorías:
Productos diseñados defectuosamente
Productos fabricados defectuosamente
Advertencias o instrucciones inadecuadas
Casos por resbalones y caídas
Los casos por resbalones y caídas también son un tipo común de casos de lesiones personales. En este tipo de casos, es el dueño de la propiedad quien debe un deber de cuidado a tres tipos de personas: (1) invitados; (2) licenciatarios; y (3) intrusos. El estándar de atención es menor para el intruso y más para el invitado, pero en todos los casos, las circunstancias definirán mejor el grado de la atención. Cuando se viola el estándar de atención, el propietario de la propiedad es responsable y usted tiene derecho a presentar un reclamo y como alternativa, presentar una demanda.
Cuando ocurre un accidente por resbalón y caída en el trabajo, se tiene la opción de presentar un reclamo de compensación para trabajadores. Este reclamo lo presenta automáticamente su empleador, pero en algunos casos, es posible que deba buscar la asistencia de un abogado, por ejemplo, cuando:
Trabaja para el gobierno u otro empleador que no está cubierto por el seguro de compensación para trabajadores de Arizona;
Su reclamo es denegado y usted quiere apelar la decisión, y esto tendrá lugar ante un juez de derecho administrativo; o
No recibe toda la compensación que tiene derecho a recibir, en cuyo caso puede decidir presentar un reclamo por lesiones personales además del reclamo de compensación para trabajadores.
Mordeduras de perro
Las mordeduras de perro suceden mucho más de lo que se imagina. De hecho, un perro muerde a una persona en los Estados Unidos cada 75 segundos y cada día más de 1,000 ciudadanos estadounidenses son tratados en salas de emergencia por lesiones de mordeduras de perro. Según el Instituto de Información de Seguros, en 2016, los reclamos de responsabilidad por mordeduras de perros en todo Estados Unidos representaron más de un tercio de todos los pagos realizados por el seguro de propietarios de viviendas; Los costos ascendieron a más de $ 600 millones. Eso es una gran cantidad de mordeduras de perro  y solo en Arizona, hubo 34,000 mordeduras de perro reportadas entre 2008 y 2012. Obtenga ayuda de un abogado experimentado para obtener los mejores resultados y recompensas posibles.
¿Cuánto tiempo tengo para presentar un reclamo?
El estatuto estándar de limitaciones para reclamos por lesiones personales en Arizona es de 2 años a partir de la fecha del incidente. Hay un par de excepciones a la fecha límite.
Excepción de Compensación de Trabajadores. Si usted es elegible para la compensación de trabajadores, el reclamo debe presentarse dentro de 1 año, no 2 años
Excepciones por negligencia médica. Hay dos excepciones principales: (1) la regla de descubrimiento comienza durante el período de prescripción en el momento en que se descubre la lesión, así como también en lugar y fecha en que ocurrió la lesión; y (2) el estatuto de limitaciones no comienza a correr para menores hasta la fecha de su decimoctavo cumpleaños
Excepción del gobierno. Un reclamo contra una ciudad, condado o el estado de Arizona debe presentarse dentro de los 180 días de la lesión. Una demanda contra una ciudad, condado o estado de Arizona debe presentarse dentro de un año
¿Cuánto puedo obtener por mi lesión?
En Arizona, la Constitución impide que un tribunal limite o ponga un límite a los daños. Sin embargo, su liquidación final puede reducirse de acuerdo con su contribución a la lesión, independientemente de que se encuentre con un cero por ciento de culpa o con un 99 por ciento de culpa, o en cualquier lugar entre los dos. Los daños vienen en dos tipos diferentes:
Daños especiales. Estos daños se refieren a gastos médicos y / u otros gastos relacionados que se derivan directamente de la lesión sufrida en el accidente. Incluye:
Costos médicos (por ejemplo, gastos médicos, terapia física y gastos de rehabilitación)
Pérdidas de bolsillo (por ejemplo, alquiler de automóviles, medicamentos recetados, muletas)
Daños a la propiedad (por ejemplo, daños al automóvil, ropa)
Pérdida de ingresos / pérdida de capacidad de ingresos (por ejemplo, salarios, vacaciones, capacidad de buscar empleo)
Daños generales. Estos daños se refieren a daños no materiales, que son daños que no siempre son fácilmente cuantificables. Incluye:
Dolor y sufrimiento (por ejemplo, dolor asociado con la vida cotidiana)
Pérdida de disfrute (por ejemplo, incapacidad para participar en deportes, pasatiempos)
Pérdida de Consorcio (por ejemplo, pérdida de intimidad con un cónyuge o pareja, ruptura)
Angustia emocional (por ejemplo, estrés, depresión, insomnio)
Daños punitivos (es decir, castigo por lesiones personales como resultado de actos maliciosos o muy graves)
¿Con quién debo comunicarme si me he lesionado en Tempe, AZ?
Si ha sido lesionado en o cerca de Tempe, Arizona, comuníquese con Nathaniel Preston. Él es experimentado,  agresivo y ofrece servicios legales en Tempe, así como en la gran comunidad de Phoenix, Arizona. Póngase en contacto con él hoy mismo para discutir su caso de forma gratuita.