Personal Injury Lawyers in Goodyear, Arizona
Once you've been injured following a car accident, medical misdiagnosis, or unrestrained animal attack, it can be difficult to know where to turn to next. In addition to coping with your newfound injuries and periodic medical treatments, you're not facing bills for property damage and hospital expenses from the accident. You shouldn't have to pay for someone else's mistake. You deserve compensation for the full extent of your damages and a seasoned Goodyear personal injury lawyer can help.
If you're dealing with a personal injury that was caused by the negligence of another party, then Arizona lawyer Nathaniel B. Preston of Warnock MacKinlay Law can help you receive the compensation you deserve through a personal injury lawsuit or settlement.
Nathaniel has years of experience serving individuals and families in Goodyear, Arizona, with their personal injury, wrongful death, or truck accident actions. He'll use this experience to let you know if you have a strong case and help you decide if a lawsuit or settlement is the right choice for you.
With representation from a skilled personal injury attorney, you may be able to receive full compensation for your:
Medical expenses
Pain and suffering
Lost wages
Loss of wage-earning capacity
Property damage
What is a personal injury lawsuit?
Accidents happen every day. But when a mistake or accident on another person's part leads to serious injuries, then the victim in the situation shouldn't have to deal with the full weight of the consequences on their own. They can hold the negligent party responsible for their actions in a court of law or through a negotiated settlement with the defendant's attorney. Either way, the end goal is for the injured party to recover damages for any finances they've lost due to the accident. Depending on the circumstances surrounding the case, they may also be able to receive compensation for wages lost in the future if the injuries following the accident diminished their earning capacity or caused them to lose their job.
Not every accident warrants a personal injury lawsuit or settlement. In order to win your case, you'll have to prove that your injuries were directly caused by the negligence of another party. This could be another person, a corporation, or even a government agency. In some claims, there can even be more than one person filing a lawsuit against a single entitle. For example, if a faulty car part results in multiple accidents, then there may be more than one plaintiff suing the same car manufacturer.
Some other cases where a personal injury claim may be appropriate include:
A surgeon under the influence operated on a patient, resulting in extensive injuries
A student was texting while driving, resulting in a rear-end car accident
A corporation released a faulty product that malfunctions and injures the user
A jogger fails to properly restrain their aggressive dog and it attacks a pedestrian
A storefront neglects to place a Wet Floor sign along the aisle, resulting in a slip-and-fall accident.
If any of the situations above sound similar to your case, then you may have a strong personal injury case that could end with you being awarded full compensation. The best way to determine the strength of your case is to reach out to an attorney who is well-versed in Arizona accidental injury and car accident law. With their knowledge of past cases, your attorney can let you know the outcome of actions filed in Goodyear, Arizona, and the surrounding area.
Should I file a personal injury lawsuit or negotiate a settlement?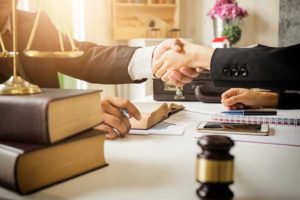 Once you've discussed your cased with your attorney, they'll help you decide on whether to file a traditional action against the negligent party or negotiate a settlement with their attorney or lawyer. There are pros and cons to both decisions, so it's important that you review your options before you come to a conclusion as to what you should do next.
Negotiate a Settlement
In most cases, the insurance company or attorney of the reckless party will want to settle your personal injury case outside of court rather than having a traditional hearing. There can be multiple reasons for this goal. If the defendant is a well-known corporation or manufacturer, then they'll want to settle outside of court in order to avoid the negative publicity a personal injury trial could bring them. A negotiated settlement allows both parties to come to an agreement without the need for a judge to make the final decision. Some defendants prefer this because it's much faster and less expensive for them to go to court.
There are many positives for the plaintiff if they choose to settle out of court, as well. After a personal injury, severe truck accident, or wrongful death, you may just want to put the accident behind you as soon as possible. A settlement is traditionally a much faster process than a traditional hearing, so you could receive the compensation you deserve quickly and begin the process of moving forward with your life. If you feel this method is ideal for you, you'll want to discuss your medical expenses in full with your practitioner and discuss your options with your lawyer. Once you're awarded money in your settlement, it's unlikely that you'll be able to receive more money from the defendant at a later date. You'll want to include the full cost of all property damages and medical expenses you've had to pay for now, and those you may need in the future.
Even though a personal injury settlement is the prefered method of resolving an issue, negotiating a settlement with the reckless driver, medical practitioner, or corporation's attorney can be a complicated process. Their goal won't necessarily be to ensure that you receive full and fair compensation. They are interested in the wellbeing of their insurance company, or their client, so they ,may argue that their client is not fully responsible for the accident. By trying to prove that you are partially at fault for your own injuries or property damage, they can present an offer that's less than the full cost of your expenses and pain and suffering.
Of course, no matter what offer they present you with, your Arizona personal injury attorney will be at your side to help you decide if the suggested wage is something you should accept. While, prior to the negotiation process, your lawyer will investigate your case to find as much proof as possible of your side of events, in some cases, if you don't have very much evidence to support your claim that the other party is liable, your lawyer may advise you to accept the smaller settlement if they feel you could not win a larger sum in court. But, if you have substantial evidence that your accident was directly caused by the negligent party, and you are still presented with a small offer, your attorney may advise the opposite. If the defendant's attorney or insurance company won't budge on that number, then fighting for the compensation you deserve in an Arizona court may be the best way for you to recover what you're due.
File a Personal Injury Lawsuit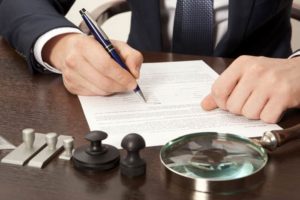 If it's not possible to reach a full and fair settlement by negotiating with the defendant's representatives, then a lawsuit could help ensure you receive full and fair compensation for your injuries. While it is certainly a longer process than a settlement, a hearing has the added benefit of you holding the negligent party publically responsible for their actions or inactions. In addition, you may be able to receive more compensation that what you're requesting. For example, in a now infamous case of restaurant coffee being served way hotter than the legally permitted temperature, the plaintiff only requested compensation for the cost of their medical expenses. However, due to the extreme negligence found for this case, they receive additional rewards for the pain and suffering caused by the accident.
Just like the settlement process, your lawyer will thoroughly investigate your case, gathering witness statements, collecting any surveillance footage, and using their resources to recreate the accident so that they have enough evidence to bolster your claim. This evidence will be presented before a judge and jury to prove "duty of care", "breach of duty", and "causation".
No matter whether you choose to negotiate a settlement outside of court or bring your accidental injury case in front of a judge, in order to prove your case and receive the compensation you deserve, you'll have to prove that negligence of the defendant and show that their reckless actions directly lead to your injuries. But while in a settlement, your lawyer will be presenting the evidence to the defendant's lawyer, for a court case, your attorney will have to use this evidence to prove the three legal terms mentioned above.
Duty of Care
Duty of care is a common legal term used in personal injury, commercial trucking accident, and wrongful death cases. It means that someone has a certain level of reasonable duty to keep another person safe. For example, whenever you get behind the wheel, it's reasonable to expect that you have a duty to keep the other drivers on the road safe to the best of your ability by not driving impaired, excessively speeding, or driving while distracted. For a corporation, this could mean that they have a duty of care to their consumers to make sure that their products are not defective or dangerous before making the first sale. It's easy to prove duty of care for medical malpractice cases. A doctor always has a duty to ensure their patients are as safe as possible. If they neglect this duty, then they could be facing a personal injury or accidental death action.
For your case, your lawyer will be responsible for proving that it was reasonable to expect a certain level of care from the defendant. Even if they don't have the same level of authority as a medical professional caring for a patient or a corporation releasing a new product, they can still be considered responsible for the safety of the plaintiff. Some instances of this would be if a homeowner knew their deck was in poor condition, and yet hosted an outdoor event without warning their guests. If any partygoers were injured on the homeowner's property due to these actions, then they could be held legally responsible.
Breach of Care
Once your lawyer has proven that the defendant had a reasonable responsibility to ensure the safety of the plaintiff, then the next step would be to prove that they breached that duty. This means that they did not uphold their duty of care to the plaintiff, which implies their negligence led to the resulting injuries. Proving breach of care will be based on the evidence your attorney is able to collect for your case. It could be providing phone records to show that the defendant was texting or talking on the phone while driving, which proves they were distracted moments before causing an accident. Or, your lawyer could find documents that prove the corporation was aware their product was faulty, and yet continued to sell the defective items to consumers.
Causation
Just because a defendant is guilty of breaching their duty of care, it does not automatically mean they'll be found guilty for causing your injuries. Your lawyer will have to prove that the accident directly resulted in your injuries, property damage, or pain and suffering. In some cases this is a simple as providing the court with a copy of your medical statement. This will show that you receive medical treatment directly after your accident and may also include a statement from your doctor to bolster your claim that you suffered damages as a direct result of the incident.
Other times, the defendant's lawyer may argue that your injuries were exaggerated or that they happened a significant enough time after the accident to not be related. It's your Arizona personal injury attorney's job to refute these claims and use the evidence found in their investigation to prove causation.
What is my personal injury case worth?
There are many factors that a judge will consider when it comes to awarding damages for a personal injury case. Compensation can be provided for medical expenses, but also any emotional or personal losses you may have suffered as a result of the accident. With their knowledge of the law and history of closing personal injury cases in Arizona, your lawyer will be able to provide you with a clear idea of your chances of winning your case and what type of compensation you can expect to receive as a result. No two cases are the same and the end results may vary, but here are just a few of the awards you may receive for your claim:
Current & future medical expenses: Once you prove that your injuries occurred as a result of the accident, then you can present the judge with a full record of your medical expenses, as well as a statement from your health care provider that details any treatments you may need in the future.
Current & future lost wages: Following your accident, you may have had to miss several days of work in order to receive treatment and recover fully from the damage. The judge may award you compensation for the wages you lost during that time. In addition, if your personal injuries are so severe that you're unable to go back to work at all, you could be awarded for wages you expect to lose in the future.
Property damage: Property damage compensation is usually awarded in car, motorcycle, or commercial truck accident cases. If your car is damaged or completely totaled during a collision that's caused by a reckless, drunk, or distracted driver, then you could recoup the full cost of repairs or replacing your car.
Pain & suffering: If you and your loved ones suffered from major discomfort, emotional pain, or mental suffering from the accident, you may be able to receive compensation for that, as well. In addition, if your personal injuries now prevent you from doing activities or hobbies that you one enjoyed, then you may be awarded "loss of enjoyment" compensation.
Consult with a Personal Injury Lawyer in Goodyear, Arizona
If you or a loved one is suffering from personal injuries following an accident, you don't have to go it alone. You have enough to worry about without the added stress of negotiating for compensation for your injuries and damages. Let a seasoned accidental injury attorney help you receive the justice you deserve.
Nathaniel B. Preston of Warnock MacKinlay Law is proud to serve individuals in families in Goodyear, Arizona, and the surrounding area. He'll use his knowledge and expertise in personal injury law to increase your chances of recovering full and fair compensation so you can start the process of moving on from the incident.