Glendale Car Accident Attorneys
We can help you get the payment you deserve
Injured Near Glendale, AZ?
Numerous car accidents happen throughout Arizona every year, including in Glendale. In fact, there were almost 5 million drivers licensed in Arizona in 2014, according to the Arizona Department of Transportation Motor Vehicle Division. If you have suffered personal injuries and damages to your car because of a crash, you should consult with a Glendale car accident lawyer who will file a car accident claim in order to help you pursue compensation to cover the damages you incurred. 
With such a large number of drivers in the state, car crashes are just waiting to happen. In 2014, there were 109,554 car accidents according to the Arizona Crash Facts Summary. Out of those accidents, there were 708 crashes with fatalities and 24,575 crashes with injuries. An experienced Glendale AZ car accident attorney files countless car crash claims every year. These car accident claims lead to millions of dollars in personal injury settlements each year.
Causes of a Glendale Car Accident
If you have suffered injuries in a Glendale car accident, you probably wonder why the accident even happened. Your Glendale car accident lawyer will tell you there are dozens of reasons that car accidents might happen. Inclement weather and road hazards can be contributing factors, but most car accidents could be prevented. The leading cause of crashes is the unsafe actions of the drivers on the roads. Distracted driving, drunk driving, driving while impaired, and aggressive driving are a few reasons that may cause a Glendale car accident. A Glendale car accident attorney can decipher the accident report, and help you get a bigger settlement for your injuries caused by the accident and other damages.
An Experienced Glendale Car Accident Lawyer Can Help the Injured Get Settlements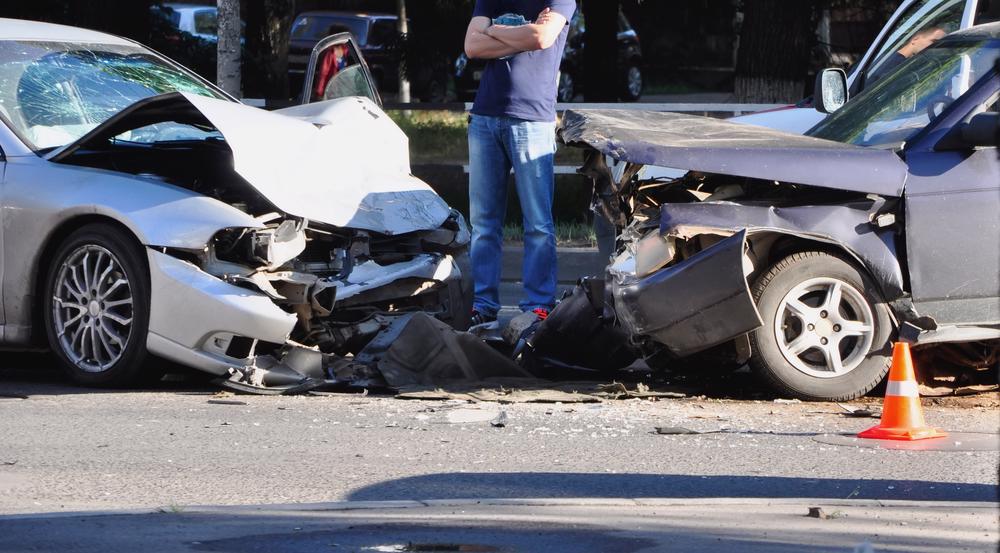 Helping car accident victims in Glendale, AZ
While some crashes result in fatalities, the loss of life is not the only tragedy resulting from car accidents in Glendale, AZ today. People who suffer car crash injuries can find their lives to be permanently impacted by long-term disabilities and disfiguring scars. People who have suffered injuries because of car crashes might have brain trauma that may affect his or her relationships, be left unable to work, and lose their chance of having a normal life. Back, neck, and spinal cord injuries might lead to paralysis or cause mobility problems. If you suffer the loss of an organ, you might end up in therapy or rehabilitation. You can suffer emotional and psychological injuries that can lead to shock, depression, and anxiety of disabling levels. You can suffer from one of many injuries that are devastating and have a permanent impact on your life.
To make sure you are fairly compensated for your injuries and how the accident drastically changed your life, you should schedule a consultation with a Glendale car accident attorney. Thousands of people experience car accidents throughout Arizona every year. Because of the incurred damages, many pursue car accident lawsuits. It can be challenging to deal with an insurance claim and its legal red tape, so you may want to seek legal help to file your claim with an experienced accident injury lawyer. With the help of an experienced Glendale, AZ car accident attorney, you can get the settlement that you deserve. Schedule a free consultation with a Glendale car accident lawyer today. A car accident attorney typically gets paid on a contingency basis, so what he or she earns is based on how well he or she does winning your case or reaching a settlement.
Who is Liable for Car Accident Injuries in Glendale?
If you were in a Glendale car crash and suffered injuries, you need to know who is responsible for your injuries. Liability is determined by who is at fault for the crash. While in many accidents it is easy to determine who is at fault, there are some crashes where determining fault can be a real challenge. An Arizona car accident attorney can help you in these situations. If one of the drivers cannot be found and is uninsured or underinsured, you have a personal injury claim that is even more complicated and challenging. Look to hire an experienced Arizona car accident attorney. When you contact a car accident attorney, you will get the best advice about your claim so you can make the right decisions and get the best possible settlement.
If there is a third-party involved in your car accident, such as the company that made a defective car part or your auto manufacturer, it can be even more difficult to determine liability. In these instances, an in-depth crash investigation might be required. Your Arizona lawyer will conduct this investigation and determine how the crash could have been avoided. Your Glendale car accident lawyer will collect all necessary evidence, get a crash reconstructionist to investigate, call in some forensic experts, and get witnesses to assist with your accident injury claim and determine how and what happened.
What Damages Can a Car Accident Attorney Glendale, AZ Help Me Recover?
There are several different kinds of damages that can be recovered after a car crash in Glendale. Your specific damages are dependent upon the cause of the accident, whether you partially contributed to the cause of the crash, the severity of damages suffered, and any long-term consequences or disabilities caused by the crash. Some of the damages that can be claimed from a car accident include medical expenses, property damages, lost wages, future loss of earning, pain and suffering, and different economic and non-economic losses. If you have suffered the loss of a family member in a car accident in Glendale, you have the right to recover damages on behalf of your relative. Arizona laws permit specific relatives, such as the spouse, children, and parents of the deceased individual or a personal representative for the estate to proceed with a wrongful death claim.
Schedule a Consultation with a Glendale Car Accident Lawyer
If a car accident in Glendale, AZ today has left you with injuries, or you had a family member die in an Arizona car accident, you need to schedule a free case evaluation with a Glendale car accident attorney. Your car accident lawyer will assess the situation and determine if your claim is worth pursuing in court. A car accident attorney can also assess the damages you have suffered and estimate the amount of a fair settlement based on those damages. The value of your accident is dependent upon several things. Not all car crash settlements are worth the same.