Any car accident can have devastating results, but when a wreck involves a large commercial truck, then the resulting damage can be insurmountable. Due to the size and weight of semi-trucks, they can completely total a passenger car or even result in the wrongful death of those involved. When that happens, any surviving victims of the car crash may be left with severe personal injuries that render them unable to continue their normal line of work or cause them to have to look for a brand new vehicle due to the extent of the damage.
If this sounds like your situation, you don't have to shoulder this new financial burden on your own. Car accident victims who believe the commercial truck driver is at fault may be entitled to compensation for their damages. With help from a commercial truck accident lawyer like the ones at Warnock MacKinlay Law, you can increase your chances of receiving a financial reward for your:
Personal injuries & medical expenses

Loss Wages if you're unable to return to work temporarily

Loss of earning capacity if you're unable to return to work permanently

Pain & suffering

Wrongful death

Car damages & repairs
What rules of the road are commercial truck drivers expected to follow?
While everyone is expected to stay within the speed limit, switch lanes responsibly, and avoid driving under the influence of drugs or alcohol, there are additional federal, state, and company guidelines for commercial truck drivers to follow in order to ensure the safety of the other passenger car drivers on the road. And if a truck driver violates any of these rules, then they could be found liable for any car accidents that occur as a result.
Hours of Service Regulations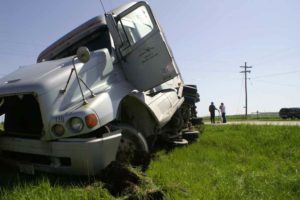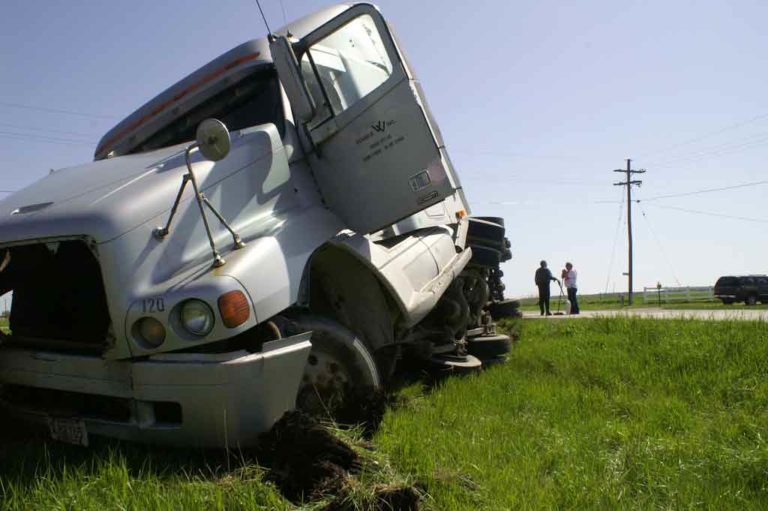 Federal law states that drivers behind the wheel of a semi-truck or 18-wheeler can only spend a set number of hours on the road before they are legally required to take a break. This is called the "Hours of Service" law and it is designed to ensure no truck drivers are fatigued or tired on the road. Drivers who are sleep-deprived may miss important stop signs, red lights, road signs, or may even veer off the road or into other vehicles unexpectedly.
In order to ensure their employees comply with the Hours of Service guidelines, many commercial truck companies require their drivers to keep a log of how many hours they spend on and off the road. Unfortunately, since the log is self-reported, many drivers choose to ignore this system in favor of delivering their cargo at a faster time. The sooner they make their delivery, the sooner they can get a new load. This gives them a financial incentive.
If you've been in a truck driving accident, then your attorney may be able to access the driver's Hours of Service logs to prove that they were on the road way longer than they should have been according to the law. This could prove to the court that you should be entitled to some form of compensation since the accident was caused by the other driver's negligence.
Improper Cargo Loading or Truck Maintenance
Another important rule for truck drivers and their companies to adhere to is proper truck maintenance and cargo loading. Everyone should make sure their vehicle is safe to drive on the road, but this fact is especially true for large commercial semi-trucks that could cause devastating accidents.
Unfortunately, when it comes to some commercial truck companies, their bottom line is the most important thing and safety comes second on their list of priorities. Companies may put off proper truck maintenance in favor of getting their vehicles back on the road as soon as possible. In addition, their cargo loaders may add more weight than their trucks can handle, increasing the chances of a major malfunction on the road.
Semi-truck accidents involving a defective vehicle or improper cargo loading practices can be complex. While it is possible to sue both the truck driver and the company they work for if the actions of both led to the accident, your truck accident lawyer may advise that you only file a claim against the trucking company itself or the cargo loader involved. The best way to determine who should be held accountable for your commercial truck accident is to discuss the details of your case with your lawyer. Depending on the circumstances, they'll advise you on what decision would meet your best interests.
Should I file a semi-truck accident lawsuit or settle outside of court?
When commercial businesses are involved in a trucking accident, they may give the plaintiff the option of settling outside of court. In addition to being lengthy and more expensive, the final decision for traditional court cases is made by a judge and jury. For this reason, businesses often prefer to settle outside of court, where their attorneys can negotiate a reward for your medical expenses and property damage without the input of a judge.
If this option has already been presented to you, make sure you hire a truck accident lawyer to review the details of the accident and the full extent of your injuries and damages. With this information, they'll be able to determine whether it is a fair settlement offer or if you should negotiate for more money.
In some cases, the truck company may refuse to cover the full extent of your financial losses. In these situations, even if you prefer to settle outside of court, your truck accident lawyer may advise you that going before a judge is the best way for you to seek the justice you deserve.
Consult with a Semi-Truck Accident Attorney to Discuss Your Lawsuit or Settlement
Have you or a loved one been in a commercial truck accident that wasn't your fault? If so, let an experienced personal injury attorney hold the company, manufacturer, or driver responsible for their actions. Using their professional resources, your attorney can gather the evidence that you need in order to prove you're entitled to compensation for any resulting medical treatments, car repairs, or wage reimbursements that are needed so you can move forward from this difficult time in your life.