Personal Injuries in Gilbert, AZ
The U.S. Department of Justice, Bureau of Justice Statistics reported that there were almost 27,000 real property, contract, and tort trials in 2005, and of that number 60 percent were related to personal injury. This estimate only includes a sampling of state courts across the United States, but it is noteworthy because only 4 percent of all personal injury cases actually go to trial. Most personal injury cases are settled out of court. If the 16,000 or more cases is close to accurate, and 96 percent of all personal injury cases are settled out of court, that means there is an estimate of over 400,000 personal injury cases active each year in the United States.
In the same report, the U.S. Department of Justice found that the cause or nature of personal injury cases involved three sources of personal injuries:
52% of personal injury cases stem from motor vehicle accidents;
15% of personal injury cases involved medical malpractice;
5% of personal injury cases were derived from defective products; and
28% involved personal injury cases arising from various circumstances.
Personal injury cases are meant to provide relief to the victim. If you have been injured in Gilbert, Arizona, you may qualify to file a claim against the liable party. You should speak with a experienced personal injury attorney in Gilbert, Arizona, to find out if your situation qualifies for a claim or lawsuit.
Types of Cases Handled by a Personal Injury Attorney in Gilbert, AZ
As mentioned above, the three main sources of personal injury cases flow from car accidents, which is by far the primary source, medical malpractice and, to a much lesser extent, defective products. There are many other types of personal injury cases that your personal injury attorney in Gilbert will handle, but below are brief descriptions of these three sources as example of what you might expect with regard to personal injuries.
Car Accident Cases
In Arizona and throughout the United States, drivers owe a general duty of care to each other and passengers to respect the law and drive safely. When that duty of care is breached and an accident occurs, the at-fault party(s) is responsible for your damages. Arizona, however, is a pure comparative negligence state, which means if you contributed in any manner to the accident, your damages will be reduced by as much. For example, if your damages total $20,000, but you were 20 percent responsible, then you will be rewarded $16,000 instead of $20,000. If you hire an experienced attorney, he will prepare an argument against an insurance adjuster's allegation that you are in part responsible, thus, limiting the chances that your damage reward will be reduced due to your contribution to the accident.
In Gilbert, there were a total of 2,835 car accidents in 2015, and those car accidents resulted in in 11 deaths and 1,056 personal injuries. Car accidents happen most often due to human error, but also because of defects associated with the manufacture or design of the automobile. Human error can take the form of neglecting to adhere to traffic rules, texting while driving, drowsy while driving, drinking while driving, among other situations and behaviors. Automobile defects can include air bag defects, or any other defect associated with the automobile.
Medical Malpractice
In medical malpractice cases, compensation for victims are derived primarily from settlements. In fact, over 90 percent of payouts to victims of medical malpractice are from settlements while only 5 percent of payouts result from judgements. You are by far more likely to receive a settlement during a claim process than you are to receive a judgment in your favor if the matter goes to court.
The standards of proof vary during the claims process versus the lawsuit process. During a claims process, proof must be established that something happened more likely than not, such. On the other hand, if the matter goes to court, you, as the plaintiff, have the burden to prove the medical malpractice happened by a preponderance of the evidence. The bar is set higher if you must bring your case before a judge and jury.
Medical malpractice cases can happen in any kind of medical situation, but most often they are derived from one of the following:
Anesthesia error;
Birth injury;
Delayed diagnosis;
Emergency room error;
Hospital malpractice;
Medical center malpractice;
Medical device error;
Medication error;
Misdiagnosis; or
Surgical error.
There were 1,221 adverse action cases taken in Arizona in 2015 due to medical malpractice cases, and as a result negligent medical or healthcare practitioners were penalized in one form or another. These cases demonstrate how serious and pervasive medical malpractice is in Arizona. The following table compares the number of adverse action taken over the last few years, and shows that though there is fluctuation, the numbers remain comparable. As such, medical malpractice shows no real sign of decline.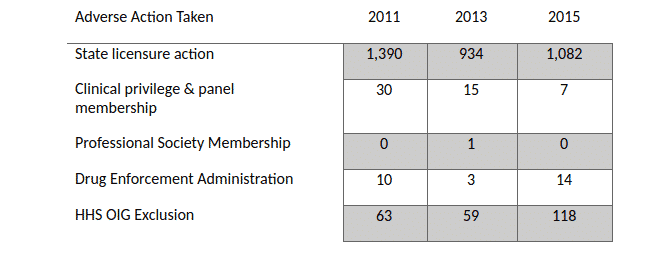 consumers each year. Defective products include anything from automobiles to toys to prescription drugs. Manufacturers are strictly liable for:
Defective design of products;
Defective manufacture of products; and
Failure to provide instructions or warnings of any potential but non-obvious danger.
Product defects are, as noted at the beginning of this section, one of the 3 main sources of personal injury cases in the United States. For example, many big product defect cases in recent years have been in the automobile industry. A defect is a problem with regard to a motor vehicle due to a risk the vehicle poses to motor vehicle safety. Product defects may exist in more than one vehicle if it is a defect associated with the design or manufacture of the vehicle or any of its parts. Examples of recent safety-related automobile defects include:
Steering components that break suddenly;
Fuel system component issues, especially leaks;
Accelerator controls that tend to stick;
Wiring system problems that could result in fire; and, but in no way limited to,
Air bags that deploy when they are not supposed to deploy.
How much time do I have to file a claim in Chandler, AZ?
Time is always of the essence when it comes to personal injury claims. If you live in Gilbert, Arizona, you want to find an attorney who can proceed with your claim or lawsuit in due time. The standard statute of limitations for personal injury claims is 2 years from the date of the incident. There are several exceptions to the standard rule, which include:
If a medical malpractice case and you didn't reasonably discover the injury until later, the date the statute of limitations starts to run starts on the date of discovery and not the date of the injury.
If a medical malpractice case and you are a minor, the statute of limitations does not begin to run until the date of your eighteenth birthday.
If you a filing a claim against a municipality, county or State of Arizona, you must file the claim within 180 days or file a lawsuit within 1 year.
A personal injury lawyer will know the statute of limitations and if an exception applies, the attorney will apply it accordingly. These exceptions, however, are a few among many in the personal injury law field. Thus, it is imperative to find an attorney who is experienced, resourceful, diligent, and knows the ins and outs of the law. Small details, including exceptions, matter. They could be the deciding factor of which direction your case takes. Nathaniel Preston, as your personal injury attorney in Gilbert, AZ, will determine if an exception or nuance of law applies to your case.
If I want to file a claim or a lawsuit, what do I have to do in Gilbert, AZ?
The claim and lawsuit process are multi-faceted. When you or your attorney decide that you qualify for a claim or lawsuit, the process begins. For claims, you may make a first-party claim, third-party claim, or both. A first-party claim is a claim made to your insurance company, and this happens if you (1) have the additional coverage; and/or (2) are partly to blame for the accident. A third-party claim is made when another party is at fault; the claim is made to the other party's insurance company. A claim may be made to both when the other party is at fault but either (1) you contributed to the accident; or (2) you have uninsured/underinsured coverage applicable to your case. For lawsuits, you need first ensure you know who all the applicable parties are, and then you or your attorney will draft a Complaint, Summons and have the papers served upon all parties to start the process.
First Party Claims
Depending on the circumstances (i.e., you were in a car accident), you will contact your insurance company to report the accident. Once this happens your insurance company may do the following:
Assign a claim number and a claims adjuster to your case.
Open an investigation.
Request a recorded statement.Keep in mind this statement becomes part of the investigation. It is important to be honest yet careful with what and how you say it. An insurance company, even your own and especially when it is a first party claim, will use your words against you so that it can reduce the amount it must payout to you. An attorney is highly advisable to ensure you do not say anything that would be discriminatory with regard to your case.
Review evidence to determine fault and connect it to the proximate cause of the accident and injuries.
Make a decision. The claims adjuster will either: (a) offer the full amount of damages; (b) offer less; or (c) deny the claim in its entirety.
If you were offered the full sum, accept the offer. If you received an offer that provides less, start negotiating. If you negotiate but are not successful, or if your claim was denied, consider suing.
Note: Insurance companies, however, are only interested in protecting themselves. If you are their insured, they protect you so much as it is in their interests. They will settle for less than what you deserve, especially in more complicated cases that involve non-economic damages. It is at this time, if not before, that you need to contact an attorney. An attorney is your advocate who will fight for your rights both with your insurance company and the third-party insurance company.
Third Party Claims
If the other party is at fault, you will file a third-party claim with the insurance company. The following is a rough outline of this process.
You contact your insurance company to report the accident and provide a statement. Your insurance company assigns a claim number and a claims adjuster to your case.
Your insurance company may contact the third-party insurance company to discuss a settlement, unless you hire an attorney, which is more appropriate.

Note: Your insurance company will be more motivated to provide you with a good settlement since the claim is not against them, but that said, insurance companies want to reduce the amount of energy and resources spent on your case.

The third-party insurance company may request a recorded statement. Do not provide one. You are under no obligation to provide the insurance company any information without the representation of an experienced personal injury lawyer. If you hired an attorney, the advice given to you will be the same. An insurance company will use that recorded statement against you any way it can. Insurance adjusters can be brutal and will have no mercy when interviewing you for the statement; they will try to trip you up any way possible. It is always best to consult an attorney.
You will need to file a demand letter outlining all costs and damages that you seek. Your attorney is in the best position to draft the demand letter on your behalf. The demand letter is the signature piece to a quick and speedy settlement. If done well, negotiations will be limited.
The third-party insurance company will review evidence provided with the demand letter.
The insurance company will decide upon a settlement amount. As in a first-party claim, the claims adjuster will either: (a) offer the full amount of damages; (b) offer less; or (c) deny the claim in its entirety.
If you were offered the full sum, your attorney may advise you to accept the offer. If you received an offer that provides less, your attorney will start negotiating. If you negotiate but are not successful, or if your claim was denied, your attorney will discuss with you is suing is a viable option.
The Lawsuit
As mentioned above, a lawsuit involves first drafting a Complaint and Summons, filing it with the proper court and servicing the defendants. Once service takes place, you will wait for the Answer(s) and the process truly begins. A lawsuit will first involve a discovery phase, a settlement conference, and then, if a settlement is not reached, a trial. The whole process can be very time-consuming and expand not only months but years. It is a big decision to enter into a lawsuit, and only by discussing it with you attorney will you decide what is the proper course of action.
How much can I get for my injury?
Arizona permits no caps or limits on damages in personal injury cases. You can seek appropriate economic and non-economic damages. The sky is not even the limit, but insurance claims settlement processes are rigid and only appropriate damages will result. Both claims adjusters and attorneys for defendants are certain to try to suggest you were also partly at fault. Thus again, the need for an experienced attorney who is knowledgeable and prepared for all these things.
Who should I contact if I have been injured in Gilbert, AZ?
If you have been injured in or around Gilbert, Arizona, contact Nathaniel Preston. He is experienced. He is aggressive. He listens. And he offers legal services in Gilbert as well as the greater Phoenix, Arizona community. Contact him today to discuss your case.
Proudly serving in: Phoenix | Scottsdale | Mesa | Glendale | Chandler | Tempe | Peoria | Goodyear | Surprise | Avondale