Personal Injury Lawyer Chandler, AZ
According to the Centers for Disease Control, accidents, or personal injuries, are the fourth leading causes of death in the United States. Accidents account for 1 out of every 4 people treated in the emergency room. Approximately 43 people out of every 100,000 people die from a personal injury. As one can imagine, the consequences of a personal injury, if not fatal, can be costly economically, physically and emotionally. The stress of it can be insurmountable.
When a personal injury happens, and it is due to the fault of someone else's carelessness or negligence, there may be some relief for you: you may qualify to file a claim against the liable party. The claims process, however, can be daunting and overwhelming. To ensure you get what you deserve, you should speak with an experienced personal injury attorney. Rest assured that for the more experienced, qualified personal injury lawyers in Chandler, AZ, you do not pay anything; your settlement or lawsuit will include the attorney fees and costs. Leave the anxiety and legal part to Nathaniel B. Preston, your personal injury attorney in Chandler, Arizona, and leave the healing part to you.
What are some of the types of personal injury cases that occur in Chandler, AZ?
There are many types of personal injury cases that Chandler lawyers will handle. The majority of cases will arise from car accidents, and the remainder cases will result from medical malpractice, product defects, slip and fall cases, dog bites, among other unintentional accidents.
Car Accident Cases
Most personal injury cases stem from car accidents. In Chandler in 2015, there were a total of 4,170 car accidents that resulted in 12 deaths and 1,703 personal injuries. When accidents happen, most often it is because at least one driver was not following the law or was either driving carelessly or recklessly. On the road in Arizona, drivers owe a duty of care to each other to respect the law and drive safely, when that duty is breached and an accident happens, the at-fault party(s) is responsible, and you are eligible to file a claim.
Medical Malpractice
When a doctor or other medical professional does not provide the proper care and you are injured because of that carelessness, negligence and/or recklessness, then medical malpractice has likely occurred. These cases can be complex and require expert witness analysis and testimony. Your attorney will know how to conduct the investigation and put together the legal argument for the claim and/or lawsuit.
In 2015 alone, there were 182 cases in Arizona that received medical malpractice payments while many more cases were pending. In the 182 cases, payments ranged from $0.01 to over $2 million for each case with a total payout to all 182 cases totaling almost $73 million. The breakdown of payments is as follows: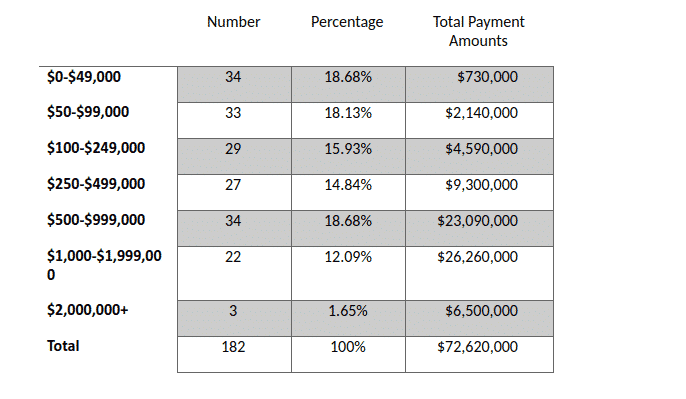 Product Defects
Defective products cause serious injuries to consumers each year. Defective products include anything from automobiles to toys to prescription drugs. For instance, according to the Consumer Product Safety Commission, in 2015, due to toy-related product defects, 11 children under the age of 15 years old died, and another approximately 254,200 children under the age of 15 were personally injured in the United States. It is the manufacturers' duty to design and assemble products that are safe for consumer consumption, and when the manufacturer fails to do so, it is liable and you have a claim.
In addition to the manufacturer's duty to provide a safe product, it also has a duty to warn consumers of any potential danger that may be associated with the product but which is not necessarily obvious to the consumer. If you are injured due to a dangerous aspect of a product, but you were not warned of the possibility prior to your injury, you may also be eligible to file a claim.
Slip and Fall Cases
Slip and fall cases are yet another common type of personal injury case. Generally, it is the property owners, or in some cases renters, who owe a legal duty to keep their premises safe and hazard-free to a reasonable extent so that the premises do not pose a risk of injury to anyone on the premises. If you are on someone's property and are injured, your eligibility to file a claim is dependent on the reason you were on the property, or in other words, your legal status on the property. There are different levels of a property owner's standard of care that coincides with the reason you were on the property. The standard of care is very limited if you are a trespasser (with exceptions), but the standard of care increases if you are a licensee (someone invited onto the property for non-business purposes), or an invitee (someone invited expressly or implicitly onto the property for business purposes) with an invitee requiring the highest level of care. If you have been injured on the property of another person, whether it's a business or a friend's house, you may have the right to file a claim.
Dog Bites
Dog bites are more frequent than one might expect. In Arizona alone, the number of ER visits due to dog bites between 2008 and 2012 was estimated at 34,000, and this estimate does not include VA hospitals or dog attacks on Native American land. During the same time period, Arizona Department of Health and Safety reported that hospital charges totaled $55 million for these dog bite incidents with the median cost at $1,150 for a dog-bite visit to the emergency room. The same report also indicates that over this period of time, the number of dog bites has doubled.
Dogs are considered property, therefore, in most cases, the owners of the dogs who bite or attack a person are liable for the costs of the injury. Also, according to Arizona law, if you are injured by a dog bite, to win a claim you must show that (1) your injury was caused by a dog bite; and (2) you were bitten while either in a public place or a private place lawfully. If these two elements are demonstrated, then the owner of the dog is liable. In some states, there is an additional element to prove, such that liability rests on the fact that the owner knew the dog had bitten someone previously or had the temperament to bite someone. Arizona, however, is a strict liability dog bite state, which means the owner is liable regardless if he or she knew the dog had or might bite someone. The primary defenses to a dog bite claim or lawsuit are provocation or trespassing by the injured party.
How much time do I have to file a personal injury claim in Chandler, AZ?
If you live in Chandler, Arizona, and you want to file a personal injury claim, time is of the essence. Generally, the standard statute of limitations for personal injury claims is two years from the date of the incident. There are a couple of exceptions to the standard deadline.
For medical malpractice cases, the two primary exceptions to the standard statute of limitations involve discovery and/or age. The exception applies to when the statute starts running, but once it starts to run, it still expires within 2 years. In discovery cases, the statute of limitations does not start to run until you "discover" your injury; this is known as the discovery rule. In such circumstances, the victim could not reasonably have known or learned of the injury until later, after the malpractice occurred, and it is at that time when the victim knew or should have reasonably known that she or he has a potential medical malpractice claim that the statute of limitations starts to run. For minor children, the 2-year statute of limitations in medical malpractice cases does not start to run until the date of the child's eighteenth birthday.
Other exceptions to the statute of limitations rule depend on circumstances or who the recipient of the claim is. For instance, claims against a city, county or the State of Arizona must be filed within 180 days of the injury, and a lawsuit must be brought within one year. Nathaniel Preston, as your personal injury attorney in Chandler, AZ, will determine if any exception applies to you and your case.
How much can I get for my injury?
Many states have caps or limits in the amount of the damages that a victim can be awarded. Arizona does not have caps or limits. In fact, Arizona's constitution (Article 2, Section 31), prohibits a cap on damages.
Damages can be reduced, however, in instances where fault is shared by the parties. Arizona is a pure comparative negligence state, which means if you contribute to the injury, then your damage reward will be reduced according to the percentage you are deemed responsible for the injury. For example, you were in a car accident and the other party is at-fault for crashing into you. When the accident happened, you were texting, thus, you failed to take measures that could have reduced the damages. The insurance adjuster claims that you were found to be 25 percent responsible. Your total damages amount to $100,000, but you will only receive 75 percent of the total in damages ($75,000).
The comparative negligence rule can be raised either during the claim process or a lawsuit. If you have been injured and have a claim against a person or entity, your Chandler personal injury lawyer should be prepared to counter any claims made by the insurance adjuster or defendant's attorney that you partially contributed to the injury.
What should I look for in a personal injury attorney in Chandler, AZ?
Personal injury lawyers in Chandler, Arizona, are in oversupply. It may be difficult for you to determine which attorney is best for you. As you know, not all attorneys and law firms are the same; their services and capabilities will differ based on experience, resources and knowledge. The stress of finding a good attorney could add to your current pain and suffering that stems from the physical and/or emotional injury(s) sustained from the accident.
If you live in or near Chandler, Arizona, and are in want for a personal injury attorney, the following are five suggestions for you to consider when making your decision of which attorney is best for you.
Costs. This is always one of the first concerns when a person thinks of an attorney: how much is he or she going to charge me. It is unfortunate that you have received a personal injury, but fortunately most personal injury attorneys work on a contingency basis. The attorney is only paid if you win a settlement or lawsuit, and payment comes directly from that settlement or lawsuit, and not from your pocket. Rest assured, if it's a good attorney, you likely do not have to pay a penny from your wallet. If the attorney requires a fee up front, then it may indicate this attorney is not accustomed to winning personal injury cases.
Location. If you have been injured locally, then it follows you want an attorney that provides services locally. A local attorney will be more accessible as well as have a deeper understanding of the socio-economic culture of the city or region and laws specific to the area.
Prior Cases. Some attorneys are all over the place and will take what they can get. They will lack specialization in specific areas, and thus, may be less qualified to handle a personal injury case, which is often complex and requires thorough understanding of the law. If you go for a consultation, ask the attorney what other cases has he had that are like yours, and what were their outcomes.
Trial Experience. In the case the claims process breaks down without a satisfactory settlement, you may file a lawsuit. If that happens, your attorney must have experience with trials. But also, most insurance claims are settled outside of court, and insurance companies are well aware of this statistic and will use it to their benefit to try to settle for less than what you deserve. An inexperienced personal injury attorney who has no or limited trial experience may fear a trial situation and settle for less. You need an attorney who is aggressive and will advocate for your rights without fear of a trial.
Personality. Does the attorney have a personality with which you can easily identify or get along? Do you feel that the atmosphere of the office is amenable to your personality? Will you be willing to share personal information with this attorney and his or her assistants?
Who should I contact if I have been injured in Chandler, AZ?
If you have been injured in or around Chandler, Arizona, contact Nathaniel Preston. He is experienced. He is aggressive. And he offers legal services in Chandler as well as the greater Phoenix, Arizona community. Contact him today to discuss your case.
Proudly serving in: Phoenix | Scottsdale | Mesa | Glendale | Chandler | Tempe | Peoria | Gilbert | Goodyear | Surprise | Avondale |